THE DOG WHO TOOK ME UP A MOUNTAIN
AN INSPIRATIONAL ADVENTURE STORY
By Rick Crandall
Hiking with Emme, my 20-pound Australian terrier, I rediscovered pure joy. Watching the intensity on her face and in her movements, filled her with purpose. She was just a dog, but her enthusiasm began to fill the hole in my life.
Mountain Boy, with a summit at 13,193 feet, looms large over Colorado's Independence Pass, the second highest paved road in America. With no clear recommended route up the mountain, Emme and I invented a path. Climbing on snow cornices and bushwhacking where there was no trail, we went higher. What had looked like beach ball-sized rocks from farther away, were actually eight-to-ten feet tall boulders. Emme was in heaven. She jumped, clawed and climbed them all.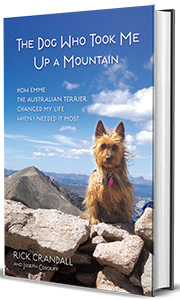 The increasingly steep slope was built out of loose rocks and slippery sand. Everywhere I stepped moved. It felt we were walking on marbles. Momentarily paralyzed, I realized if I tried to go up or down, I would lose traction and slide down the rocks. I was stuck. While Emme was having no trouble at all, she as clearly worried about me. Sharp points from my hiking poles saved me from a serious slide. Slowly, I inched up a long patch where the snow met the rocks. Emme's claws dug like crampons. She went right up on the snow and stuck to me like glue. We were a team.
At the summit, the sun broke through the clouds and we were surrounded in every direction by spectacular views. A series of peaks and valleys made a painting-like panorama that took my breath away. Emme climbed up on a pile of rocks and scanned slowly from one side to another. She, too, was taking it all in.
After short break, we slowly headed back down. That day changed our lives. From discovering the route to overcoming physical challenges, we were rewarded with incredible beauty and an intense sense of accomplishment.
As we got into the car, Emme jumped onto her favorite spot on my armrest and looked at me triumphantly. I could almost hear her say, "Dad, you finally figured it out. This is what I want to do, and you are going to do it with me!"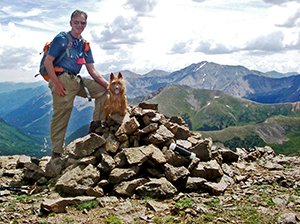 That as the moment I knew we were on to something. Hikes progressed into steeper slopes, more snow, bigger and sharper boulders, and greater challenges finding routes to higher mountains. At 63 years old, some of my friends thought I was crazy, but that was only the beginning. Together, we climbed 16 of the fourteeners, (the highest peaks in America) and raised tens of thousands for canine charities. By age 74, I had climbed the 58th and final fourteener in the Rockies.
Because of Emme, I discovered a late-in-life passion for mountain climbing. This tiny terrier inspired me to live fully and embrace that you're never too old to try new things. These have been the best years of my life. All because my wife said, "Let's get a dog."