A Little Bit Country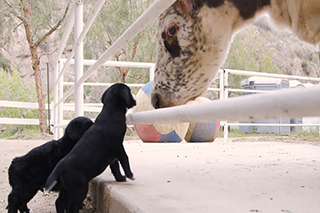 By Adrianne Frost
During this time of social distancing and self-quarantine, many of us rely on our furry family friends to keep us company and give us love. We cuddle and play with our fuzzy companions from sunup to sundown as time of COV-19 ticks by. But, even though foster and adoption numbers are up (Yay!), there are always animals in need of some loving.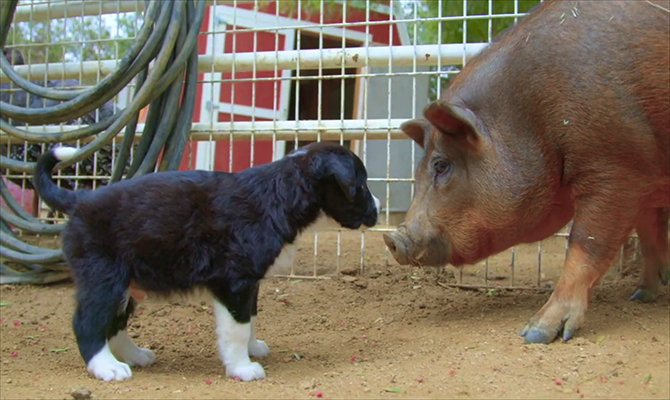 Enter The Gentle Barn Animal Sanctuary and Paw Works! Gentle Barn, in Santa Clarita, California has been closed to human visitors since the pandemic shutdown but Gentle Barn offers virtual visits just check their website for details. It's created a bit of an empty air around the farm. So the brilliant folks at Gentle Barn decided to hook up with Paw Works, a no kill animal shelter, and bring in some adoptable puppies to hang and play with their friends at the sanctuary. Paw Works and Gentle Barn were created for different types of animals, but their goal is the same: save the lives of the innocent creatures of the world, and give a voice to the voiceless. Paw Works rescues domestic animals and Gentle Barn focuses on the rescue and rehabilitation of farm animals.
A short time ago, five black and white puppies were left in a box outside of a Central Valley, CA, shelter and were taken in by Paw Works. Nurtured and readied to go to new, loving homes, Paw Works thought that first, a visit to Gentle Barn to have a "playdate" with the country creatures roaming the farm would be a welcome treat for all. The little furballs trotted onto the farm, ready to sniff, play and explore! They were welcomed by pigs, cows, llamas, chickens, and some very stand-offish turkeys (ha ha), among other rescued animals. You can't help but smile at the 10-week old puppies romping around and seeing their curiosity peaked by the comparatively large farm animals. The adorable factor is ramped up to eleven!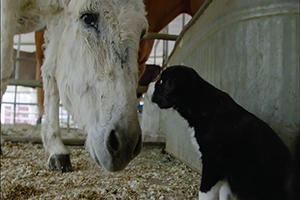 Ellie Laks, founder of The Gentle Barn, and Chad Atkins, creator of Paw Works, created a video of the project to help spread a little happiness and awareness during this tough time. "In partnering with The Gentle Barn," said Atkins, "we wanted to remind everyone, that big or small, the creatures of this world need our voice more than ever." Laks agreed, saying, "This is the perfect time to consider how we all can be more gentle to animals, each other, and our planet."
The video is a blessing during this crazy time; providing much needed joyful and heartwarming moments for all to share. As far as generating smiles for all the quarantined humans out there? "These puppies sure delivered," declared Laks.
All of the puppies featured in the video have since been adopted – and one was even adopted by Ellie Laks as a surprise for her father who recently said goodbye to his pup. To watch the amazing and inspiring video, go to: https://www.facebook.com/thegentlebarn/videos/2901482203306656/
Follow Paw Works: www.pawworks.org
Follow The Gentle Barn: www.pawworks.org