Amber Nash
Saving Lives One Day At A Time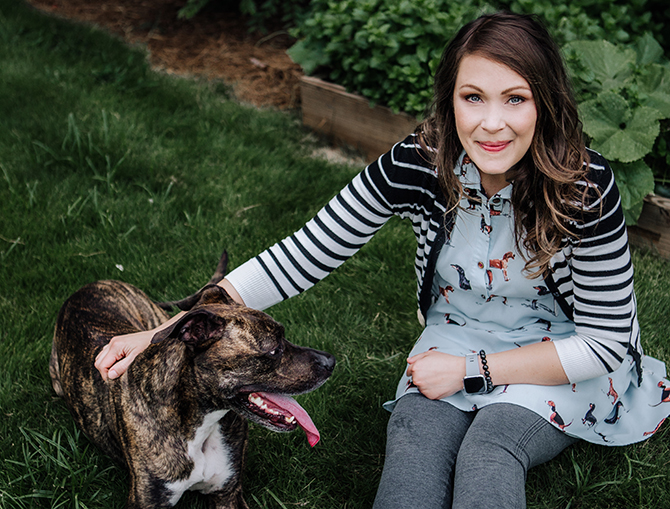 By Melissa Clark
Amber Nash has been playing the voice of the spit-firing, mocking, improper, eager, intense, and still adorable character Pam Poovey on Archer, the long-standing adult-comedy hit for nearly 11 seasons. However, when she is not in the recording studio, she is saving animals' lives one day at a time.
Nash can certainly hold her own as Pam Poovey however her very own Southern sensibility - kind, generous, loving quite a contrast to her Archer character - cannot resist any animal that crosses her path. A pet parent to two rescues, Nash has a wonderful sense of humanity regarding our four-legged friends, not only nurturing her own fur kids but she also donates her time and resources to PAWS Atlanta, a no-kill animal shelter in her hometown.
It all started eight years ago when a pregnant dog was rescued from a high-kill shelter and brought to Tender Heart and Great Pry Rescue in Roswell, GA. Nash ended up taking one of the puppies from that litter, a Brindle Pitbull mix she named Carol. Flash forward to November 2019 when Nash was directing a play "Invasion: A Christmas Carol" at Dad's Garage Theater in Atlanta, GA. Nightly as the show let out, she would come across a group of stray cats loitering outside the theater. One night, Nash noticed a cat whose breathing was quite boisterous; however, not being familiar with cats, she let it go. But she could not get this abandoned feline out of her mind. It became apparent that the choice to rescue was essentially fate. As if it were pre-determined that she bring this cat home, she told herself that if that it was still there after the show's next break, she would adopt this lost creature.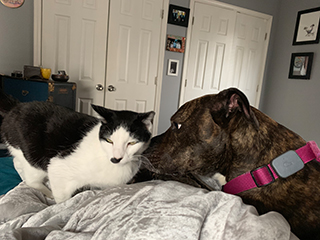 When Nash returned to the theater, she noticed the cat was still hanging around, so with the assistance of a friend, she brought him home. The following day, she wanted to check if anyone reported a missing cat, so she took him to the vet where she came to discover he was not chipped. Much to her surprise she learned that he was around seven to ten years old and that he was neutered, meaning he was not a feral cat living on the streets his whole life but at some point, it was likely he had been a pet.
Immediately he became part of the Nash family, and she named him Rubby Chuthers after a character in a play. Why did such a quirky name suit this furry fellow? Rubby loves to rub against her to show his affection so Rubby stuck and Rubby this once forlorn cat became. Says Amber Nash, "Our lives have been complete since Rubby became a part of our home. Carol adores him. I never owned a cat, but I can say because they do not need that much, when they do give you attention, it's extraordinary."
Nash loves to give a fighting chance to animals that perhaps many might not easily find a forever home. It is true that her heart is filled with love and so is her schedule. Though at present, we are on lockdown due to the pandemic, Nash, her husband, and her team look to the future to produce a feature film "How to Ruin the Holidays," about how love, disability and family gatherings test the limits of patience. No doubt though Amber Nash has endless patience with her two fur kids.