What's The Beg Idea?
Ed Begley Jr. Teaches Us To Love Our Pets and Planet Earth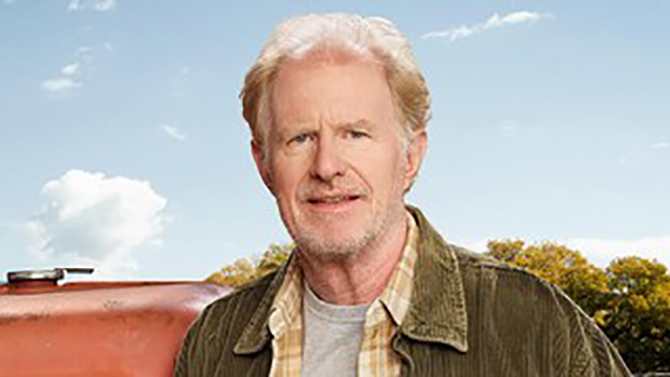 By Adrianne Frost
No doubt you remember him from so may of your favorite TV shows, after all his kind, gently questioning presence is not easily forgettable. Don't tell me you were not a fan of St. Elsewhere, Boston Legal, Portlandia, or, currently, Bless This Mess. Or maybe your fondness for him is because you've seen him light up the big screen in The Accidental Tourist, Best In Show, or A Mighty Wind much less Pineapple Express or Batman Forever. Or could be, it's the role he is most proud of - being a dedicated environmentalist - that makes you relate to his compassion and integrity, not only in the roles he plays but in real life too. Whether it's for acting or advocating, we all know - and love - Ed Begley, Jr.
In books like Living Like Ed: A Guide to the Eco-Friendly Life (2008) and Ed Begley Jr.'s Guide to Sustainable Living: Learning to Conserve Resources and Manage an Eco-Conscious Life (2009), he teaches us to love, respect, and find ways to save the planet. Now, in addition to spreading his knowledge of living green in books, on television, and through environmentally sound home products, he is bringing pet care into the equation.
Begley's home products began in the early 2000's. When we spoke to Mr. Begley, Jr., he talked about how he was running the business, "out of my garage. But, eventually, it got to be too much." So, the venture was put on hold. Flash forward to his meeting with Marc Cunningham and Lab Clean, LLC. "They were creating earth-friendly products with amazing technology," he said, and so he agreed to start the venture back up and proudly be the face of Begley's Earth Responsible Products.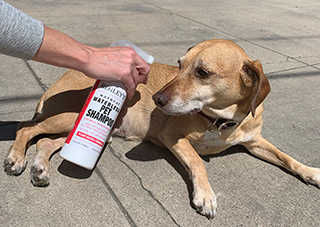 After solidifying a line of home cleaners, pet products seemed a natural progression. Enter Begley's Natural No Rinse Waterless Pet Shampoo and Pet Stain and Odor Remover. The waterless formulas come in citrus, oatmeal mango, tea tree and lavender, and they are completely non-toxic which is critical to maintaining not a healthy pet AND a healthy home. "We have a partnership with our domestic pets to care for them and love them," Begley said, adding "and we want to provide them with safe, dependable products." Begley credits Lab Clean with creating the perfect formula for a safe, plant-based and sustainable products. "These products are entirely natural and incredibly powerful," he said, marveling at Lab Clean's ability to create earth-friendly pet-safe cleaners that perform as well as any non-green alternative.
We asked: Did they go waterless to conserve water, to save people time, or both? "A little from column A and a little from column B." Begley answered, reiterating, "Pets are an important part of our lives." That's why he insures the shampoos and odor remover is safe for people, pets and the planet.
He is no stranger to having pets. In the 1970's, when Begley was recovering from an injury, he remembers that a cat came in to his home and "just walked onto my chest," noting the cat, "didn't seem feral." He kept that cat as a pet. "There were no chips at the time, and he was friendly and seemed domesticated." Over the years, he had several cats and then, later, he and his family had two rescue dogs, Molly and Bernie. It's been many years since they had a pet, but he and his wife, activist Rachelle Carlson, are planning to hit the shelter this summer and adopt a new dog! No doubt we will see their newest addition in the passenger seat of their electric car or in a basket on his bike, smelling as fresh and clean as a whistle. As Hollywood's foremost conservationist, you couldn't expect anything less from Ed Begley, Jr.
For more information about Begley's Earth Responsible Products, check out. http://begleysbest.com/