HULU STAR KATE DRUMMOND
Finding Another Chance To Love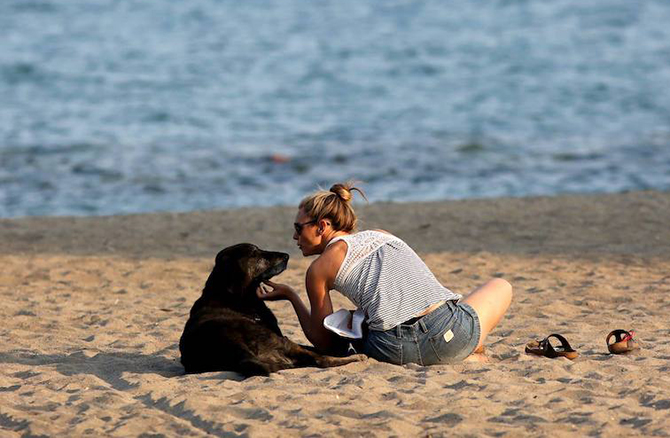 By Melissa Clark
When on-screen actress, Kate Drummond (she is presently in the teen sci-fi drama, "Utopia Falls," on Hulu) lost her darling Great Dane/Lab mix, Jackson, at thirteen years old in May of 2017, she had little faith that she would ever feel that love, that deep, true connection again for another dog. However, it would be Jackson who would unite her with Zelda almost a year later.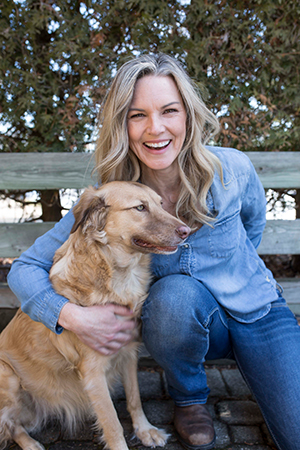 Zelda, found in Mexico City at 2 ½ years old, was discovered starving and with heartworms. It would take almost a year for this Golden Retriever mix to recuperate. After Zelda was strong enough, she was then transferred to DIBS Rescue in Toronto, Canada, a Non-Profit Organization devoted to sparing the lives of strays and placing them in stable homes. Canada requires a staff member to visit the prospective pet parents' home before they discharge any sheltered animals.
Drummond was reluctant to bring another dog into her life, realizing that she was still grieving Jackson; however, she still put her name on lists for dogs up for adoption. Half-heartedly she met a few rescues and was trying to pursue finding a new dog to add to her life but it just didn't feel natural to her; she constantly found herself comparing other dogs to Jackson. She canceled her search until one day, DIBS sent her an email alerting her to a dog they felt would be a perfect match. With encouragement from her partner, Drummond chose to drive more than an hour to meet the dog. She explains, "I headed inside and remembered this little Golden coyote racing to me, I dropped to my knees and began crying. I knew right there, and then, she was intended for me. I was informed that she had not been this friendly to anyone." It was obvious from this moment on that Zelda and Drummond were destined to be soulmates.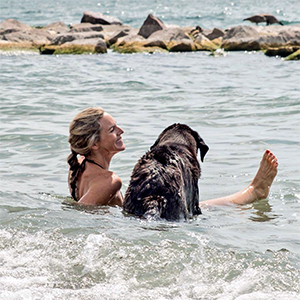 As Zelda settled in her new home, she discovered solace in Jackson's bed. Drummond recalls a time where she heard "unsettling" sounds in the other room where she discovered Zelda nosing around where Jackson's ashes were placed. It looked as though Zelda was playing with something; her tail was swaying wildly. After that close encounter, Zelda nodded off in Jackson's bed, leading Drummond to believe that that Jackson brought Zelda to her.
It's nothing unexpected that Jackson would, in any case, still look after Drummond. After all, he had been with her through her most life-changing moments. This former school teacher-turned-actress does acknowledge that she has seen signs (signals from the other side, you could say) letting her know that those no longer with her are looking after her. Although Drummond always found herself performing in front of family members growing up and always dreamed of being an actress, her love for being an educator initially took center stage.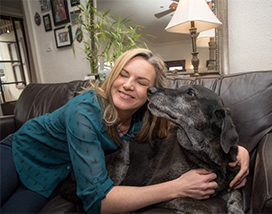 One day when she was educating her students about Martin Luther King, Jr. her life changed forever. "I have a dream" has been a motivating quote to many, and Drummond wanted her students to know that they too were empowered to live out their dream. One of her students asked, "Ms. Drummond, what is your dream?" She answered, "well, besides teaching you, I always wanted to be an actress." The student responded, posing the question, "Well, how come you are not living your dream?"
An ah-ha moment occurred. Although Drummond was quite sad to bid farewell to her students, she knew that she had to be true to herself and be an example to her students by actually living out her dream. She went on a sabbatical, and as they say, "the rest is history."
Her long list of characters has landed her work on sets such as Heartland, Ghostwriter, Degrassi: The Next Class, and Saving Hope, to name a few. Drummond has played many different roles in her career, and her most recent character, "Authority Phydra," a villain yes but not entirely without compassion, is on the musical Hulu series, "Utopia Falls." When it comes to this role, Drummond observes "I think when you play a villain like Phydra - someone who goes against my moral compass - there's got to be a joy there and you can't judge the character.  You can't just be a mean hard-ass with no heart. There's got to be joy and love and passion for what you believe in." Finding that balance then is what Kate Drummond is about, challenging norms and finding love when and where it is least expected, that you could say is her mantra.
Drummond believes her love for Jackson, and now Zelda, has taught her more about opening herself to love, heartache, and how a voiceless creature can say so much: "Dogs come into our lives at the right time. Every living being deserves to be loved, a part of something, and have a second chance in life. Rescue does not mean broken; it is just somewhere down the line; a person gave up on them. You can't be a caring human being if you don't sense their need and want to be there to fulfill it."