Is Total Wellness for Your Dog Your Goal? See "The Dog Doc"
Film Tells True Tale of Dr. Marty, Maverick Veterinarian
By Crystal C. Long
Recognized as a maverick among veterinarians, a pioneer, and a holistic practitioner like no other, Dr. Marty, as Dr. Marty Goldstein is known, introduces us to the holistic haven for animals he and his team of dedicated medical practitioners have created at his practice, Smith Ridge Veterinary Center in South Salem, New York in the new documentary from director Cindy Meehl, The Dog Doc, available now on demand, see dogdocthefilm.com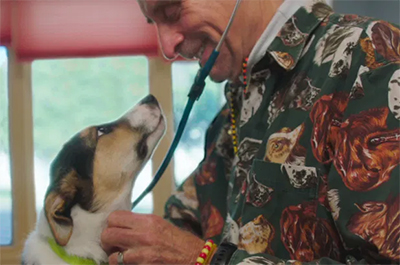 Taking a deep dive into the world of Integrative Veterinary Medicine, Meehl's film is personal, endearing, heartwarming, and occasionally heartbreaking – but most of all, a must-watch for any animal lover and pet parent. The Dog Doc shares the stories of the vulnerable and loving animals in the film and their human companions who often feel hopeless about their beloved pet – before coming to Dr. Marty. Utilizing a combination of cutting-edge methods, like cryosurgery (the use of extreme cold to destroy abnormal tissue), and a natural, holistic approach to veterinary medicine, Dr. Marty and his team of experts are able to transform some pet patients from ailing animals with a slim chance of survival to vibrant, far healthier ones with a promising prognosis – giving hope and joy to their owners.
The film essentially poses the question, "are we over-medicating our pets?" by shedding light on the idea of healing from within through the right nutrients improving health and wellbeing in general, instead of treating specific ailments with traditional medicine. Enlightening, thought-provoking, and inspirational, and for some, the messages of The Dog Doc prove life-changing.
Pet Lifestyles Magazine spoke with the award-winning Director of the film, Cindy Meehl after the premiere at NYC's Tribeca Film Festival to get the inside scoop on the filming of The Dog Doc.
A personal witness to the life-changing work of Dr. Marty and his colleagues, Meehl and the doctor crossed paths 28 years ago when Meehl brought in her own fur baby, suffering and sadly close to dying, for treatment. "No one had anything they could do to her, they just kept putting her on a bunch of meds. Dr. Marty just took her off of them," Meehl reveals. "After six years of being at death's door this dog turned around and became a puppy again." It was then and there Meehl knew she had to help get the message out – and after three years of hard work filming and editing, The Dog Doc finally came to fruition.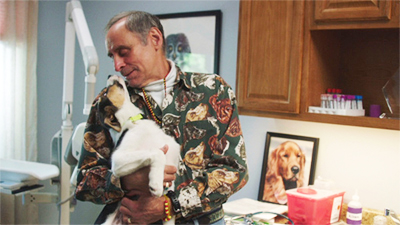 Throughout the film, Meehl and her crew follow the stories of a few of Dr. Marty's patients: Waffles, the 12-week old puppy in desperate need of a diagnosis; Mulligan, the 8-month old dog with kidney disease; and Petey, the nine-year old dog with bone cancer in his jaw, to mention only a few of the stories told in the film. While these revealing encounters do admirably demonstrate the importance of Dr. Marty's work, Meehl was left with the hard decision of editing out other compelling stories in an effort to condense Dr. Marty's "tale" into the hour and forty-one minute documentary, she explains "You know, there were so many stories I wanted to share, especially because I had been there on so many occasions when my own dogs were sick. My dogs live usually very long lives because I follow his way of caring for them and so I felt very at home filming in his practice. I know how it feels when you drop your pet off for surgery and need to walk out the door, praying all will be well but so unsure. I would always be in tears leaving my pet alone to go through something.""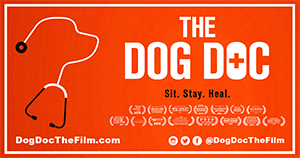 It is because of this strong connection, Meehl and her crew were able to create a compassionate, authentic portrait of Dr. Marty and his team in The Dog Doc. "I felt very connected to so many of the stories, but even though I could not fit them all in, they are still with me, I remember so many of the animals and their owners that didn't make it into the film." Meehl's heart and soul is in The Dog Doc - and so it's welcome news to learn that she has a second project about Dr. Marty's healing therapies already in the works.
"I made this film strictly to help save the lives of animals. I would like to see all animals have a good, long life and hopefully, people can learn from Dr. Marty then maybe they will have a better life too when it comes to their own health. The idea of total wellness and his unique approach are very important to me," Meehl tells Pet Lifestyles Magazine.
After premiering at the Tribeca Film Festival, The Dog Doc garnered tremendous praise and opened the minds of many, says Meehl, "I think the number one comment that I received at the Tribeca Film Festival and as I have traveled around the country is 'Thank you. Thank you so much for making this film. The message is so important, so valuable, everyone needs to see it.'" Remember for info on where to see this exceptional film, a must for every dog owner open to total wellness for their pet, go to dogdocthefilm.com
Visit the films site: dogdocthefilm.com