Help For You & Your Pet
Pet Pantries Offer Hope for our Four Legged Friends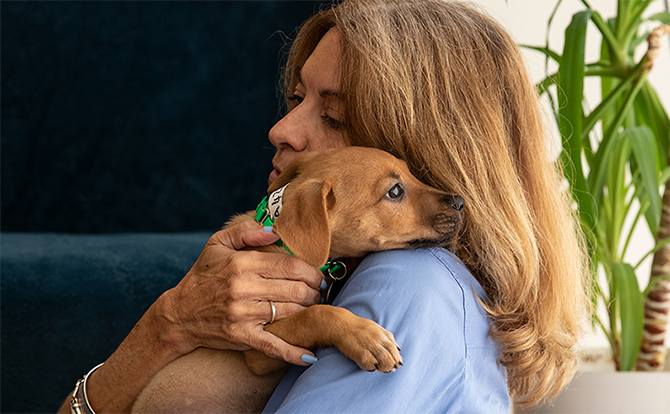 By Samuel Hinke
"During times of crisis it's really important that people are able to keep their pets for the psychological benefit, the companionship, the joy, the love, the stress relief that comes from having an animal." says ASPCA President & CEO Matt Bershadker.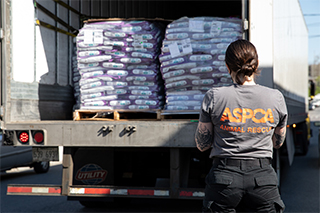 Times are uncertain. The unemployment statistics are staggering. 30 Million people are suddenly out of work with no clear plan for the future. One in five New Yorkers losing their jobs is a forecast we're hearing on the news. And other communities are experiencing devastation not seen in most of our lifetimes; so many are struggling to feed themselves and their families - and yes, their pets too
Although some Food Pantries for people offer pet food as well, there are specific places where pet parents in need can get the basics for their pets. Pets are our families. We love them like our own children. To face surrendering a beloved animal due to financial adversity is devastating. There is help however for those pet parents who are struggling to find the funds to cover the meals and supplies (yes, kitty litter is available): "Pet Food Pantries" helping to ease the burden and try to make sure no pet goes hungry now and in the foreseeable future - which, thanks to the efforts of organizations like these, is possible.
A comprehensive list of pet food banks follows. If you are able to help them help others less fortunate at this difficult time, send a donation of money or pet food, every little bit helps. If you are in need, realize they are there to help. Not every state is listed, if you need information on a state or a location, reach out to us and we will do our best to get you the address, phone or email you need.
HOW TO ACCESS FREE PET FOOD AND SUPPLIES
First of all, remember to call ahead or visit the local Pet Food Pantry website for hours and guidelines before making the trip. Pantries may run low on supplies or have changes in hours, etc. IF you can help with a donation of pet food, keep an eye out for a shelter or a pantry in your neighborhood.
Keep the following guidelines in mind if you plan on visiting a Pet Food Pantry:
Follow social distancing guidelines. If you have any symptoms related to covid-19 (i.e. cough, fever, trouble breathing) you should not visit the pantry yourself. Instead send a family member or friend.
Learn if you need an appointment. Many of these pantries are by appointment only, so make sure to call ahead or check their website in advance. For everyone's safety no more than two people should go at a time.
Do not bring your pet to the Pantry. Pets should stay at home for their own safety. Remember we still do not know exactly how this virus can impact them.
Donate if you can. If you are lucky enough to have food to spare, almost all of these pantries and most animal shelters are desperately seeking donations. Just one small bag of food for a hungry pet (and their worried owner) can make a world of difference.
PET FOOD PANTRIES - LOCATIONS:

National:
Pets of the Homeless www.petsofthehomeless.org
Pets of the Homeless is a nonprofit volunteer organization that provides pet food and veterinary care to the homeless in local communities across the United States and Canada. Their efforts go far beyond the care of the pets themselves.
New York - New York City:
ASPCA
PET FOOD HELPLINE
Food and supplies will be available by appointment only. Pet owners should call the ASPCA Pet Food Distribution Helpline at (800)738-9437 for more information and to request an appointment. This includes dog and cat supplies only, and distribution is subject to eligibility and availability.
The pet food distribution is half of a two pronged initiative that will operate in several cities in New York, California, Florida, and North Carolina and also earmarks $2 million in grants to animal shelters in critical need of funds. 
COVID-19 PET HOTLINE
The NYC COVID-19 Pet Hotline is an information, planning, referral and service coordination resource for NYC residents who need support for their pets during the pandemic.
Pet Hotline operators can be reached directly at (877) 204-8821 from 8:00 AM to 8:00 PM, seven days a week.
The Pet Hotline will help keep people and pets together by responding to questions and concerns about keeping pets safe during the COVID-19 crisis, as well as connect callers to pet relief resources such as subsidized emergency veterinary care, food and supply distribution services, and temporary placement or supplemental care of animals.
Animal Care Center,  NYC Community Pets Program - 
Pet Food Pantry - ACC Bronx Admissions Center
464 East Fordham Road, Bronx, NY 10458
nycacc.org
ACC's Pet Food Pantry, housed at their Bronx Admissions Center, is available for dog and cat owners who live in the Bronx who may be experiencing difficulties in providing food for their animal companions. Owners must meet requirements and sign an enrollment agreement in order to begin receiving pet food.
Long Island
Baxter's Pet Pantry
*Available to Nassau and Suffolk Counties residents only. Multiple locations.
By appointment.
Call 631-582-FOOD (3663) or go to https://www.licares.org/get-to-know-us/our-programs/pet-pantry/63
Connecticut
The Connecticut Humane Society's Pet Food Pantry Program
800-452-0114
https://cthumane.org/pet-food-pantry-program/
The goal of the program is to help keep pets in their homes and out of shelters.  Available at all three CHS locations (Newington, Waterford, and Westport).
New Jersey
Shelter Our Pets
http://www.shelterourpets.org/pet-food-resources/
973-506-9696

Shelter Our Pets is an all-volunteer nonprofit corporation serving New Jersey and beyond. Providing a safe haven for the pets of victims of domestic violence who are fleeing their abusive situations, Shelter Our Pets assists people seeking safety from violence by providing alternatives to giving up a beloved pet, leaving a pet behind in a potentially dangerous situation or continuing to subject themselves and their pets to abuse. If you are currently residing at a domestic violence shelter or are part of a support program, Shelter Our Pets may be able to provide pet food for your pets.  Have your shelter or program director contact them at info@shelterourpets.org.

Shelter Our Pets works with the agencies below who are able to provide free pet food to people in need.  Please contact each one of them directly for more information on how their program works.

Pets of the Homeless www.petsofthehomeless.org
Pets of the Homeless is a nonprofit volunteer organization that provides pet food and veterinary care to the homeless in local communities across the United States and Canada. Their efforts go far beyond the care of the pets themselves.

Center for Food Action (Bergen County) www.cfanj.org/
The Center for Food Action provides emergency food, homelessness prevention and utility assistance to tens of thousands of individuals and families living in Northern New Jersey.

Rocky's Pet Pantry (Bergen County) 201-773-6740
Rocky's Pet Pantry is a Non-Profit 501(c)3 pet food bank. We are dedicated to assisting low income residents with pet food and supplies. It is our mission to ensure that pets are not forgotten, abandoned, or surrendered to shelters or rescue organizations during economic hardships, and can remain in their homes with their families.
The Camden County Pet Food Pantry,
https://www.awanj.org/pet-food-pantry/

The Alliance seeks to help Camden County residents keep pets in their homes by providing nutritional assistance to those in need. The only requirement is a need for assistance in providing food for a pet.

Camden County Pet Food Pantry locations listed on the website will be open to the public from 11am to 1pm for food pick-up on the second Saturday of every third month.
Ocean City - Southern Jersey
https://www.kibblecupboard.com/
609-412-5440

Kibble Cupboard helps keep Southern New Jersey pets in their homes by providing supplemental food, litter, and other basic necessities.  Their goal is to help low income families, the disabled and the homeless keep their pets with them and their families intact.  A 100% volunteer organization, operating on the kindness and generosity of others, they are there to help but supplies are very much needed.
SELECTED ADDITIONAL LOCATIONS:
Arizona:
The Arizona Pet Project website has an extensive list of organizations offering pet food assistance across the vast state. Just head to azpetproject.org to get started.
Illinois - Chicago:
Care For Real
The first Thursday of every month, 3-5pm
5341 North Sheridan Road, Chicago, IL
(773) 769 6182
Friendship Pet Pantry
The third Saturday of every month, 9-11am
Proof that your pet is spayed or neutered is required
2711 West Lawrence Ave., Chicago, IL
(773) 907-6388
California - Sacramento:
City of Sacramento Front Street Shelter
Thursday and Sunday from 12-5pm
You may pick up food once a month
2127 Front Street
California - San Diegohttps://www.sdhumane.org/programs/paws-san-diego/pantry-service.html

Income qualified residents (those receiving government assistance) of San Diego may visit the San Diego Humane Society Campus and pick up dry dog or cat food once a month from one of their three locations listed on the website.
TEXAS
Those living in Texas need only visit dontforgettofeedme.org to find a list of distribution centers near them.