Sir Patrick Stewart:
Preparing Pit Bulls For Love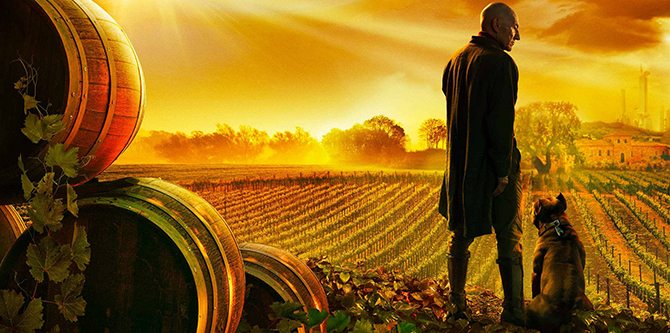 By Melissa Clark
Seize the time… Live now! Make now always the most precious time. Now will never come again," he says wisely, his calm British accent giving weight to the words of his most famous character, a kinder, gentler leader beloved by his crew on the USS Enterprise D (and E), worshipped by Trekkies the world over and trusted by Pit Bulls as the champion of this much-maligned dog. He is Captain Jean-Luc Picard on Star Trek returning now in a new series streaming on CBS All Access (and breaking streaming records as we speak.) So who's his No. 1? A Pit Bull, the breed this greatly acclaimed actor can't live without.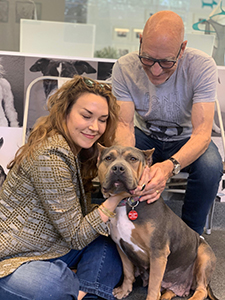 Sir Patrick Stewart and his wife, Sunny Ozell, champions of Pit Bulls, a much-maligned breed.
Alongside his singer/songwriter wife, Sunny Ozell, this duo belts out tunes that may appeal only to animal lovers - or possibly the most die-hard Star Trek fans - who knew Picard could sing? The tune they're touting though isn't a pop hit but rather a mantra, be kind to Pitties. The couple partnered with Wags and Walks Adoption Center (wagsandwalks.org), located in Los Angeles, California to help raise money and awareness for shelter dogs, often breeds determined (unfairly sometimes) to be "difficult." Their affection for animals, particularly Pit Bulls, knows no bounds, but due to their busy schedule they are currently only able to foster dogs. Stewart told Pet Lifestyles, "Letting them go to their forever homes is bittersweet, but we know in our hearts that we provided them with such a good base of what it's like to be with people who truly love them and provide the comfort and safety that they need."
Safety is what these dogs require most; Pit Bulls are misrepresented as dangerous, rough, and violent. However, Stewart calls them the "sweetest, empathetic, and loving creatures" one can ever come in contact with. After all, they were once known as the Nanny Dog, protecting children, and watching out for families. Stewart and his wife have fostered four Pit Bulls so far, Ginger (who is an internet sensation), Ella, Emma, and Lenny. Unfortunately, Lenny perished from a myriad of health complications that his body just could not overcome. The Stewarts were there to help him through his transition, emotionally they speak of his last moments, "We kissed his big gorgeous mocha noggin, scratched softly behind his ears, and stroked his velvet snoot. We told him over and over again, how loved he was as we held his paws."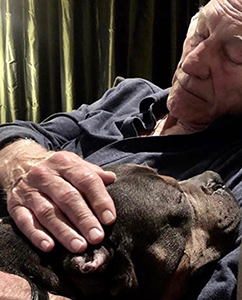 Sir Patrick Stewart with Lenny, a dog close to his heart who passed away from neglect. Lenny inspired Sir Patrick to help the LA rescue group, Wags and Walks with a multitude of efforts.
Losing Lenny was such a life-changing experience for them that they chose to partner with Wags and Walks, raising awareness of dogfighting between Pit Bulls, and matching donations at annual fundraisers. Taking the popular hashtag on social media "giving Tuesday" seriously, and sadly noting that the day Lenny's passed happened to fall on a Tuesday, the couple decided to match donations up to $10,000. to pay tribute to sweet Lenny. More than twenty-five thousand dollars in donations came pouring in. Founder and Chief Animal Lover at Wags and Walks, Lesley Brogs, speaks of the relationship, "From the moment we were fortunate to meet Sir Patrick Stewart; we were blown away by his passionate and genuine love for Pit Bulls. We are so appreciative to have him as our Ambassador! When he has helped with fundraisers via promotion and offered to match donations on his platforms, sharing such important information regarding dogs in need makes an incredible impact."
Indeed, it does! Since its launch in 2011, Wags and Walks has incorporated more and more rescue dogs from high kill shelters. As a result, this rescue group has been able to evolve their mission from sparing the life of one dog a week to twenty-five a week. "On average, we saved nearly one thousand dogs in 2019, and nine hundred fifty of them found their forever homes," explains Brogs who like the iconic Picard makes now the most precious time.