Makenzie Moss star of CBS-TV's The Unicorn
and her dogs Pickles, Lambchop and TwinkIe
By Marie K Johnston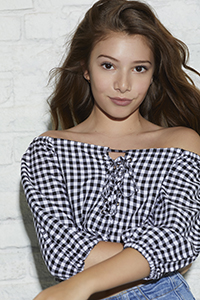 Makenzie Moss CBS Star of The Unicorn
Makenzie Moss, teenage star of TV's "The Unicorn" on CBS, admits she has "love[d] to hang out with cute puppy dogs" for as long as she can remember. "I've always been responsible... I took care of my dogs from a young age," she says. "It bothers me when people ignore their dogs, leave them in the laundry room or outside. I give my [three] dogs the love they deserve — and more!"
ABOUT PICKLES
Makenzie was just four years old when she got Pickles, a full-bred Pomeranian who will turn nine in May. However, life for Pickles hasn't always been a walk in the park—when Pickles was five years old and recovering from knee surgery, the vet diagnosed her with hip dysplasia after her hips popped out of their sockets. She needed hip surgery but couldn't get it because, as it turned out, she was diagnosed with Cushing's disease, her body doesn't produce enough collagen for her to heal properly, "so Pickles is handicapped," said Makenzie, "but she's not in any pain. She can walk with help, she rolls around in her stroller, it's an actual baby stroller. Dog strollers are made for paralyzed dogs, so we just put her in a real baby stroller and she loves it, she's a very happy dog," said Makenzie.
MEET LAMBCHOP
Lambchop, Makenzie's second dog, is a 4 year old who is ½ Yorkie, ½ Maltese, with an adorable Teddy Bear face and black, white, gray and tan fur. Lambchop has been known to try and get in Pickles' stroller!
"Lambchop is the smartest dog of the three; she understands 'Do you want to go outside?' She actually just ran to the backdoor when I said that," said Makenzie who has even taught Lambchop some tricks: she can fist bump, sit and lay down.
TWINKIE THE LIVING TOY
Twinkie, Makenzie's third dog, is 3, a full-bred Pomeranian who "is like a talking, living toy, like a little dollface" that Makenzie ended up meeting on a movie set. Twinkie was too small for her breeder to turn into a show dog, since her tail would stick up, and Makenzie just loved her so they wound up taking her home with them.
"Twinkie is my little sidekick. I [like to] bring her to Canada [for my movie shoots], she's the easiest of my dogs to care for."
FEATURING MAKENZIE
Makenzie's first feature film role with a canine co-star was the "Pup Star" movie series. She starred in one "Pup Star" movie a year from the time she was eight until she was 12. "There were actually two dogs who played 'Tiny,'" said Makenzie, "they grew up, got married and had babies' in the movie series," which can be seen today on Netflix and Disney-Go.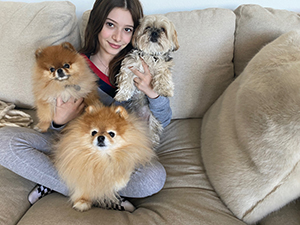 Makenzie Moss loving her three pups
There are two dogs with big roles on "The Unicorn," the CBS TV show in which Makenzie currently stars. "The Unicorn" is the story of a widowed man with two daughters who suddenly becomes a hot commodity in the dating world. Makenzie plays Natalie, the younger daughter. "[We have] one large mutt named Linda and one small mutt named Joyce," Makenzie said. "Joyce kind of looks like Lambchop. Linda and Joyce won the CW Dog Honors Award, a big gold fire hydrant, from Mario Lopez that [I recently accepted for them]. So proud of them, they won 'Best Dogs in TV'."
But, Makenzie admitted she doesn't have a favorite dog amongst her three. "I love having three dogs," she said, "They all get along well, they're friends. The most important thing my dogs have taught me is loyalty. They are so loyal to me that I want to be loyal to them. I've learned to be calm around them, centered, they taught me to slow down...There wouldn't be as much fun in life without them because they love to go on adventures with me—they get so excited when I come home that they can't breathe!" she said.