Carrie Schroeder: Singer, Dancer,
Actor and Dog Mom to Dusty
By Samuel Hinke
You may recognize Carrie Schroeder from her role as Doctor Mom on the hit Nickelodeon TV show "I Am Frankie", but did you know she also performs with the Boston Pops Symphony Orchestra? And she volunteers at a German shepherd rescue? Bet you're not familiar with her work on stage with animals?
Carrie Schroeder began her career on stage as a "triple threat"; singer, dancer, and actor. An unfortunate accident during part of her tour in Singapore put an abrupt end to her dancing career. But that didn't stop her from pursuing her dreams. Carrie shifted her focus towards being on screen vs. on stage, and her efforts paid off, earning her standout role as Doctor Mom on "I Am Frankie."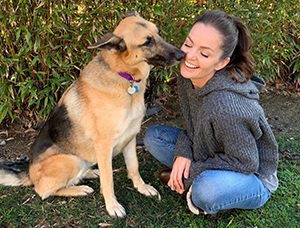 Carrie Schroeder and Dusty
Perhaps some of her success can be attributed to her very talented co-stars including a rabbit who worked with her in her stage play debut as Mary in "The Secret Garden", "Pretty sure it was the rabbit's first gig, but he managed to relax into it and we found our groove," she recalls joyfully. More recently she's been seen in commercials acting with a camera shy Australian Shepherd and horses with big personalities.
Carrie Schroeder grew up with two German Shepherds. One was her guardian, so to speak, who watched over her in her bassinet. As the story goes; when she stirred in her sleep "George" would trot down the hall to wake up mom and dad. Upon moving to LA she immediately went to a rescue to find a new German Shepard to join her family. "Dee" immediately stood out as a dog with a "beautiful soul." Unfortunately Dee had a congenital liver defect, and passed shortly after being adopted. Schroeder did not give up on her love for animals, choosing to foster.
Schroeder would soon fall in love with a feisty little pup with a tough spirit who would prove inspirational; Dusty. After watching her overcome parvo, she knew this was the German Shepard for her: "That was a fighting spirit I knew I wanted in my life. That was Dusty.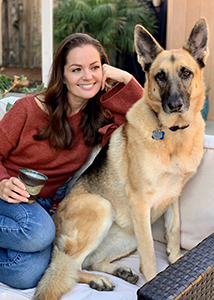 Carrie Schroeder and her beloved Dusty
Interestingly enough, Schroeder reveals, Dusty isn't really motivated by food, but she will do anything for the ball: "She LOVES it. And she has no 'off' switch. She will play ball until she collapses if I let her." Most dogs love the park, but it seems Dusty is obsessed. Speaking of obsession, we have to talk about the donut. It's squeaky, it's plush, and it's shaped like, well, a donut. That's it. That's all there is to it, and yet, it's the only toy to have lasted more than 20 minutes in Dusty's paws. Maybe she was a cop in a previous life?
As an Australian native, we asked Carrie about her thoughts on the bushfires currently devastating the region. They say fight fire with fire, but anyone following the latest on the Australian wildfires knows it takes more than words to combat a crisis. The problem is most people don't realize there are more ways to help than just donating money. When asked about ways to help, Carrie had a few suggestions; "The Rescue Collective is a wonderful organization doing important things. They have a wishlist on their website, so if you can't spare any cash, this is another way to contribute." And if you want to see the most adorable thing ever, look up koala mittens and joey pouches. Organizations are asking those with knitting skills to create both these items. There are always creative ways to help.
Actress, singer, rescue lover, activist, animal enthusiast…Carrie Schroeder is one paw-fect person.