DAYTONA'S JOHN HUNTER NEMECHEK
RACING CARS AND LOVING DOGS
By Melissa Clark
NASCAR has a new driver in town, and he is sure to be a winner. John Hunter Nemechek debuted as a rookie at the Daytona 500 NASCAR cup series race in the Spring of 2020. This is the sport's top-level, and Nemechek does not intend to let the family name down.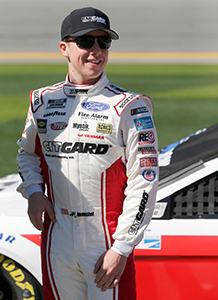 ©Getty Images
IN HIS BLOOD
Racing cars runs through the Nemechek blood with his father Joe, also known as "Front Row Joe," who is a professional stock car driver. Starting his love for racing early, Nemechek takes after his father. At the age of three, he received his first go-cart, and at six, he started racing motocross. He always knew that he wanted to race however, after a few injuries, he desired to get into something safer, and so at the age of twelve, he made his way back into stock cars. Although Nemechek has been on his own racing with other teams, he gives a great deal of applause to his father for helping his career. He explained, "He has been my mentor, advisor, boss, team owner, and, most importantly, my dad."
FURRY FAMILY
So what does this "need for speed" twenty-two-year-old guy do on his days off the speedway? He and his fiancé Taylor own seven dogs, Willa (French Bulldog), Mocha (Chihuahua), Layla (Golden-Doodle), Sage (French Bulldog), Wilbur (Frenchie-Beagle mix), Lola (Newfoundland), and Sadie (Golden Doodle). They did have eight; however, sadly, one of them perished. Zona, a rescue, was spotted by Taylor while the couple was en route to a race in Phoenix last November. Taylor noticed cars dodging out of the way for something; it was a dog. By the looks of her, they can tell that she'd been on the streets for some time. They decided to take her to the local veterinarian to check if anyone was missing a dog. Zona did not have an identification tag on her, and they soon discovered at the vet that neither was she chipped. They did learn, however, that she was a full-breed Belgian Malinois around two and a half years old, so they settled on a decision to take her home.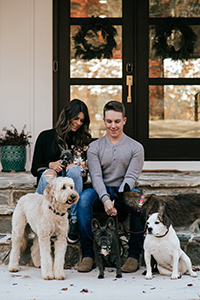 ©Jennifer Austin Photography
They were able to get her from twenty-four pounds to sixty pounds, yet providing the best of care was out of the couple's hands. Her ailments were too great, and mid-January, they sadly had to put Zona down. Although they only had Zona for a few months, she taught Nemechek a lot about life and to never give up. He believes that animals come in and out of our lives at just the right time. Nemechek expressed, "It's always hard to say goodbye to an animal, but it wouldn't be fair to watch them suffer because we want them around. They are just a small part of our lives, but we're their whole life. Taylor and I were happy that we could give Zona the chance to enjoy quality of life while we had her."
SHARING THE FRONT ROW
He has seven other animals to look after now, and they do nothing but provide serenity to his life with Taylor. He considers them a blessing, and when he has an off day, they are consistently there to welcome him when he comes home. His family life and animals are a passion, a deep and abiding love for him. He told Pet Lifestyles Magazine that when he plans to wed, his dad might have to share the "front row" with his adorable pups.
His goal is to continue racing, getting into championships, and be the best he can be with what he is offered. It's a dog's life and he's determined to live it to the fullest.