Miss USA Rachel Smith
Staying True To Her Heart
By Melissa Clark
Her smile can brighten any room, her kindness is contiguous, and her generosity goes a long, long way. You may have seen Rachel Smith accepting her crown at the Miss USA pageant when she won in 2007 or working the red carpet as E! Entertainment correspondent, but what you may not know is her passion for using her stardom to help others.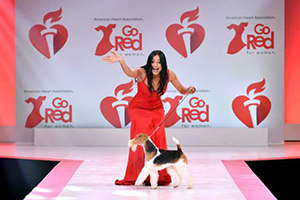 On the runway at American Heart Association's Go Red For Women 2020 Red Dress Collection, Miss USA Rachel Smith and Westminster winner King.
A DEDICATED LIFE
Smith was born in Panama City, Panama, to parents Rodney and Beverly Smith. After her parents were stationed in Fort Campbell, Kentucky, she grew up in Clarksville, Tennessee, where she attended high school. Earning a full scholarship she attended Belmont University in Nashville, where she received a Bachelor of Science degree in Journalism. All of her hard work, community affairs, and dedication would pay off when she won Miss USA and embarked on her present career.
GO RED FOR WOMEN
We recently caught up with Smith at the American Heart Association's Go Red For Women 2020 Red Dress Collection the annual New York fashion week presentation held at the Hammerstein Ball Room in NYC. Excitement prevailed as she was getting her hair and makeup done for her runway appearance for this annual New York Fashion Week event bringing attention to heart health for women. Witnessing her maternal grandmother encounter cardiovascular failure at the age of seven years old, and seeing her paternal grandmother pass away due to elevated cholesterol and hypertension, gives her a personal motivation to support the AHA's campaign to raise awareness of the risks of heart disease in women. Unfortunately, cardiovascular disease runs in Smith's family. Smith is Bi-racial, and heart disease impacts more African-American women at an earlier age than Caucasian or Hispanic. Powered by personal loss, Smith intends to lead by example and to bring awareness to the #1 killer in the United States.
Smith strolled the red carpet and the runway at the Go Red For Women 2020 Red Dress Collection with no other than King, 2019 Westminster's best in the show. The Scottish terrier's presence signified why it is heart-healthy to have a pet. Director of Communications for The Westminster Kennel Club (WKC) and Dog Show Analyst for FOX Sports. Gail Miller Bisher, told Pet Lifestyles Magazine, "It's no secret that dogs lower our blood pressure and they get us out of the house, the message is clear that animals are full of love which keeps us healthy. We are so excited to be partnered with this wonderful event tonight."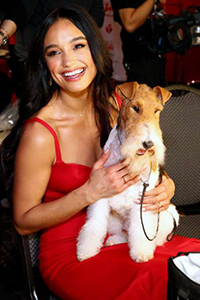 Rachel Smith and Westminster winner King together bringing attention to heart health for women. Photo by Paul Prince
LOVING OUR FOUR LEGGED BFF's
Smith couldn't agree more! Growing up with every "animal under the sun," her love for our four-legged friends is undeniable and unconditional. Although her schedule is hectic, she makes the time for her dog Spike, who is 12 years of age. "Spike calms my life, " she shares from the heart. "He increases my activity since I have to get him outside and take him for a walk. Not only does my responsibility for him help my mind, and ease my stress level; it helps my heart."
A study done by Harvard Medical School showed that having a dog in the household improves mood, social impact, immune function, and modifies the microbiome. Indeed! According to Dr. Robert H. Shmerling of Harvard Health, "It's possible that having a dog alters the types of bacteria we harbor, which in turn could affect inflammation in the body and resultant cardiovascular risk." What would Rachel Smith say? "Have a heart! Love a dog."