ONCE 007'S ASSASSIN NOW AN ADVOCATE FOR ANIMALS
Bond Girl Rachel Grant Saves Lives One Paw At A Time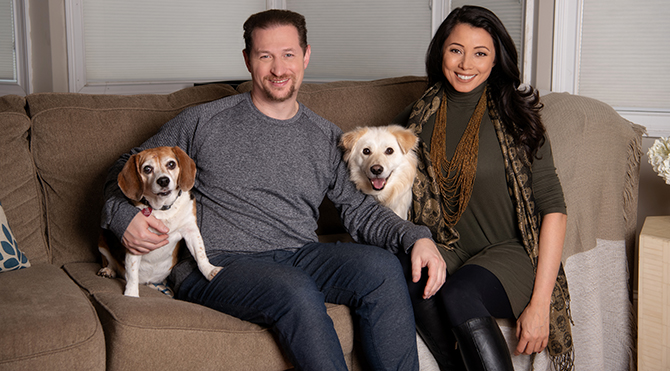 Bond Girl turned animal activist, Rachel Grant with her husband, Stephen Hersh of Shark Tank fame; together they are building Biaggi folding luggage for world travelers.
By Melissa Clark | Photos by Geoff Tischman
It has been a moment since Rachel Grant flashed her 007 Bond Girl badge from the 2002 "Die Another Day" when she was an assassin out for Pierce Brosnan. Time has flown by and Rachel is presently concentrating on her family's business, Biaggi, "the luggage that folds." Launched in 2014 when her husband, CEO Stephen Hersh, landed a deal on Shark Tank, Grant is the face of the brand. An expert packer (just watch her videos on You Tube), her impressive packing abilities have landed over 150 million views worldwide and put her on shows such as The Rachael Ray Show, Bravo's—Tour Group, and Hallmark's —Home and Family, demonstrating her space-saving tips when traveling.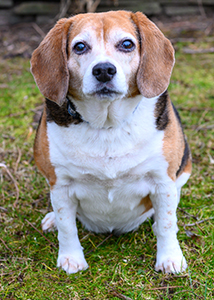 Tori, the family Beagle, rescued as a puppy.
BEING A VOICE FOR THE VOICELESS
Though she's occupied with building Biaggi she doesn't let that hinder her passion for lending a hand where animals are concerned. Standing up for a good cause is in Grant's blood. Experiencing childhood in a family that has consistently supported others in need, she can't envision an existence without helping other people. Without a doubt she realizes the significance of human lives; however, she is committed to being a voice for the voiceless, such as helpless animals.
PUPPY LOVE - MEET KIA AND TORI
We were recently invited to the family's home. They introduced us to their rescues, Kia and Tori. Tori, a Beagle, and Kia, an equally loved mixed breed, who were rescued at separate times as puppies. Grant cannot imagine her life without her dogs around. She shares, "When I get home, they are inviting me in with such wonderful affection. And when we wake up in the morning, they are so excited to see us."
The couple makes it a point to attend events to help organizations such as Southampton Animal Shelter as well as organizations overseas. Grant's roots are from the Philippines, and she makes sure to always lend a helping hand with one of the most well-known charities in Manila, PAWS. Grant explains to Pet Lifestyle Magazine, "PAWS is the largest animal shelter in the city of Manila, and unfortunately, the adoption rate is meager. Animals only get adopted about forty to fifty times out of the year."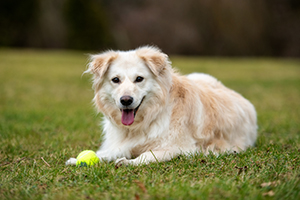 Kia, a mixed breed, also rescued young now an established member of the family.
SHELTERING ARMS
The adoption rate is low worldwide, Grant believes because shelters have a reputation that abandoned dogs or cats may be sick or not of the temperament to function well in a family. This fear of potential illness or bad behavior is why so many people go to breeders. Grant wants all to realize that these perceptions are incorrect, "The dogs and cats you find in a shelter are very well taken care of. By the time they are ready to be adopted they will have all their shots, a moneysaver, and most of the available pets are house trained. Plus there is a bonus: you know that you are sparing an animal's life."
Rachel Grant is the Ambassador for Furry Kind by Human Nature, a brand that produces organic products for both humans and animals. Biaggi is continually giving and donating luggage not only to animal charities but to human organizations as well. Grant recently hosted the 17th Annual Pet Fashion Show, the largest pet fashion and animal rescue event in the world. Along with her team, she is also working on a comedy pilot. Yet despite all the exciting professional endeavors she is juggling, knowing that above all she is about doing the right thing for animals, we can't wait to see what's in store for her next.