HOME FOR THE PIANO MAN'S BFFs
SQUARE PAWS DESIGNS BILLY JOEL ROOMS AT
NORTH SHORE ANIMAL LEAGUE AMERICA'S NEW FELINE ADOPTION CENTER
By Lori Zelenko with KC Jones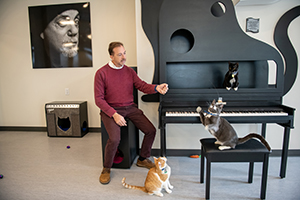 Desgner of the Billy Joel rooms at North Shore Animal League America, Mario Arbore of Square Paws, a cat whisperer himself.
Billy Joel's love for animals and his commitment to their well-being sings out at North Shore Animal League America (animalleague.org) in two extraordinary spaces designed by Mario Arbore, the architect turned cat whisperer behind cat-focused design firm, Square Paws (squarepaws.com),. Where? When? How? These are the first questions any Bill Joel fan will ask. The answers come from Arbore, a long time devoted fan of The Piano Man, a cat whisperer himself, creator of two remarkable Billy Joel-inspired cat habitats at North Shore's new feline adoption center. These spaces are open to the cat-adopting public at Bianca's Furry Friends Feline Adoption Center — or BFF, as North Shore Animal League (NSALA) affectionately calls this 14,000-square-foot, state-of-the-art space which transcends whimsical and entertaining to become practical and inviting.
PROUD PARENTS
Technical details first, the space expands the existing Adoption Center on the NSALA Port Washington, New York campus, the world's largest no kill rescue and adoption organization. BFF is a remarkable cage-free adoption center: it allows for maximum socialization, crucial in matching cats with potential adopters. More than 400 felines have been adopted to date at Bianca's Furry Friends (since the December 2019 opening). The number is climbing steadily in part due to the Square Paws-conceived exceedingly comfortable habitats. (Editor's note: There are additional rooms including space dedicated to Hallmark, Lifetime and Rachel Ray not to mention a new kitten "nursery," however we are crazy for Billy Joel and the architect who made his vision relatable to all. These two are at the top of our charts!). NSALA like a proud parent is glad to see that adopters, once seeking mostly kittens, are delightedly expanding their universe, reaching out to include seniors, bonded pairs, and siblings too! All due to the comfort and home-like feeling of the spaces - including the Billy Joel rooms - at NSALA. In fact, we saw a pretty pair of brothers who cornered the market on kitty cute-ness, these Empire State twins definitely have a New York state of mind. Love their cat-titude!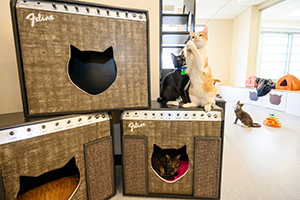 Kitties nest comfortably in these Fender amps blissfully enjoying life in the new Billy Joel rooms by Square Paws at North Shore Animal League America.
KEEPING OUR BBFs HAPPY AND HEALTHY
Square Paws worked with North Shore to create the Billy Joel rooms as easy, accessible (yet innovative!) environments designed as BFF is, in general, to help felines stave off depression and aggression; the more relaxed and literally "at home" cats are, the better chance they have at finding and keeping a forever home. There is no doubt Mario Arbore (a cat parent himself to three on the Space Coast of Florida) built the Billy Joel rooms at BFF to help cats feel calmer and more confident. What makes for the "can't stop smiling" result is the Square Paws signature humor, from a cat-shadowed baby grand to subway cars with ads that take cat puns to new heights.
BFF is designed to highlight the joy of feline companionship while educating visitors on issues related to adoption and the care of cats. There is a plan to offer unique adoption opportunities and feline-themed events like cat cafés. Long term it is hoped that BFF - and naturally the Billy Joel rooms - will become a must-see destination for cat lovers and for the national humane community.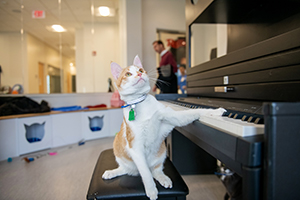 It's only rock'n roll but they like it. Cats enjoy Billy Joel's greatest hits in their new space at North Shore Animal League America and some even channel The Piano Man himself.
SOOTHING SOUNDS
Psychologist Dr. Charles Snowdon, University of Wisconsin-Madison, has proven through research that dulcet tones are calming for cats. It does appear that Billy Joel knows how to tame a not so savage kitty; his music plays continuously inside the rooms at NSALA. It may be rock'n roll but these cats like it! And so do the cat parents coming to adopt. The Piano Man's generosity is beyond compare; he donated proceeds from his 65th Birthday concert to help build BFF and a palace it is for once forlorn furry friends now living the good life. Part of his devotion is his loyalty to his own BFFs, Beth and her husband, media icon (ok, to some "shock jock") Howard Stern. Since the passing of their beloved bulldog, Bianca, the Sterns have become known as esteemed cat rescuers and foster parents of many a kitty over the years (total is more than 500). As the spokesperson for North Shore Animal League America, Beth Stern's voice is heard around the world; the voiceless speak through her.
THE PIANO MAN
What goes on inside The Piano Man's room? Naturally a nod to Billy Joel's piano playing prowess. Inside the feline shape construction of the vertical grand piano, lies a 'jungle gym' for afternoon recess. Classic Fender amps are rebranded as 'Feline' with scratch pads on each side of their openings. Cats scratch not only to file their claws, as most of us know, but it's also a way for them to mark their territory and stretch their bodies. Scratch pads are essential. Because cats are extremely sensitive to changes in their environments, territory distinctions are fundamental to enabling them to have a sense of security in their living space. A positive habitat occurs and they are at ease when meeting potential new parents. A runway underneath a musical chord adds another lively element for the cats. The perfect finishing touch? A black and white photo portrait of Billy Joel himself.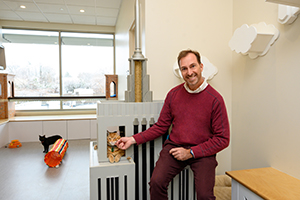 Half of a matched pair, this kitty has cat-titude. He's in a New York State of Mind with designer Mario Arbore in the Billy Joel rooms, the new destination for feline adoption.
NEW YORK STATE OF MIND
Traveling next door to the second Billy Joel room, we enter Manhattan. We're playfully welcomed to "A New York State of Mind," complete with an Empire State Building playground. The cats like to hang out, relaxing by the windows of the roof deck. Connected by floating clouds, says Mario Arbore, the space is "a tribute to Yankee Stadium, great for the felines to relax and take in views of passing potential pet parents."
The "Brooklyn Bridge" is equipped with suspension cables for added extracurricular activity. Our personal favorite: The subway car, "CAT" short for Cat Authority Transport. Cleverly mimicking NYC's MTA, kitty-scaled subway cars are lined with ads, hysterically funny to cat parents and cat fanciers alike (FYI: dog parents are not exempt from clever kitty jokes.) Sisal-wrapped subway poles also entertain four-legged feline "commuters."
NEXT STOP FURREVER HOME
The phrase "Next Stop Is Your Furrever Home" headlines the doors; capturing all the love Square Paws put into the space. The railway track running underneath the subway cars adds another frisky element, leaving no room for the blues much less boredom. Welcome to kitty heaven! For potential cat parents the Billy Joel rooms deliver their own reward: Every feline friend is chill, cooling out in the coziest habitat this side of paradise.