A TROPICAL HOME FOR OUR FINE FEATHERED FRIENDS
Costa Rica's Toucan Rescue Ranch
By Allison Croce
Costa Rica, a country full of lush tropical rainforests, volcanoes, and some of the best surfing in the world is also home to an array of beautiful and exotic animal and bird species. In fact, there are over 850 birds that call the country home, as well as over 200 species of mammals.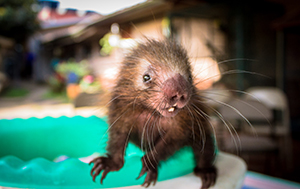 The mission of The Toucan Ranch in Costa Rica has expanded beyond simply rescuing beautiful birds to include other wildlife like this baby Mexican hairy Porcupine.
FOCUS ON CONSERVATION
Since the 1980s, Costa Rica has focused on conservation. Over 25% of Costa Rican land is protected reserves, and there are also many national parks, wildlife refuges, mangroves, and wetlands, making Costa Rica a true paradise on Earth.
The Toucan Rescue Ranch (TRR), nestled in the foothills of Braulio Carrillo National Park, was founded in 2004 by Leslie Howle and Jorge Murillo with the intention of rescuing, rehabilitating, and releasing Costa Rican toucans. As the center grew, Costa Rica's governing wildlife agency, MINAE, started bringing them other species of birds to rescue and rehabilitate. By 2007, their rescue efforts had expanded to include sloths, making them a multi-species rescue facility with emphasis on toucans, owls, and sloths.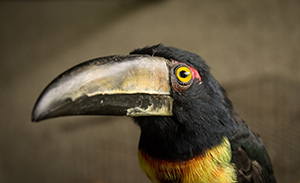 Toucans find sanctuary in Costa Rica at The Toucan Rescue Ranch. Here a Collared Aracari.
From its inception, the TRR has continually expanded in multiple ways. They've proven successful in parent-raised captive breeding programs for both emerald toucanets and keel-billed toucans. They have physically expanded, adding a veterinary clinic at their main site as well as a release site, located in Sarapiqui, Costa Rica. This is where they release the majority of the rehabilitated animals back into the wild.
THE TRR MISSION
The mission of the Toucan Rescue Ranch is for the rescue, rehabilitation, and release of Costa Rican wildlife. Their focus is on conservation, education, and research to help promote a brighter outlook for the animals in their care. The Ministry of Environment and Energy of Costa Rica (MINAE) brings the TRR injured, sick and vulnerable animals for them to receive care and rehabilitation leading to the ultimate goal of release back into the wild. In 2017, thanks to a monitoring and tracking program called Saving Sloths Together, sloth release efforts increased measurably.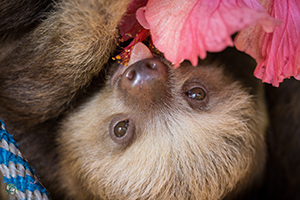 Sloths are happy to cohabitate with Owls and Toucans at Costa Rica's Toucan Rescue Ranch.
RESCUING EXOTICS
One of the biggest issues wildlife rescues face is the illegal trafficking of exotic animals. The illegal pet trade is booming, thanks in part to the ease of e-commerce and listing animals for sale on social media. Exotic species of animals and birds are captured in the wild and sold on the black market as pets. In fact, it's a multibillion-dollar industry. These animals require specialized care and a large majority end up in rescues. The Toucan Rescue Ranch offers educational programs aimed at addressing conservation efforts and awareness, as well as the safe handling and care of exotics for those who are instrumental in rescue.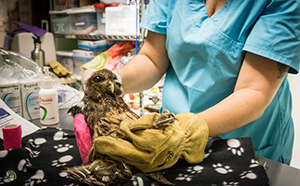 The Ministry of Environment and Energy of Costa Rica brings the TRR injured, sick and vulnerable animals for them to receive care and rehabilitation.
AVOID TEMPTATION
For those reading this article that either own exotic animals or birds, or are thinking about getting one as a pet, it is imperative that you not contribute to the illegal pet trade. A great first step is to contact a rescue and see if any birds or other exotic animals are available for adoption. A rescue will work with you to match you with the bird or other exotic animal that's the best fit for your lifestyle and experience level. Also, it's important to check the laws in your area, as many exotic animals are banned in some cities and states. Another option is to locate a reputable breeder in your area that can teach you proper care and handling of the bird or animal and continue to be available to you even after you go home with your new pet.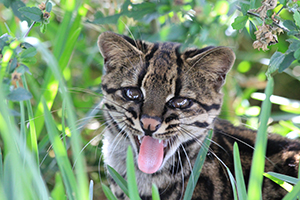 Though the Toucan Rescue Ranch may focus on birds, other wildlife are welcome including this Tabu Oncilla.
SHOW YOUR LOVE
If you want to show your support for the wonderful work being done at the Toucan Rescue Ranch in Costa Rica, you can adopt an animal symbolically. There are some fun options available and you'll know that you're contributing to the care of a rescued animal or bird. Visit toucanrescueranch.org/adopt for more information on the adoption program. There are also opportunities for volunteering and internships, corporate sponsorship, and more. Visit toucanrescueranch.org for more information on all the good that this organization is doing and how you can get involved!