LEND A HAND TO THE KOALAS!
Help Save Australia's Wildlife Hurt by the Bushfires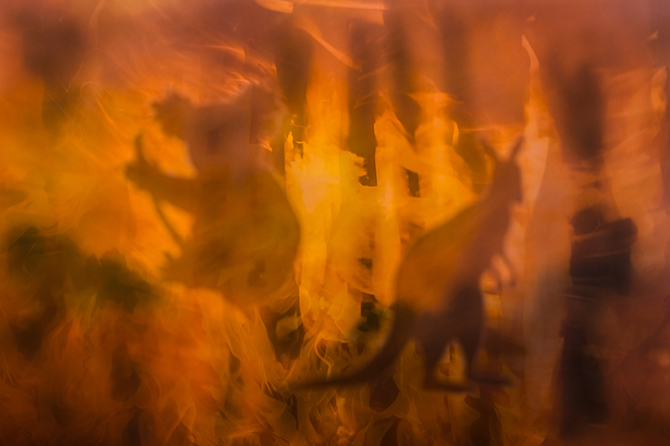 Between drought, extreme heat, and the bushfires the Koala population is at tremendous risk for survival. Koalas - and Australian wildlife overall - need our help more than ever. Give. Now.
By Michael LaChance
The Australian koala, usually associated with all things cute and cuddly, is suffering in the midst of the deadly bushfires. Instead of seeing pictures of adorable creatures nestled in trees we're seeing animals on fire, nearly dying of thirst, lost, dazed, confused, and deprived of their natural habitat. But thanks to rescue teams coming to help from all over the world and the dedication of medical teams at Koala Hospitals helping to heal these animals so emblematic of Australia, there's hope that they will be saved from extinction.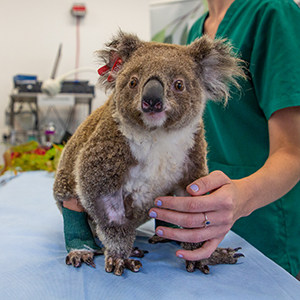 This little Koala named Ember, is being treated at Currumbin Wildlife Hospital for burns as well as chlamydia, which affects many koalas even in the wild.
THE LOWDOWN
Newspapers, news channels and social media have been all abuzz off late, filled with images and videos of fuzzy creatures darting through a darkness tinged with red and smothered with smoke — these are the koalas, fighting for their lives in scenes you would expect in an apocalyptic film not the evening news. Koalas, the iconic animal always associated with all things Australian, are struggling to survive amidst the horrific bushfires currently ravaging Australia. These treasured national symbols have been on the IUCN's Vulnerable List since 2016 and there have been fears that the already threatened species is getting closer to extinction as the bushfires have taken a deadly toll on their already decreasing numbers.
Usually extremely independent animals, these clever creatures actually do better when they are undisturbed by human beings. Leaving them to their own devices works wonders for their health and wellbeing. However, koalas depend on forests to survive as these asocial creatures spend most of their time climbing and resting in the trees they inhabit. They also rely heavily on the eucalyptus leaf that makes up most of their diet. Although they are used to seeking refuge in nearby bodies of water if there is a natural disaster or a drought and are somewhat capable of surviving some forest fires, the recent tragedy has been devastating to forest cover, streams, creeks and all the resources that the koala depends upon for survival. Since so much of their habitat has been destroyed in these fires, they're coming close to a threat of extinction. Their ecosystem is just about destroyed as the eucalypt trees are not growing back quickly enough to reforest areas that have been consumed by bushfires. Now more so than ever, the koalas need our help.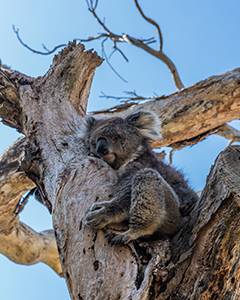 Clinging to the remnants of a tree this lone survivor is a lucky Koala to be alive but his natural habitat is gone. Help save this species. Don't let Koalas become extinct. Help Australian wildlife survive the bushfires.
TIME TO ACT
The Currumbin Wildlife Hospital, which is helping to treat the koala's affected by the bushfires tell us that it takes around $7,000 to treat, rehabilitate, and release these creatures back into the wild. Since due to the fires there has been a 20% increase in admissions and as the entire process of prepping them to go back to their natural habitat takes 3-6 months, help is needed more than ever to support koala rescue and survival efforts across Australia.
"It's important to understand it's not just the animals that have been burned at the fire front. It's around the edges where there aren't fires but extreme drought and the extreme heat which has left many of our animals starving and dehydrated out there," says Dr. Michael Pyne, Senior Veterinarian and General Manager of the Currumbin Wildlife Hospital, adding, "the fire and the associated drought has put tremendous pressure on our wildlife and stretched our resources here in the hospital. The time to act is now. You can make a big difference and save the lives of wildlife like Ember (the koala pictured here) and get them the treatment they deserve along with a chance to be released back into the wild."
Rescuers are helping across Australia, some by housing displaced koalas, others by treating their burns, helping to rehabilitate them, to feed them and to create safe spaces for those koalas who have devastatingly lost their claws (koalas survive in the wild using their claws to climb, without which they are rendered helpless) and by saving them directly from the bushfires.
DO YOUR BIT
Save a koala — or several! Not everyone can rescue, adopt, or foster a koala, but you can do your bit from a distance by donating to several wonderful organizations that are doing their bit to help them survive. Here are just a few: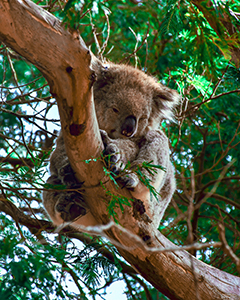 Koalas live on eucalyptus leaves but the fires have so damaged the growth that this foliage cannot replenish fast enough to feed these mascots of Australia putting them at risk for extinction.
• The Currumbin Wildlife Hospital: Currently one of the busiest wildlife hospitals in the world, they have a skilled and experienced veterinary team, supported by volunteers, as well as fundraising programs that you can participate in. Log on to help koala's like Ember (pictured) who is just one of the many bushfire victims being treated here. currumbinsanctuary.com.au/hospital
• Port Macquarie Koala Hospital: The Koala Hospital focuses on helping koalas all year round and especially now, and features updates on the victims as well as ways for people to help out by donating either time or money. Info: koalahospital.org.au/act-now/donate
• The RSCPA in Australia: The organization recently put out a bushfire appeal, asking for donations to help koalas and other wildlife that are currently at their most vulnerable. Info: rspcansw.org.au/bushfire-appeal/?location=stickybardesktop
• WIRES Wildlife Rescue: The organization helps to rescue and provide medical care for native Australian animals. WIRES has a special page on their website dedicated to an emergency fund in an effort to help the animal victims of the bushfires. Info: wires.org.au/donate/emergency-fund
• The World Wildlife Fund: The Australian branch of this world renowned organization is putting out an appeal as well, asking readers and subscribers to donate to protect and restore koalas' habitat lost in the fires. Info: wwf.org.au/#gs.qwmzwc
• Zoos Victoria: Zoos Victoria, like most of the others on this list has a dedicated page to helping the victims of the current bushfire emergency, so you can donate to help fund emergency veterinary assistance and scientific intervention. Info: donate.zoo.org.au/donation