SPRUCE UP YOUR HOME FOR SUMMER
Pet Safe Cleaning Tips for You and Your Fur Kids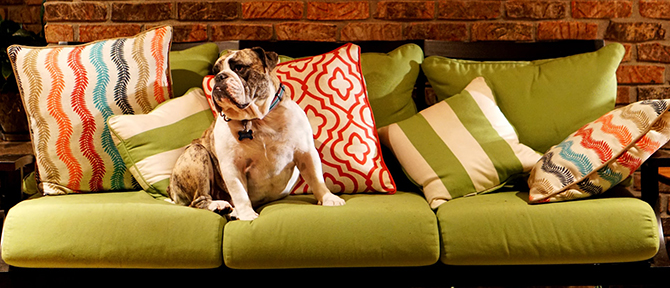 Even patio furniture can be cleaned safely for pets to continue to enjoy.
By Allison Croce
The warmer weather is in full swing and it's the perfect time to spruce up your home as the seasons change! This year we are in a unique situation dealing with quarantine and the COVID-19 virus. We are remarkably conscious about cleaning our homes to keep our families and pets safe.
Getting started is easy! Make a list of every cleaning task you wish to tackle and assign them to different days. More and more companies are producing natural, healthy cleaning products that will not only keep your house germ-free and spotless, but are most importantly safe around pets. After all, it is so much easier to worry simply about dust on the mantle rather than risking harm to your furry or feathered family friend too.
Whether you have carpet, hardwood, or tile floors, I've rounded up a list of products that you can use to keep things fresh and clean for your family and your pets. I'm also including information about a 24-hour hotline being run by the Usdan Institute for Animal Health Education at Animal Medical Center to answer any pet emergency questions. They are also providing answers to questions about pets and COVID-19 and pet friendly cleaning. Keep reading for my favorite line-up of pet safe cleaning products that can be delivered right to your door.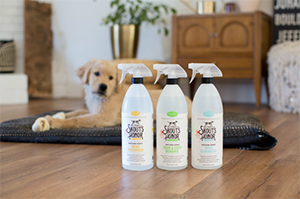 Skouts Honor has pet-safe home cleaning solutions for your dog OR your cat. www.skoutshonor.com
The Lilly Brush by Be Forever Furless
Dogs and cats shed their winter coats as the weather warms up. This portable brush picks up fur and lint from any surface with just a few swipes. No more fur all over your couch and carpeting; this brush is a miracle! It can be used on clothing, upholstery, carpet, in the car and more. A lifesaver if you are living with pets that shed. Info: lillybrush.com
Skout's Honor Pet Supply Co.
This company sells environmentally and socially conscious pet products that are cruelty-free, non-toxic, plant-based, and eco-friendly. Their products are perfect for the elimination of both cat and dog stains and odors, urine, and pet bowl cleaners. If you're new to Skout's Honor, we recommend their Dog Essentials Kit which includes a stain and odor remover, urine destroyer, toy and bowl cleaner, and a free mini odor eliminator. If you have a cat, their Cat Essentials Kit will include a urine and odor destroyer, litter box deodorizer, and free mini litter box deodorizer. And if cleaning your pup too is on the agenda, they make a wonderful, healthy shampoo. Info: skoutshonor.com
Aunt Fannie's
We love this company's philosophy that cleaning is essentially a daily act of self-care. Their products are fueled by non-toxic ingredients and the aromatherapeutic scent of essential oils. Your pet's muddy paws are no match for their vinegar floor cleaner! This exceptional natural cleaner gets rid of even the toughest grime and it's even safe for hardwood and stone floors. They also offer vinegar-based and probiotic-based cleaning sprays, wipes, and carpet refresher. Info: auntfannies.com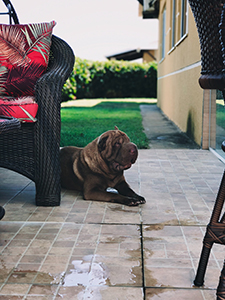 Stone floors too are easy to clean with natural solutions that are not harmful to pets.
Capri Blue
This popular home fragrance company recently launched a Home Care Collection and it is vegan, cruelty-free, gluten-free, paraben, sulfate, and phthalates free. This, in itself, is a cause for celebration for those of us who want to live clean with our furry or feathered friends. Capri Blue's Multi-Surface Cleaner in cult-favorite Volcano scent, contains grapefruit essential oil to keep your home fresh, clean, and smelling great. Since it is non-toxic, you don't have to worry about using it around children or pets. They also offer a dish soap and concentrated laundry detergent. Info: capri-blue.com
CLR Stain Magnet
This product is non-toxic, biodegradable, and part of the EPA's Safer Choice Program, highlighting products that offer a safe alternative to traditional chemicals. It also has no added fragrance which is an asset for pets sensitive to smells. This is the product you want to have on hand to handle your toughest stains from urine, vomit, mud and more. It works on carpet, hardwood floors, tile, laminate and even fabric! Info: clrbrands.com or amazon.com
Carbona Pro Care Oxy-Powered Outdoor Cleaner
Spending more time at home doesn't have to mean you're cooped up inside. Get outside and enjoy your yard and the nice weather with your pets. Carbona makes it easy to keep your outdoor furniture clean because it is not only oxy-powered but non-toxic, biodegradable, chlorine bleach free and environmentally friendly. Safe and effective on not only patio furniture but outdoor rugs, awnings, decks, children's play equipment and more! This product is essential to have on hand for any pet accidents on your patio furniture. Info: carbona.com
Truman's Starter Kit
This kit from Truman's works wonders! It consists of four products and they are all you need to clean your entire home! When you order a Truman's Starter Kit you get 'Everything and the Kitchen Sink' which cleans every surface in your kitchen including appliances, stainless steel, grills, sinks, countertops including granite, and more. Also included is 'Floors Truly' for all floor types; 'More Shower to You' to clean every surface in your bathroom including soap scum; and 'The Glass is Always Cleaner' glass, mirror and window cleaner. All products ship as concentrate cartridges with refillable bottles. You can also order refills as you run out of products through their subscription program. Info: trumans.com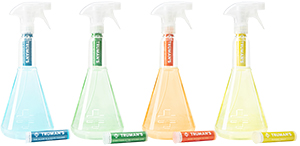 Trumans cleaning solutions for everything AND the kitchen sink, pet-safe for sure. www.trumans.com
Pure & Peaceful Floor Cleaner
This uplifting blend of essential oils is perfect for cleaning non-porous surfaces, stone, carpet, fabric and much more. Helps cut through grime while also being safe around pets. In addition to the floor cleaner, Pure & Peaceful offers an All-Purpose Cleaner, Hand Purifier, Linen spray and more. Clean Eating Magazine awarded Pure & Peaceful the 2020 Clean Choice Award, a truly coveted title! Info: pureandpeaceful.com
Animal Medical Center: Usdan Institute for Animal Health Education
It's late at night and your pet is just not acting right; maybe even appears sick. You're unsure if they ingested a harmful chemical or were possibly exposed to toxic fumes. Don't panic because no matter what the emergency, NYC's renowned animal hospital, The Animal Medical Center known familiarly as the AMC, is offering a 24 hour, 7 day a week hotline for pet emergency questions. For worried pet owners in this unsure time of COVID-19 this is an immediate and no cost way to learn if the situation is indeed critical. The AMC hotline is (212) 329-8608 but their website offers an informative question and answer with Dr. Ann Hohenhaus about COVID-19 and Pets. Info: amcny.org