Seven Benefits of Adopting Senior Dogs
From The One and Only Wolfgang Coming this Fall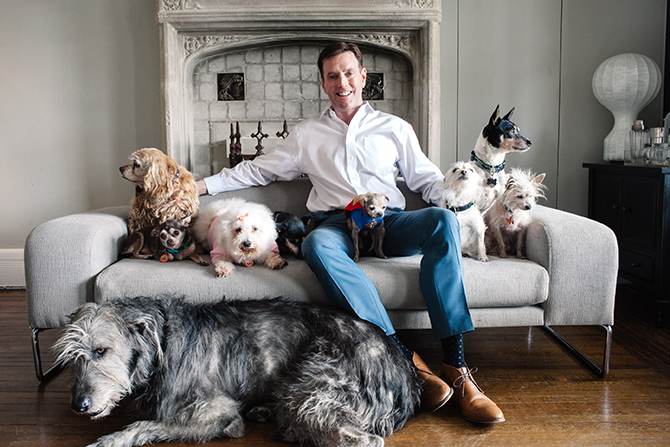 By Steve Greig
Steve Greig who counts celebrities including Kristen Bell and Jillian Michaels among his friends, has made a name for himself rescuing the most "unadoptable" animals. In his forthcoming book, The One and Only Wolfgang (Zondervan/HarperCollins, September 3, 2019), Steve partners with New York Times bestselling author Mary Rand Hess to share his journey from accountant to hero as he tells the tales of adoption and the ups and downs of daily life with 9 senior dogs, a pig, 3 chickens, 2 ducks and a rabbit. The pets others deem unworthy find new life with Steve as he loves them unconditionally, takes them on vacations, shares their antics with almost 1 million fans online, and honors them in their last days.
When I first started adopting senior dogs, I did it to fill a hole in my heart. One horrible day my beloved dog Wolfgang was hit by a car and killed, and grief took over my life.  After a few months I decided I had to deal with this, and I needed something good, something great, to come out of his death. A dog that might live because Wolfgang had died. I went to my local shelter and I adopted the oldest dog they had. He was a 12-year-old chihuahua with four bad knees and a heart mummer and I named him Eeyore. The minute we left the shelter I felt the painful weight of Wolfgang's death fade away and, in its place, I could now feel the joy radiating from this little dog who previously couldn't find a home and was running out of time. I wouldn't have adopted him if Wolfgang hadn't died and I seriously doubted that anyone else would have either. 
Because of Wolfgang's death Eeyore would live, and that was something I could live with. The effect was so transformative that I did it again, and again and again. I had the space and I had the funds to care for more so when I would hear of another senior dog that needed a home, I would bring them in. Ultimately, I ended up with nine senior dogs in my house (and a pig named Bikini, but that's another article). When one of the dogs passes and there are only 8 dogs left it feels a little lonely, so I always adopt another in their honor. However, if I dog sit for friends and there are 10 dogs in the house, it becomes overwhelming, so I know 9 is my magic number.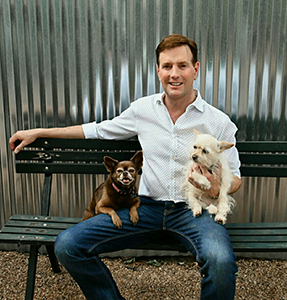 The love and the gratitude I receive back from these desperate old souls has changed my life forever. I realize now not everything has to be about me, and its almost always better when it isn't. That's my story in a nutshell.
SEVEN REASONS WHY SENIOR PET ADOPTION MIGHT BE RIGHT FOR YOU
1. A meaningful life involves giving back to those in need.
2. Over 1.5 million dogs are euthanized in the U.S. each year and senior dogs are usually the last to be adopted, if ever.
3. In my experience, as dogs get older, they become the best versions of themselves.
4. Puppies take a considerable amount of time, patience, and training.
5. Love has no time limit. If you love something for a few months or a few years, it's still love, and it always matters.
6. Adopting a senior dog sets a considerate example for your kids, your friends, your neighbors, and the world.
7. Loving something or someone for no other reason than it needs to be loved is beautiful.