A SPOTLIGHT ON BIG CATS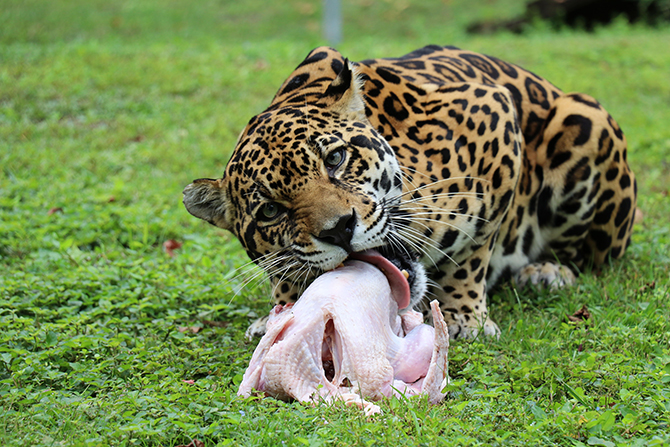 By Michael LaChance
With a new Netflix documentary bringing the plight of big cats back into mainstream conversation, here's what the animals need from us now.
Unless you've been living under a rock, you know about the craze surrounding Netflix docu-series, "Tiger King." Love it or hate it, it's been impossible to avoid it. People have been so caught up in the drama, society has been divided people into factions on one side or the other because of it. Everyone's asking: should Joe even be in jail? What's up with Doc Antle? What's the big deal keeping tigers as pets? Who is Carole Baskin and what's all that stuff we're hearing about her? It's snuck into the news as well, with President Donald Trump even telling reporters at one of his daily coronavirus press briefings that he would 'take a look' at the Joe Exotic's pardon request.
Through all of the drama surrounding the docu-series and the people featured in it, though, perhaps we're missing one critical point. It has highlighted the plight of big cats held in captivity and shown that the need to save the tiger is still a rampant, significant issue: and that's what we should be focusing on!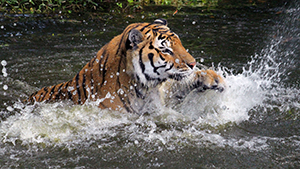 PUTTING THE SERIES IN CONTEXT
Organizations like the Humane Society of the United States have been investigating animal breeders and traders such as Joe Schreibvogel (or "Joe Exotic" if you know him best from the docu-series) and Doc Antle way before the series brought the notorious men into the limelight. Recently, they released additional footage on their website and have made it clear where they stand on any of the sensationalized issues surrounding the show — firmly on the side of the cats!
Sara Amundson, President of the Humane Society Legislative Fund, co-wrote a blog post about the issue as well, which emphasized this, saying, "As for the situations depicted in "Tiger King," well, animals shouldn't be in them at all. These ramshackle operations aren't sanctuaries, and these folks aren't conservationists, either. There's no need for, and there's certainly no social benefit from taking a selfie with a tiger cub whose next stop is a dismal backyard menagerie. Finally, there's no reason society should bear the risks and costs of the many tragic incidents that have resulted from private ownership of wild animals."
And, what about all the hoopla around Carole Baskin and The Big Cat Rescue? Marty Irby, executive director at Animal Wellness Action in Washington, D.C., spoke to us about the show, tiger conservation, and the organization. He told us, "The Big Cat Rescue in Florida run by Carole and Howard Baskin is top-notch, and the best of the best in my book, they even go as far as providing 24-7 live webcams for public view."
For many, the focus has shifted from the wild cats to the sensational subject matter of the docu-series. If you haven't yet watched the show: in "Tiger King," the focus seems to shift to personal vendettas, individual lives, relationships, and scandals. We're not going to focus on them here, because as always, it's important to remember, what matters most, are that these animals get the care they deserve.
It has meant that any attention Big Cat Rescue (featured in the docu-series along with founder and CEO Carole Baskin) received after, was not really about the animals. In a statement in March talking about how the show ended up being different from what the directors had led her to believe, Carole invited people to focus on the cats instead. She also spoke about they have been able to accomplish so far. Her statement read, "Through our Tampa-based sanctuary, we've been able to rescue and rehabilitate over 200 big cats, educate hundreds of venues to not allow cub petting traveling exhibits on their premises, pass the Captive Wildlife Safety Act, and now have enormous support in Congress for the Big Cat Public Safety Act which would end abusive cub petting and outlaw having big cats as pets, and educate the public about the abuses associated with circuses and inbreeding of white tigers."
Whatever you think of the docu-series, the controversies surrounding it, or the people featured in it, there's one thing we should all agree on. These animals need our help — now more than ever!
WHAT'S THE BIG DEAL?
If you've watched the show, you know that the big debate running through it is whether or not private ownership of these big cats should be allowed. It's a conversation that's recently caught more traction, but it has been around for a while.
Marty tells us it also garnered national attention back in October 2011, when the owner of a backyard menagerie in Zanesville, Ohio, opened the cages of his tigers, leopards, lions, wolves, bears, and monkeys before committing suicide. "Local police, who were neither trained nor properly equipped to deal with a situation of that magnitude, were forced to shoot and kill nearly 50 animals—38 of them big cats—before these dangerous animals could enter populated areas. There have been more than 700 dangerous incidents in the U.S. involving big cats, including hundreds of human injuries, mauling, and deaths. In many cases, the animals were shot and killed, often by first responders who are not equipped to deal with these situations," he explains.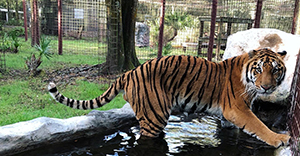 LEND A HAND
Several organizations across the world work tirelessly to prevent cruelty towards these animals and help with rescue and conservation efforts. Just a handful of them include:
The Big Cat Rescue: Even with all the attention the series has given it, Marty tells us that The Big Cat Rescue needs help. So, if you're looking to donate locally, it's a good idea to start there. He says, "Tiger King's inaccurate and unfairly sensationalized portrayal of the Baskin's and Big Cat Rescue has financially harmed the rescue, and I suggest people reach out to them and offer assistance in any possible way that you can help them." Besides, as he says, they do a superb job. "They have vacation rotation, feeding station rotations and lockouts, an open-air play yard, kitten cabana, bobcat rehab where cats are prepared to be released back into the wild, a hospital, x-ray room, and much more," he adds. Support them: www.bigcatrescue.org
Panthera: This organization is devoted to conserving wild cat species, as well as their ecosystems — and use the expertise of cat biologists to do so. They even have a grant program called the Small Cat Action Fund to support conservation and research.  Support them: www.panthera.org
WildCats Conservation Alliance: A partnership between the Zoological Society of London and Dreamworld Wildlife Foundation, this organization works to save wild tigers and Amur leopards. The best part is they work to help these animals thrive in the wild in countries across the globe, including in Sumatra, Nepal, India, Bangladesh, Bhutan, Thailand, and Russia. Support them: www.conservewildcats.org
The Humane Society: This organization is fighting hard the big cats, as well as several other animals! Help out by donating your time, money or even just by helping them petition for the Big Cat Public Safety Act. Support them: www.humanesociety.org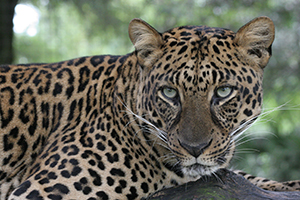 WHAT'S THE BIG CAT PUBLIC SAFETY ACT?
The Big Cat Public Safety Act (H.R. 1380- S.2561) is a federal bill that has been getting quite a lot of attention lately. It's getting even more traction thanks to celebrities signing up to help fight in its favor. Most recently, Iggy pop, Joaquin Phoenix, Edie Falco, and Rooney Mara, Kate Mara, Justin Theroux, Ed Begley, and several other stars backed a petition by Gabriela Cowperthwaite who was director of the documentary, "Blackfish."
The push to passing the bill aims to protect cats like the gorgeous ones seen in the docu-series from being held in captivity. If the bill is passed, owning big cats would be more regulated, including a USDA license requirement.
Marty Irby, executive director at Animal Wellness Action in Washington, D.C., explains, "It is most important that the United States Congress pass the Big Cat Public Safety Act, H.R. 1380 / S. 2561 that restricts private ownership of big cats and prevents cub petting. With all of the current hype from Tiger King and 250 Members of Congress in support of the bill, there's no better time to take action than now. On a global scale, we must bring an end to trophy hunting of lions, tigers, and other wildlife that are killed solely for the human ego. A quick thrill – even President Trump has called trophy hunting a "horror show" and appears to have maintained the U.S. ban on most trophy imports during his time in office."
WHY THESE ANIMALS NEED OUR HELP
It may not be possible to go out and support these animals physically, but that doesn't mean you can't help out. After all, so many more of these animals are in captivity than in the wild. So, it's no secret they need our help. We asked Marty to explain why it's so necessary to do so—sooner rather than later.
He told us, "The cubs used in this despicable trade are typically torn from their mother at birth or shortly thereafter. So, they don't bond to the mother, deprived of the mother's milk that has antibodies to prevent disease, deprived of sleep, which further weakens their immune systems, and physically punished to discourage their natural behaviors. Then, in a few months, when they are too big to pet, there is no tracking of where they end up or how many die or are slaughtered to sell their parts into the international trade. Big cats are wild animals and typically suffer psychologically and physically when kept as pets."
Now that you know these cats need our help, and why, consider lending a hand. Talk to your representatives about the federal bill, or even donate to causes and organizations that are trying to make big changes for these majestic animals. It's never been a better time to save the tiger!