It's July 4th And The Fireworks Are Exploding
How do we calm our companion animals?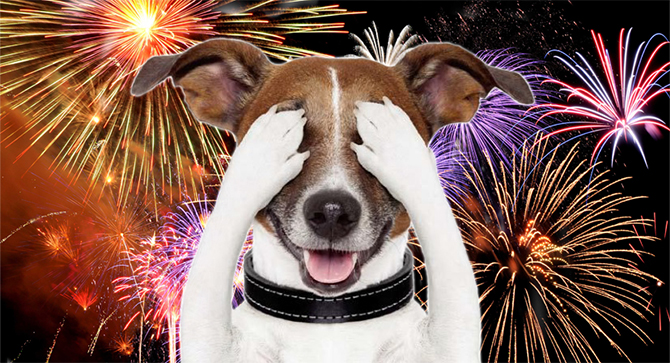 By Melissa Clark
Independence Day is just around the corner and we all plan to celebrate. From burgers on the grill (remember don't feed them to Fido!) to fireworks, a time honored tradition, the 4th of July is something to shout about - sadly often with unfortunate results. Since the start of the pandemic, shooting off illegal fireworks has caused more headaches and scares than fun and enchantment. And the creatures these big bangs scare the most are our beloved pets.
We asked leading veterinarians and pet experts for their advice on how to ease anxiety on this Holiday for our four-legged friends. Dr. Steven Fox (Author's note: Dr. Fox is my pup Hendrix's former vet, he's retired now after a stellar 40 year career but we love him still!), explained the physiological reaction of our pets to the sound of fireworks to Pet Lifestyles Magazine, "Loud sounds leave the animal in a flight or fright reaction."
Dr. Gary Richter, Founder of Ultimate Pet Nutrition a distinguished veterinarian and the international bestselling author of The Ultimate Pet Health Guide, understands the benefits of both conventional and holistic treatment methods. Given his multi-faceted approach we asked him for guidance on how to ease our pets through Fourth of July madness: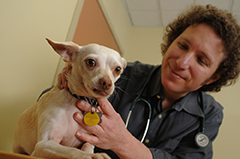 DR. RICHTER'S THREE MOST IMPORTANT STEPS TO PREPARE YOUR DOG FOR JULY 4th
Just like as it would be with anyone a loud, unexpected noise can be startling. From your dog's perspective, they're not able to reason out where that noise is coming from, why that noise is happening. To them loud unexpected noises, especially ones that can come from an unknown source can be very disconcerting as it could mean danger.
STEP ONE: GO SOMEWHERE QUIET
One step if it's something that's possible in your life, avoid the noise and the madness. If you can go somewhere on the Fourth of July where it's going to be quieter, that would be a safe move. Of course, it depends on your neighborhood, you might live in a very loud neighborhood on the Fourth of July or you may live in a fairly quiet one. However if there's somewhere you can go that is calm and quiet, that would certainly be helpful.
STEP TWO: DESENSITIZE BY FAMILARIZING WITH THE SOUNDS
Another thing that you can do in preparation for Fourth of July is work on desensitizing your dog to fireworks noises. The way this is often done is you expose them to low level firework noises over time, to try and desensitize them. I've seen behaviorists send people home with a CDs of firework noises. You put that on in your house, and you start it at a very, very low volume, and you just leave it on. Over time you just slowly increase the volume so it becomes more and more familiar. The goal here is that the dog can't be on high alert for that long and at some point they're going to realize nothing is happening and they're going to get bored with it all and move on. The hope is that when actual fireworks come along they're not going to be as reactive. Now realize this can take weeks or if not months to do. This Is not something you can do on July 1st and have this work. This requires long term planning.
STEP THREE: TEST MEDS FOR ANXIETY IN ADVANCE
If you are giving your dog a natural or pharmaceutical product to help ease their anxiety, I always recommend trying a test dose ahead of time. On a day when there are no fireworks, on a day you're going to be home, on a day when there's nothing else going on, that's a good opportunity to give a dose of whatever remedy you and your vet have chosen. This way you can keep an eye on the dog to make sure they're doing okay with it because you never know they'll react until you've given it.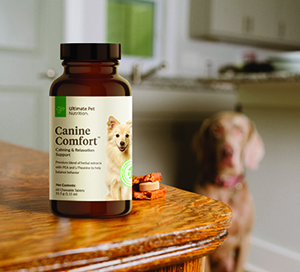 AND LASTLY FROM DR. RICHTER, HIS RECOMMENDED CALMING TREATMENT
Similarly there are both natural as well as pharmaceutical options to help dogs stay a little calmer. Again these are things you have to start ahead of time. I always tell people if you're talking about giving your dog something whether that's natural or pharmaceutical to help them with anxiety, you have to give it to them before they're anxious.

I recommend Canine Comfort because of its unique blend of natural ingredients including L-Theanine, an amino acid extracted from tea leaves that has been shown to have a relaxing effect on dogs during stress and fearful situations and Oat Seed Extract which helps balance the nervous system when exhausted and supports against nervous debilitating stress, anxiety, depression, exhaustion, and general fatigue, among other natural oils and extracts.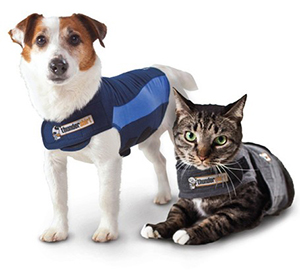 PRACTICAL MOVES TO KEEP FIDO SAFE ON THE FOURTH
Above on these health concerns, there are practical ones, like making sure your pet is microchipped or has a tracking collar (one that you can manage on your cell phone). Do not let your pet outside while there are fireworks happening, odds are they'd be spooked and run off. Enjoy the Holiday celebrations without searching for a missing and likely traumatized dog.
Award-winning pet parenting expert and founder of Pet Anxiety Awareness Month, Kristen Levine explains:
If your dog or cat exhibits severe symptoms of noise phobia, you should talk to your veterinarian. Noise aversion is a medical condition that can be managed and treated. There are also several all-natural ways to help our pets get relief from the fear they experience during fireworks booms. Put your pet in a room they feel very comfortable in. You can play some soothing music (classical is usually best) to drown out the noise. Many dogs feel more secure in a crate with some comfy bedding. You can also use pheromone diffusers or a Thundershirt as well as calming supplements (Thundershirt offers all three!). We like the organic hemp soft chews and oils from The Anxious Pet because vets formulate them, and they are third party tested for quality.