Mario Lopez
Saved By Two Frenchies
How Two French Bulldogs Delight The Star of Saved By The Bell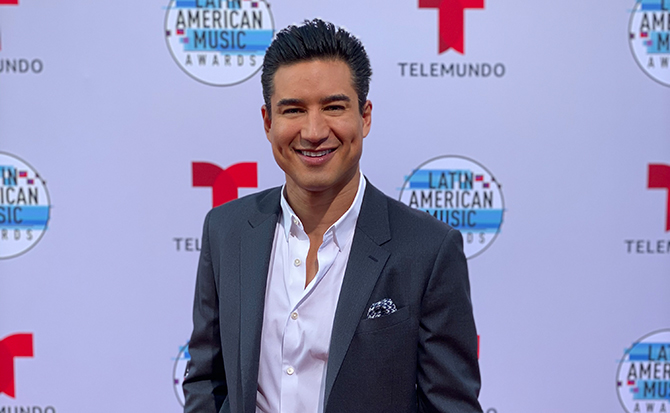 By Crystal C. Long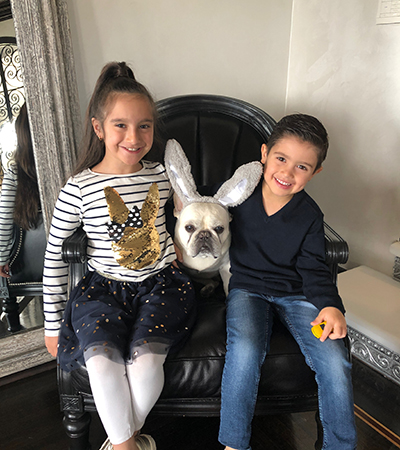 He was as cool then as he is now. Warm, funny, and super fit, Mario Lopez established himself as a household name in the '80s and '90s. The mullet is gone now, but the vibrant charm remains, and frankly, that mesmerizing energy is stronger than ever.
Back in the day, 1989 to be precise, he rocked as A.C. Slater in the cult-favorite teen sitcom, Saved by the Bell. So how did Slater own his turf? He excelled. An army brat and a transfer student—a perpetual outsider—became the school's star quarterback and wrestler. And yes, for five minutes, he became a chef and a ballet dancer too. As if that wasn't enough to give him high school star power, Slater proved to be such a competent drummer he joined the gang's band, Zack Attack.
Sure he shared the small screen with now-famous names, among them Mark-Paul Gosselaar (Zach Morris), Dustin Diamond ("Screech"), Lark Voorhies (Lisa Turtle), Elizabeth Berkley (Jessie Spano), and of course, the lovely Tiffani Thiessen (Kelly Kapowski). But his charisma, well, you could say it made him—and his character—a shining star.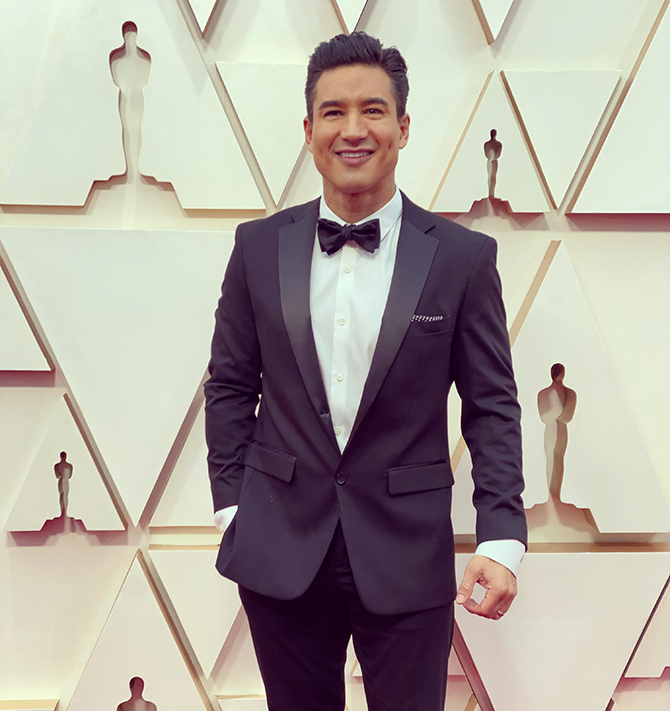 SAVED BY THE BELL REBOOT
Saved By The Bell nostalgically centered around a group of high school friends as they navigated life—and learned important life lessons—all shared with light-hearted comedy. Fans will no doubt remember the entertaining antics of "Screech," the friendship between Slater and his frenemy, Zach, all the endearing aww moments—and tear-jerkers too—during Kelly and Zach's on-again/off-again relationship. We also can't forget about the catchy theme song. Sigh…just thinking about the iconic moments from the Bayside High crew does bring back memories, but don't worry, new memories will soon be yours as TV has decided to revisit Bayside High.
SBTB fans rejoice! That's right, a Saved by the Bell reboot is in the works. You will see it soon (date TBD) on Peacock, NBCUniversal's new streaming service, and it will certainly include some of your favorite Bayside High characters—with Lopez coming back to play A.C. Slater (now Bayside's gym teacher). It wasn't that long ago that the reboot crew, which includes Elizabeth Berkley, shot their first scene, now they are winding down a whole series of shows. Lopez recently gave fans a hint of things to come, sharing that the new SBTB will be "a fresh take" on the original …" a little edgier and happier, and a lot of fun," he's revealed.
ABOUT THOSE TWO FRENCHIES
Between filming the Saved by the Bell reboot and hosting the entertainment news program Access Hollywood, not to mention juggling appearances at pet rescue events whenever he can, Lopez certainly has a full plate. When he has downtime, he relaxes with his wife Courtney (she is, he says, quite the dog whisperer), his three children: 9-year-old daughter Gia Francesca, 6-year-old son Dominic Luciano, and eight-month-old son Santino Rafael. His family also includes his two fur kids: 10-year-old French Bulldog Julio Cesar Chavez and their newest addition, French Bulldog pup, Oscar De La Hoya (yes, these are their names! Champs all!). You could say these two Frenchies saved him; they are as vital to him as his wife and kids.
They ground him, adore him, are great with the growing brood, and entertain one and all. Lopez has always had a love for dogs, life without one much less two - he debates adding a third dog, but he confesses he doesn't really need to as the neighbor's dog, extended family you could say, rules the roost (a tiny Chihuaha called Speck) - would be unthinkable for him. He fell in love with French Bulldogs in 2010 when he became a dog dad to his "firstborn" Julio—his exceptionally content white Frenchie, now happily retired from the dog show circuit. "Being a dog dad to Julio - and now Oscar - I've realized that a French Bulldog is the right dog for me." Lopez said. He took Oprah's advice and went with Frenchies. Why? "They are adorable and fun-looking and they have the cutest ears. I love them for their small compact scale and big personalities," he says. So we have to ask, if A.C. Slater was a dog what would he be? "A French Bulldog because A.C. Slater is a lot like me," but he adds the rest of the Saved by The Bell cast would be best played by "Golden Retrievers because they are friendly, loyal, nice dogs."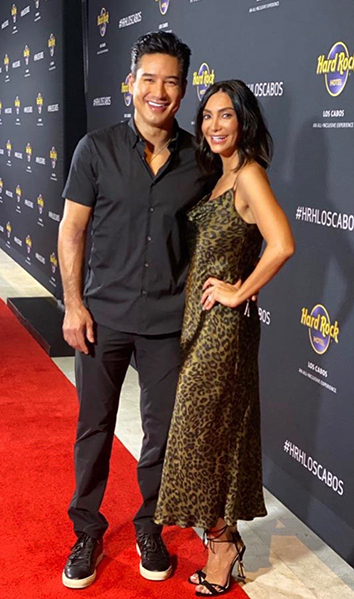 This one-time teen idol and California-native grew up with big dogs—a Siberian Husky named Whistle and a Golden Retriever named Prince to be exact. However, when it comes to French Bulldogs, they are the perfect breed for his growing family. Not only are they lovable, but also tough-looking, he says, like mini-Pit Bulls. Their added portability is just the icing on the (pup)cake—for the Lopez familia who are always traveling. And lots of traveling these two royal canines do: between going to work with Lopez on the set of Access Hollywood and even popping into a dog show or two, Julio's old stomping grounds, Julio (and now Oscar) are always by the side of the Lopez family. The tradition of always naming their fur-babies after Mexican fighters while giving their human-babies Italian first names is still going strong. This quirky ritual is continued with the newest fur-baby, Oscar. "Always name the doggies after great fighters, this one after my boy Oscar, who's a perro (dog) in real life too," Lopez chuckles. "The kids get Italian first names and the dogs Spanish names. Keepin' our cultures alive." Dogs named after boxers. Looks like Saved by the Bell's A.C. Slater and the IRL (in real life) actor have something in common.
LIFE AS A PAWRENT
Lopez and his wife are undeniably caring, responsible dog pawrents – ask Julio and Oscar. "He is the best little dog," Lopez says of Julio. "When I got Julio, I had not had a dog since I was a kid. I can't believe what I've been missing because I love Julio - and now Oscar - so much, both such good dogs. Chill and cuddle, that's their best sport."
These pampered pooches are certainly cherished by everybody in the Lopez family. Just look at those faces! Even though the two fur-bros have distinctly different personalities and dispositions, they get along beautifully, "Oscar is so sweet. They are both so affectionate," he says with a smile. Lopez reminisces, sharing one of his favorite memories about his "firstborn" Julio Cesar Chavez: "Julio is getting a little grumpy in his old age. He likes to relax a lot now, but we used to run together, that was a sight…seeing a Frenchie jogging, people would flip out," he tells Pet Lifestyles magazine.
Playful and sweet, Frenchies have won many a dog lovers' hearts over the years, just like the Lopez familia. Considered an adaptive-intelligent breed, French Bulldogs like Julio and Oscar can be easily trained, if you keep it fun and positive. They also can be house-trained, perfect for when the weather outside is, well, less than pleasant. "We did a little bit of potty-training," he shares, forgetting that these are fur kids, not human kids. When not napping after a busy day playing with the Lopez kids, Julio and Oscar, love to play ball and go swimming. Just as fitness-conscious as Lopez himself it seems, like father, like pup.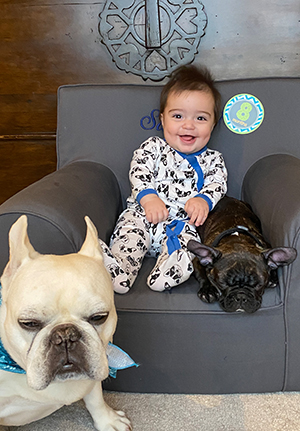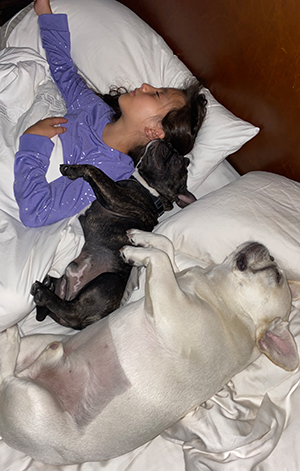 ON WITH MARIO

Life for Julio and Oscar couldn't be better, and these pampered pooches only have Mario Lopez and his growing, dog-loving family to thank for it. As for the A.C. Slater comeback on NBCUniversal's Peacock platform, fans don't have long to wait now! Why not get a head start? Catch up on Mario and his mullet with episodes of the original SBTB on Peacock streaming. And if you're looking to be saved by a precious pup too, tune into Mario's radio show, On With Mario on iHeart radio. Every Tuesday, they spotlight a dog in need of a forever home—and spurred by his love for his two Frenchies, he's made sure plenty of pups have found equally loving pawrents