Football, Fur, and Fun
Baltimore Ravens' Marlon Humphrey And His Cat Snowflake
By Kunwar Ishan Sharma
When Baltimore Ravens' cornerback Marlon Humphrey isn't tackling grown men on the football field, lifting weights in the gym, and studying his opponents' weaknesses, he's at home spending quality time with his fluffy white cat, Snowflake. This quality time includes buying his furry friend toys, having deep conversations, and even posting pictures on Snowflake's Instagram account, which has over 6,000 followers! We spoke to Marlon Humphrey about his special relationship with Snowflake, and here's what he had to say.
KITTY LOVE
"When I was in college, my little sister had a cat who had four kittens. When I came home for the summer, the kittens weren't being taken care of, so I decided to bring them back to college with me. That was my first experience taking care of cats as an adult." After the Baltimore Ravens drafted Marlon in 2017, he learned about an organization called the Baltimore Animal Rescue and Care Shelter. Given that Marlon lived alone and wanted to provide a home for a stray animal, he decided to get a cat. "When I went into the shelter, there were three kittens left, and I think I got the last one. They named him 'Nimbus 3.'" Conveniently, the name "Nimbus," which is a type of cloud, inspired Marlon to name his all-white cat "Snowflake."
While Marlon and Snowflake are incredibly close now, their relationship didn't start off on the right "paw." When Marlon took Snowflake home from the shelter, Snowflake had peed in Marlon's car. To make matters worse, Snowflake hid under Marlon's TV during their first week of living together. While Marlon worried that their relationship would always be distant, they soon became extremely close. They are so close that Marlon refers to Snowflake as his "son." When we asked what changed their dynamic, Marlon simply said, "it just takes time."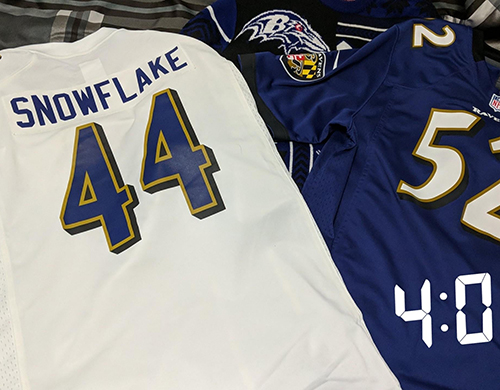 MACHO MANCAT
In an intense sport, driven by masculinity and toughness, Marlon has received a considerable amount of flack from teammates and fans for having a cat. He explained, "I get a lot of heat from fellas when they're talking about dogs. Most guys around the league have dogs, and I'm just the one guy who has a cat." He also addressed the misconceptions surrounding his cat, saying, "everyone assumes that my cat is a female, even my mom did for a long time. I mean, c'mon, he's a big strong man."
Marlon believes he's so strong that, "if someone breaks into my house, I know that Snowflake is going to be fighting right there with me." In addition to fighting alongside his dad, Marlon expects Snowflake to root extra hard for him this upcoming NFL season. He says, "I've got to throw Snowflake in a Ravens jersey more this season, especially with coronavirus. We might not have many fans in the stands, so I got to make sure that Snowflake is repping for me." If you want to see more of this amazing father/son duo, follow Snowflake on
Instagram @itssnowwflake.