The Sopranos' Steve Schirripa
and His "Hot Dog"
By Jéan-Claude Quintyne
Dogs have a gift, many actually, but what makes them so extraordinary is how they show us, each in their own unique way, how special they are. Though we may see Steve Schirripa as a tough guy, he's got a tender heart when it comes to his dog, Willie, the dachshund. Remember Schirripa as Bobby "Bacala" Baccalieri in the hit series, "The Sopranos"? The "sweetest" mobster on the show until Tony Soprano forced him into brutality. Now he's thrilled to be in "Blue Bloods" as no-nonsense Detective Anthony Abetemarco, playing a guy on the right side of the law is a great change, he confesses. But the role he seems to really cherish is pup parent to Willie, a dog who's always full of surprises. Whether it's the way Willie plays with his box of toys or shows how laid-back he can be while just hanging out, he's a welcome addition to the Schirripa home.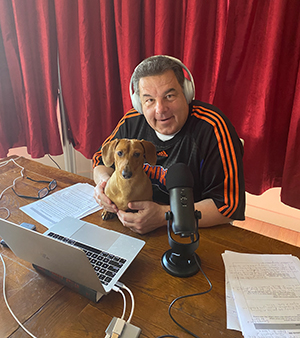 When the family spends time in California, Willie loves to run from the kitchen to the backyard, grabbing snacks and getting a workout at the same time. In New York City, he rides the subway unfazed. And airplanes are his favorite way to travel. Bi-coastal and cosmopolitan, Willie just keeps moving, standing around being starstruck by his celebrity pawrent is not his M.O.
"All day long!" Schirripa says in excitement, describing Willie's energy. "My wife empties the box of toys and he plays for an hour or more."
Schirripa's first two dogs were golden retrievers, which he had when he was growing up. Although he hadn't discovered his love for dogs then, dogs ended up at different points in his life nonetheless.
When it came to wiener dogs, he found an appreciation for them from the time he and his wife spent in Las Vegas. "They were all over the family, five at any time. They're very funny—like clowns. They don't know that they're dogs."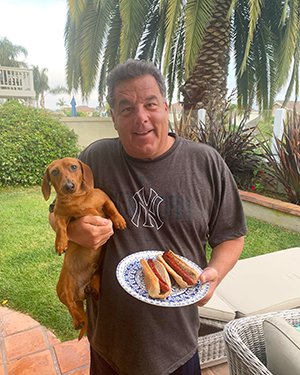 And in that breath, Schirripa adds, taking care of a dog is not unlike taking care of a human. "If you want a kid, you better get a dog first." His passion for weiner dogs and dogs in general taught him the value and the joy of unconditional love.
Schirripa currently co-hosts "Talking Sopranos" with fellow "Sopranos" cast member Michael Imperioli. The podcast revisits the series episode by episode, offering behind-the-scenes analysis of the show, discussions about breaking into the entertainment industry, some of the best places to get pizza in the city, and other gems.
Willie recently made an appearance on the podcast, donning a "Talking Sopranos" t-shirt. He enjoyed his first birthday this past June in California, where he was born
Though Schirripa has seen dogs of the affectionate and passive caliber, it's Willie's intelligence and quickness to adapt that impresses him most. Candidly, he reveals Willie wants to be anywhere his mother is, he loves any kind of weather, and he has shown that the pandemic doesn't bother him at all. What a trooper!
"My wife has taught him: Willie, go get the baseball. And boom! He runs out and he's got the baseball we got from Yankee Stadium." Willie takes after his human, he knows what to do on cue. Lights! Camera! Action! This weiner dog is a star.