What Happens When You Hear The C Word
By Sean-Patrick M. Hillman, Chairman and Co-Founder of Rock & Rawhide
Be prepared as I am going to use a dirty word my fellow pet parents…cancer. Two weeks ago, we heard that dreaded "C" word, in the form of lymphoma. Our little Snickers, an 11-year-old Bull Mastiff/American Staffordshire mix, has Lymphoma B. No matter how prepared we were for what we already "knew," instantly, our hearts sunk. Tears, anger and everything in between quickly began for my wife and me. I have woken in the middle of the night, almost every night since, wondering if it was a bad dream…fighting back the tears. My wife has done exactly the same.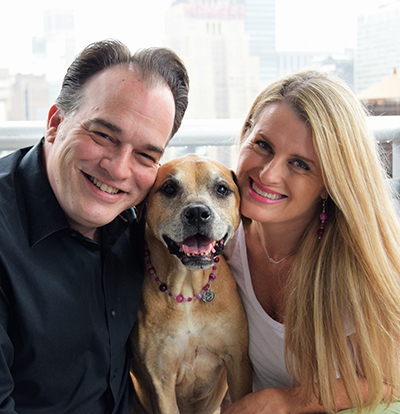 We both went through the sadness and anger phases…and we are now in advocacy mode. Why? Because there are so many people that do not understand just how susceptible to cancer our furrever ones are…nor do they have a real understanding as to what goes into a cancer diagnosis for treatment.
We have worked with our vet, Dr. Stephanie Liff, Pure Paws Veterinary Care of Hell's Kitchen, on a virtual daily basis to determine and maintain Snickers' treatment regimen. We decided that we are not going to put her through chemotherapy, or any other invasive treatment based on her age, and the fact that she has an enlarged heart with a murmur. Instead, we started Snickers on a "chemo-level" dosage of prednisone, a steroid (specifically 20mg per dose twice daily). After three doses, Snickers had a horrific reaction with labored, VERY fast breathing (65 – 75 breaths per minute versus the average of 30). This is a dog that sleeps 18 – 20 hours per day…she was awake over 36 hours straight, in reaction. So we have dialed back her dosage and are slowly stepping back up to the 20mg per dose along with additional treatments including Fenbendazole, coconut and olive oil, turmeric, and fish oil.
While all of this has been going on, I reached out through our Rock & Rawhide network as well as certain Facebook groups, to source stories of others who are dealing with, or have dealt with, the same situation. Here are their stories…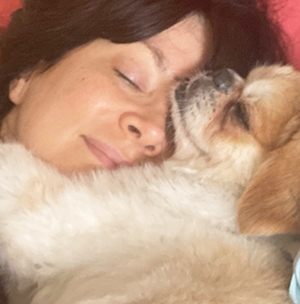 Pet Parent: Christina Dog: Ernie
My sweet Ernie was diagnosed with bladder and prostate cancer mere months after I rescued him in 2017. 
I was told I likely didn't have much time with him and though surgery might extend his life a small amount...he was not a candidate for surgery due to other illnesses.  Devastated...I naturally tried every medication the specialist could prescribe, and nothing helped. I had promised him the second half of his life would be better - that it would be the BEST and I wasn't going to break that promise. 
At the suggestion of my AMAZING VET Dr. Julie Jones from Veterinaire in Jersey City NJ) I decided to go the route of CBD, dog acupuncture and lots of love from mom (who also knows how to give Reiki!). 
I am happy to report that our adorable little senior Pekingese mix is still with us...and healthy! The veterinary specialists have told me they don't know what I am doing but keep doing it. Because - In blunt terms - he should not still be here given the type of cancer he has.
I am a firm believer that love has Extraordinary power - and Ernie is VERY loved by me and his daddy. After sourcing thru dozens of CBD brands - I will say that I saw the most amazing change in him once we started using Blooming Culture and we've never looked back. They truly gave him his life back and though he still has cancer...we have somehow kept it from spreading more and improved his quality of life tenfold. 

To say I am grateful to them is a huge understatement. 
Pet Parent: Selina Poiesz
Dog: Harper Andrews, 9 Years-Old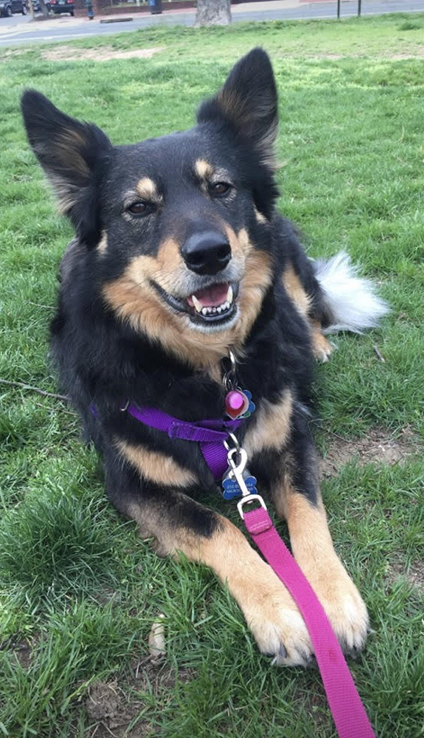 Harper was rescued as a stray from rural South Carolina.  She was four years old, heartworm positive, and had at least one litter of puppies in the past. All 4 Paws Rescue in Malvern, PA rescued her from the kill-shelter in South Carolina, spayed her, and treated her heartworm. Andreas and I adopted her shortly after on July 18, 2015
Fast forward to the end of May 2019, and during a routine vet exam, our vet found a lump on Harper's mammary gland. In June 2019, she had the mass, corresponding mammary gland and lymph node removed.  The diagnosis…intermediate grade mammary carcinoma.  The good news was that the mass was completely removed, and the cancer hadn't spread to the nearby lymph node. We followed up with the veterinary oncologist who gave a 60-80% chance of the tumor regrowing, and a 20% chance of developing a new, unrelated mammary tumor. Since the tumor had been completely removed during surgery, we decided to proceed with physical check-ups every few months to check for any new lumps or bumps signaling new tumor growth.
At one of these check-ups around the end of 2019, her vet found a new tumor. In January 2020, Harper again went in for surgery and came out with a new diagnosis- metastatic anaplastic high-grade carcinoma.  Not only did her body produce an entirely new type of mammary cancer, it was highly aggressive. It had spread to the nearby lymph node. We were devastated and turned to the veterinary oncologist again for guidance.  Under her supervision Harper began five rounds of chemotherapy.  A round of doxorubicin IV chemotherapy every three weeks.  The goal was to give her quality of life for another six months to a year.
Harper completed chemotherapy on April 21, 2020. In the beginning of June we noticed new lesions growing along her mammary chain.  The cancer was spreading, and fast. The next week, before we could even begin a new oral, chemo regimen that her oncologist recommended, her health rapidly declined. She was no longer enjoying many of her favorite things and could barely move around.  Andreas and I made the decision to end her suffering on June 12, 2020.
As devastating as it is to lose a pet, we took comfort in knowing that we did everything we could for Harper. People thought we were crazy for taking our dog to a "doggie oncologist" and giving her chemo to try and help her.  But Harper was part of our family and we wanted the best for her.
The moral of the story is something that Bob Barker reminded viewers at the end of every episode of "The Price is Right", to spay and neuter our pets. Our vet felt strongly that if she was spayed in a timely manner, it would have prevented her mammary cancer.  Harper was a shepherd mix and somewhere in her genes she was predisposed to cancer.
Pet Parent: Charise Brown
Dog: Whitegirl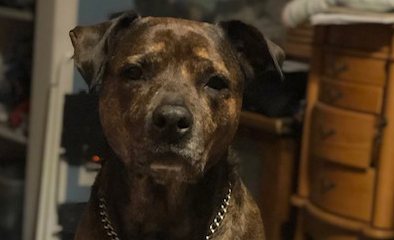 My dog "Whitegirl" was diagnosed on January 16, 2020 and we decided just to do prednisone and she was gone March 2, 2020. It was an emotional roller coaster of 6 weeks. My only advice is to enjoy every moment you can and believe me you will know when it's time
This last story of Whitegirl brings up my final point…when is the right time to say goodbye? The most painful part of being a pet parent is knowing when to end their suffering. Remember, children and elderly can tell you what is working, what isn't, how they are feeling, etc. Animals can only show you their emotions. For many of us pet parents, that is enough. For many more it is not. The responsibility of making this decision is emotionally draining, and not for the faint of heart. I have had to make this dreaded decision more times than I care to recount. It is the last act of love you can possibly perform to ensure that your pet does not suffer. In Snickers' case, we will make that decision only when her quality of life is no longer recognizable. We will not allow our baby girl to suffer. THAT is being a responsible pet parent, no matter the pain it causes us to say goodbye. I hope that you are all strong and humane enough to make that decision when the time comes.
I have been recommending that people visit my friends at Blue Buffalo Company's Pet Cancer Awareness website at www.petcancerawareness.org to learn more about pet cancer, various treatments, what facilities are doing research to find a cure and more. Blue Buffalo began when Bill Bishop's (Founder) dog, Blue, passed away from cancer. He has been quoted as saying, "Blue fought the good fight, and brought a lot of happiness to our family for many years. We think of him often, and the Blue Buffalo Company honors his memory by funding cancer research studies, raising awareness of the early warning signs, and helping pet parents with the cost of treatment. Blue would be proud." PetCancerAwareness.org is the most robust information source I have found to date on pet cancer.
If you want to follow Snickers' progress and hear about the different treatments, both medical and holistic, that we are pushing forward with, please follow Rock & Rawhide's page on Facebook as I will continue to do video updates on her progress.
Stay pawesome my friends!