It's A Bird's Life
Top Ten Toys & Treats For Feathered Friends
By Chris Minton
First of all let me introduce myself, though you may know me as an actor, I have appeared on Saturday Night Live (Daniel Craig is my man! What a co-star!) and The Marvelous Mrs. Maisel, among other stellar productions. I must reveal that I consider myself an expert on bird toys, food, and treats. You may ask "why?" Well, not only because of my extensive, almost twenty years of experience shredding every type of toy and turning my beak up at most food, but also as a nineteen (and a half) year old cockatoo with a discerning—some might say picky—palate, and voracious— some might say destructive—appetite for toys, I've sampled every type of bird toy or treat on the market. I know what I like, as does my well trained human personal assistant/momager who does all the ordering and shopping for me. To that end, the reviews that follow are topflight you could say, coming from a celebrity cockatoo, if I do say so myself.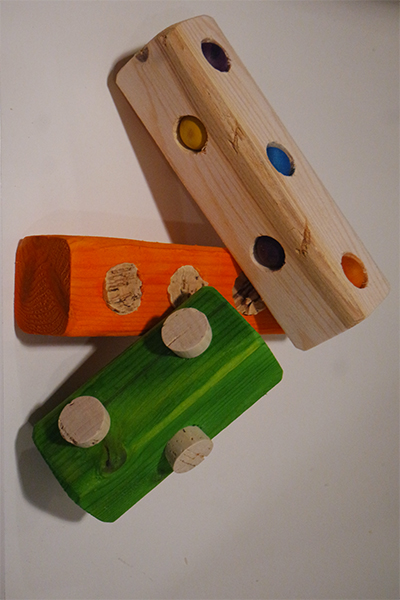 ENTERTAINING THE ENTERTAINER
As a personality of note, I have a very busy lifestyle. I don't have time to waste on products that aren't beak-worthy. As an animal actor and model (you may know me by my stage name, Chris The Cockatoo), I need to stay fit and trim. How do I manage this feat? Certainly with an abundance of enriching toys of varying shapes, colors and materials but truly, it's a variety of foods that nourishes my toned physique and keeps my octane energy level soaring. My momager also makes sure my natural foraging instinct is met daily.
Below, in no particular order, are ten of my top picks for keeping a bird - like myself - mentally and physically healthy.
In the toy chest
Beadalicious Bar & All Corked Up Foot Toys from Birdie Box (birdieboxbirdtoys.com)
Foot toys are my life. I spend most of the day playing. I favor foot toys because taking them into corners and shredding them into splinters is a riot. These toys are exceptional, love the visual appeal and texture of colorful beads and soft corks. I'm currently working on destroying two of them.
FeatherSmart Large Play Links (chewy.com)
True confessions, three of the four-pack here are destroyed so far. So cool to use one toy to dig or splinter my other toys. Perfection! Loving the colors and the beads on each one, great joy comes when I ultimately break the link part. Easy for me to hold in my foot, I wave them around, my trademark move.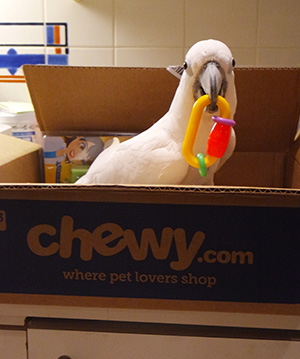 Super Bird Creations Bagel Cascade Hanging Toy (chewy.com)
What a hot combo: cardboard bagels and plastic clips. It is a thrill to strip off the colored paper on the outer edge of the bagels and then pull the cardboard apart. I am crazy for those clips. I like unhooking them, waving them around and throwing them. Admittedly, great quality and provides hours of enrichment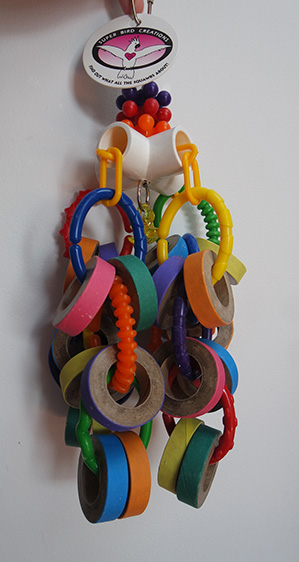 Paper Party Junior Hanging Toy by Birdie Box (birdieboxbirdtoys.com)
This toy is a party in my beak! Beautifully constructed and colorful, it provides a variety of materials for me to shred including woven bamboo finger traps, cardboard squares and cupcake paper. Currently hanging on my porch swing, I play with it while I enjoy lazy days and fresh air. I also love that Birdie Box donates heavily to bird rescues.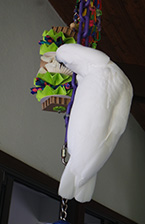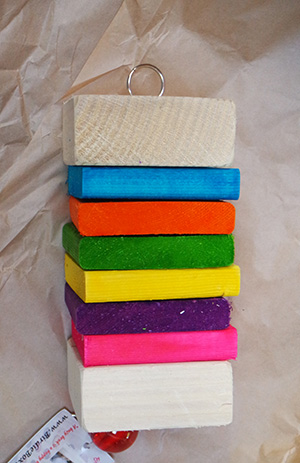 Big Mac Hanging Toy from Birdie Box (birdieboxbirdtoys.com)
Another fabulous hanging toy from Birdie Box. This one is for seriously big beaks that need to chew a lot. Made of richly colorful pine wood blocks in different thicknesses, hung on your choice of chain or natural sisal rope, this toy offers me hours of chewing.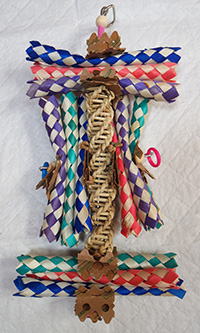 Bonka Bird Toy Helix (chewy.com)
Being a prolific shredder, this toy is a great fit: lots to shred. A chewable natural vine ladder provides easy gripping or climbing (for a smaller bird). It's covered in bamboo finger traps in various colors to keep me busy for several hours. The finger traps make a crinkly sound when I crunch on them. For added fun, get a human to put her fingers inside then chomp away.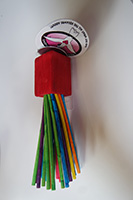 Super Bird Creations Paper Party (chewy.com)
Doing double duty, this is a toy and a perch for me. Such fun to chew on the pretty colored rolled paper sticks, standing on them helps me reach my hanging toys. My momager hangs small toy parts and bird safe beads on the sticks every day. I find them and pull them off, such fun! When the sticks are destroyed, I munch on the wood block base until I get a new one.
The Birdie Box Cork Board (birdieboxbirdtoys.com) A cork lover's dream! I'm going to town on the corks, digging them out and chewing them up. The wood base is also chewable, of course, for a giant beak. Love this combo of hard wood and soft cork.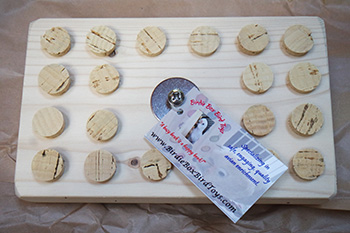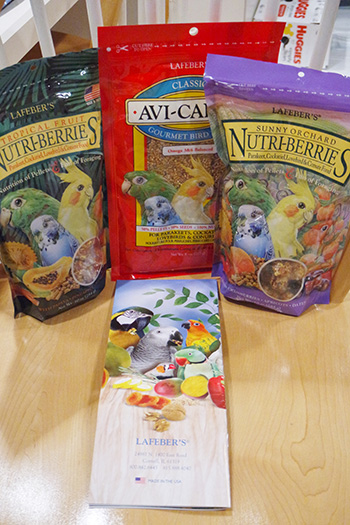 In the pantry:
Zupreem Food & Snack Blends (zupreem.com) Since I was a baby, Zupreem pellets have been a fave. My vets have always said they are the best! Full of vitamins and minerals to keep me healthy, not to mention colorful and tasty, I am crazy for FruitBlend. At first, I ate only the purple (grape shape), but now that my palate has matured, I eat all the colors, foraging for my favorites first. The pellet blends come in a variety of flavors (fruit, veggie, nut, pasta, etc.) and sizes to accommodate every bird. There are also snack blends of dried fruits, dried veggies and nuts. I've been a Zupreem eater for nineteen and a half years and still going strong!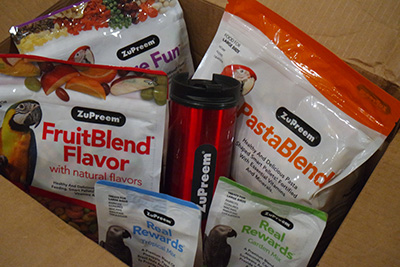 Lafeber Nutri-Berries & Avi-Cakes (lafeber.com) Nutri-Berries and Avi-Cakes are complete nutrition bird foods that I have been eating since I was very young. I get several Nutri-berries every day, usually first thing in the morning while the human (aka momager) feeds the cat. I like the Classic, Tropical, Sunny Orchard and Garden Veggie flavors. All are packed with seeds and grains; foraging for safflower seeds is a joy. My favorite at the moment is the Sunny Orchard, moist, chewy, and delicious. Being a celebrity and a health-conscious one at that, I bring Nutri-Berries on set with me. Avi-Cakes, are also chewy and delish, a tasty "must" for sure. Every day I get these yummy treats as a snack, I get hungry during my afternoon playtime. The classic flavor is my favorite. I take my Avi-Cake and sit on my jungle gym and regenerate. I have no worries about safety or quality as Lafeber was founded by veterinarians and my vets recommend the products.
Do follow me on TikTok or Instagram for my latest star turns and of course, insights into my fave pet toys and treats. Ciao, Ciao! xoxo Chris The Cockatoo.