★
ON-Line Exclusive
★
Boxed In
Fun For Fido, Fifi And Feathered Friends
By Adrianne Frost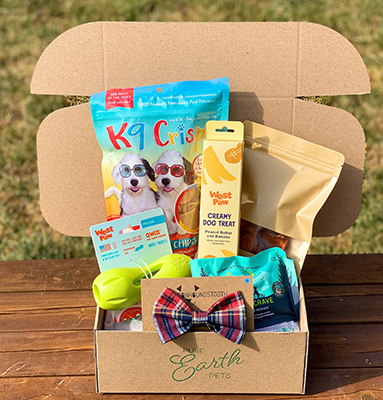 While we sit isolated in our homes this summer, we do puzzles, feng shui our houses, even cut our own hair. Well, our pets can feel a little stir crazy, too! Not to worry. Boxed services provide a monthly plan, new treats, toys, and other goodies tailored to your pet's needs and delivered right to your front door. It brings invention to you and your pet, you will love the variety and they're sure to delight in the toys and treats. Since delivery is the way to go these days, we thought we'd take a look at some exciting boxed finds for your furry(or feathered) family friends to help the days go by a little faster. Here are a few that caught our (and our pets') eye:
Pure Earth Pets
The first eco-friendly subscription box for dogs, Pure Earth Pets values the environment. Creator Leanne Baum says, "Every item we include in our biodegradable boxes has the earth in mind. We do the research so you don't have to. With each box, not only are you getting quality eco-friendly toys and treats for your dog, you are receiving items that are supporting businesses across the United States." Pure Earth supports rescues with the "Charity of The Month," inspired by their rescue dog, Dover. Popular items include Bocce's Bakery treats, Fuzzballs toys by Cycle Dog and chew toys West Paw's Quizl with Peanut Butter and Banana Creamy Treat (featured in their September "Back to School" box).
GroomBox
Home grooming your dog can have, well, mixed results. Haircuts can come out uneven, or your dog can end up as bald as a naked mole rat. Groomers created GroomBox so the items are groomer tested and approved! GroomBox offers a contains everything you need to pamper your pet and help make them even more gorgeous than they already are! Items number 3-10 per month and can include bows, bandanas, shampoos, shears and more.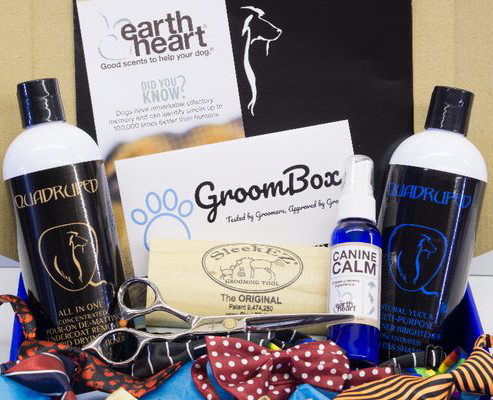 Purrfect Packs
Who says cats don't like variety? Purrfect Packs knows what cats want - and need. Every month, your feline friend gets 4-5 treats, toys and catnip! The folks are Purrfect Packs have researched and created their packs to give all cats the products they love throughout the year. Each curated box contains all-natural treats, top-quality toys, and the necessary health products to keep your cat purring. They also guarantee lower prices than retail. And since you know your cat better than anyone, they personalize their boxes based on your cat's needs. No more wandering from store to store looking through endless aisles. Purrfect Packs delivers to your door with a perfect assortment of healthy treats and sure to please your cat toys.
Wüfers
Wüfers are cookie boxes created "with love and laughter in mind." Whether you are celebrating a "Gotcha Day," puppy birthday, or just want to give your dog a delicious and wholesome treat, Wüfers has you and your furry friend covered! Using locally sourced and human grade ingredients, Wüfers' cookies are freshly baked and hand-decorated and made in North America. Each box holds 9-20 cookies that ship absolutely free and are more than tasty! They come in fun shapes that are perfect for Instagramming on you or your pup's social media pages.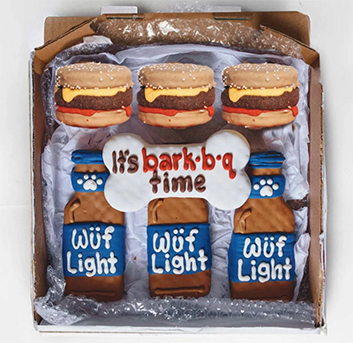 Squawk Box
When talking about boxed services, we can't forget your feathered family! Based in Austin, Texas, Squawk Box is the perfect monthly box to keep your bird(s) healthy and happy. They know that parrots need lots of stimulation, which can be hard when their habitat is limited. Squawk Box carefully selects 4-6 items per box, including toys, snacks, recipes, and more, all sure to please the pickiest parrot (or parakeet)! They provide four different options for all bird sizes: Little, Middle, Big and Jumbo. Whatever sort of feathered friend you have, there's something for all to enjoy. And a percentage of profits goes to parrot rescues. Sign up for a plan that renews monthly, every three months, or every six months, or choose "gift" at checkout to opt out of auto renewing.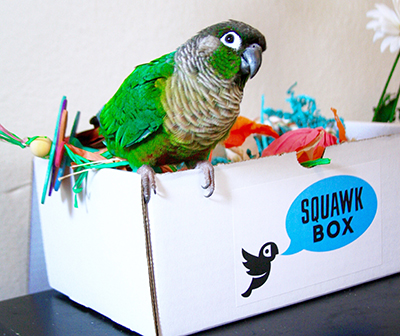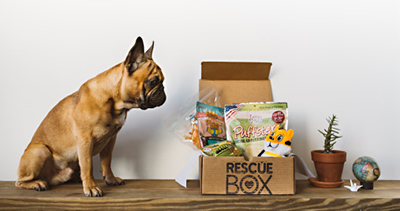 Rescue Box
The Animal Rescue Site has created Rescue Box. When you become a Rescue Box subscriber, you not only give your pet an abundance of goodies, you also help provide less fortunate pets with life-saving supplies. For every month you are a member, shelter pets will receive help such as food and critical vaccinations. You can choose to Spoil Your Pet, which gives you a surprise box "full of toys, treats and chews great for pets of any age." With each box you order, Rescue Box donates 10 pounds of food to shelter pets. Or you can choose to Gift A Shelter, where, each month, animal shelters receive not only a box of products but the Rescue Box donation of 10 pounds of pet food. Any choice is a win win!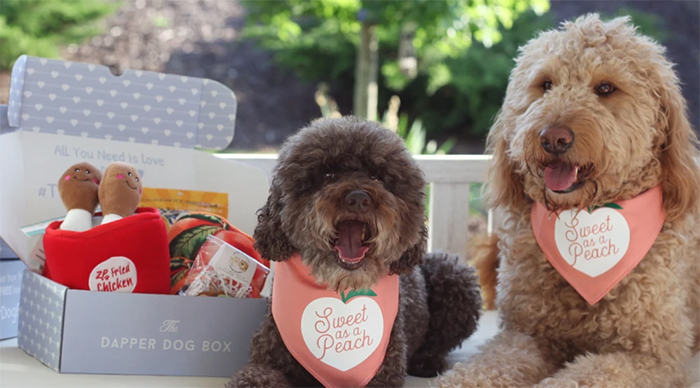 Dapper Dog Box
Your dog will be stylin' with a Dapper Dog Box! Their box of toys and treats comes with gorgeous, limited edition bandanas available exclusively from Dapper Dog. You get five full sized products beautifully boxed (great for gift-giving!) all expressing a fun theme (Happy Howlidays, Southern Charm, City Dog). For every purchase you make, a portion of sales is donated to an animal rescue or shelter. And shipping is free!