★
ON-Line Exclusive
★
Dog Training Goes Virtual
Thanks To The Good Dog Foundation
By Linda Conte and Crystal C. Long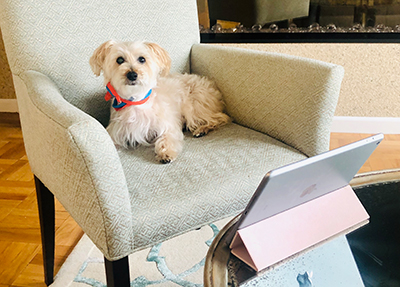 For the past few months, our world has been halted to a sudden stop due to the rampant Covid-19 pandemic. It has absolutely changed the way we do everything — from changing to homeschooling to working remotely from home, this pandemic has affected us in every way possible. While some things are easier to adjust to, like working from home (well honestly, that's still up for debate), certain activities are more challenging to do virtually — like dog training. Luckily, that didn't stop Brooklyn-founded Good Dog Foundation. Introducing The Good Dog Foundation's virtual therapy training class.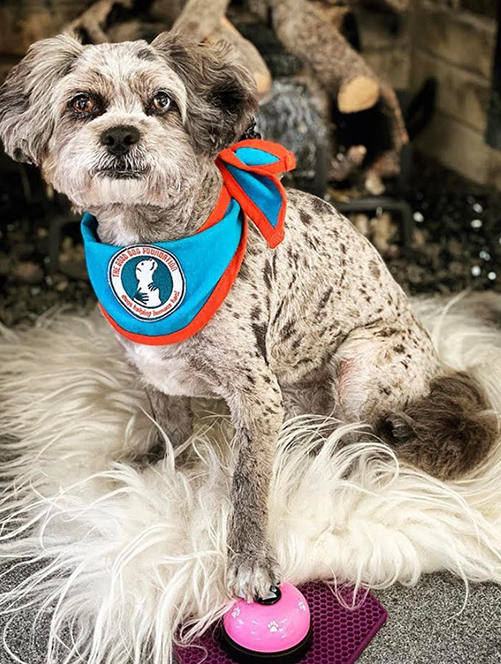 TRAINING VIRTUALLY
The training is a four-week class that gives the dog parent an overview of therapy work including discussion of problem behaviors, obedience, impulse control, and tricks. Hosted by The Good Dog Foundation's very own Director of Training, Renee Payne, Good Dog's Foundation's virtual class, aptly named Prep School, introduces four-legged companions and their humans to what work a therapy dog team entails. But, for those not interested in therapy dog work, this class also strengthens the relationship between the canine and their human. Payne's co-pilot, Fonzie, is also on deck to help teach all sorts of tricks and behaviors to four-legged class participants.
Other than virtual therapy training, The Good Dog Foundation has also been providing videos for hospital staff created by volunteer teams, and are looking forward to providing services safely again in the future and continuing the virtual sessions. According to Founder and President of The Good Dog Foundation, Rachel McPherson, "We are here and we want to help," she tells Pet Lifestyles Magazine. During the pandemic, pets have no doubt become accustomed to their parents being home with them all day. But in preparation for the day when offices open and working from home is no longer an option, Payne stresses the importance of letting your dog get used to at least some alone time during the day, even if it's just a few minutes to get mail or to go shopping. When it comes to training, have patience, persist even when you are getting resistance, "Don't give up on them too soon," she says.
HELPING OTHERS
The Good Dog Foundation does some tremendous work benefitting both dogs and humans. For instance, their annual fundraising gala that has raised a record high of nearly $500,000 towards therapy dog training and help originate, design, and underwrite ground-breaking research. These funds also help provide trained therapy dogs to Mount Sinai Medical Center and top universities such as Yale University for vital research studies. Currently serving NY, NJ, MA, and CT, please visit thegooddogfoundation.org for more information