★
ON-Line Exclusive
★
Brady Oliveira: Pro for K9 Rescue
By Crystal C. Long
Brady Oliveira has got it all: looks, brains, athleticism, and not to mention, a big heart. Oliveira was first running back drafted in the 2019 Canadian Football League (CFL) draft, taken in the 2nd round by the Winnipeg Blue Bombers, a CFL team he is proudly familiar with being a Winnipeg-native himself, as he says, "Being part of this team is one of the greatest feelings in my life!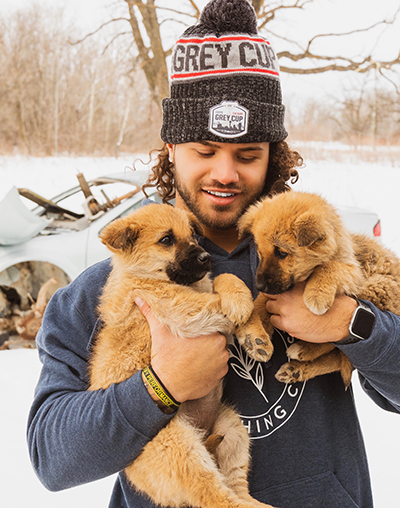 HOMETOWN BOY
Being from Winnipeg, getting drafted, and coming home to play for your hometown team is something special." Oliveira tells Pet Lifestyles Magazine. "Being a professional athlete has changed my life in a few different ways, but the biggest and most important part to me is the platform that I earned with it. Being able to be an advocate on behalf of people, especially young people, and setting an example is just so rewarding. So, by preaching positivity, love and good energy, and knowing that people are there watching you or listening to you is super cool." And indeed, Oliveira is not letting this opportunity of having a real platform go to waste.
Oliveira is also a huge advocate for animals, he has been devoted to the wellbeing of furry creatures for as long as he can remember. His fondest childhood memories are playing with his Aunt Marla and Uncle George's dogs. Fast forward to today: Oliveira is an advocate for animals, especially dogs. He devotes time and energy to working with K9 Advocates, a non-profit rescue group dedicated to doing whatever it takes to stop the ongoing problem of canine over-population, neglect, and abuse in Manitoba, Canada. As he tells Pet Lifestyle Magazine, "K9 is the voice for the voiceless. What I do with K9 Advocates is rescue dogs in sometimes far away communities and bring them back to be cared for or fostered. I use my platform to help K9 collect donations and raise money."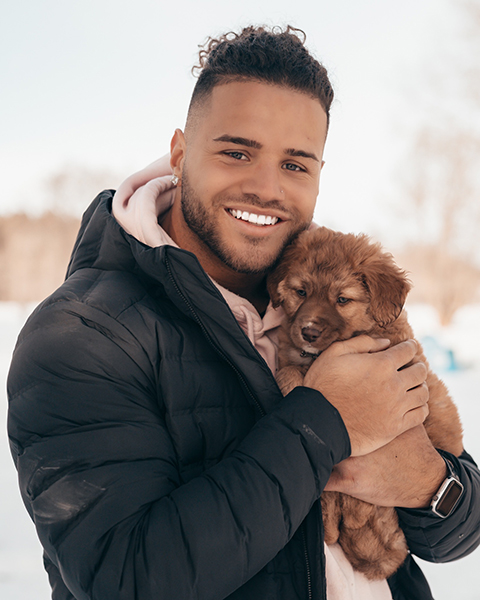 K9 ADVOCATE
Together with the team at K9 Advocates, Oliveira has aided in rescuing over 800 animals across Manitoba – only the beginning for this champion athlete. His journey with K9 Advocates started when his buddy, Ryan Klassen, who himself has been rescuing dogs with the Canadian animal rescue group for some time, asked Oliveira if he wanted to tag along for a rescue run. Says Oliveira, "That day was incredibly eye-opening and I have been hooked ever since."
It was also through K9 Advocates that Oliveira came to adopt his own furry best friend, Nellie. A rescue from Nelson House (hence, her namesake), Oliveira met Nellie when he was on a rescue run in February 2020. There, he rescued 12 dogs – and the then 6-week-old Nellie was one of the 12 dogs he rescued that night. Oliveira knew he had to be her forever human after fostering the adorable pup. Needless to say, the rest is history and the two are inseparable. "Nellie is a huge fan of adventures! We are always on the go whether that is the dog park, the lake, hikes or even just a cruise in my truck!" the pro-footballer tells Pet Lifestyles Magazine. "Nellie always wants to run and run and run, so I guess I give her the credit for keeping me in tip top shape."
ANIMAL RESCUER
Oliveira is a powerful and devoted animal activist in every way: from going on rescue runs with K9 Advocates to personally saving a dog from the currents along the river bank of the local dog park. Rescuing animals is just a natural instinct in the Canadian pro-footballer. "The feeling you get from saving animals, especially the ones that are in rough shape or living in harsh environments is where I find joy in life." he stated. "These wonderful animals have a life and a heart just like us so they deserve to live a wonderful life just like us." To follow Olivera (and Nellie!) on all the life-saving work that he does, follow him on Instagram @brady.oliveira.