★
ON-Line Exclusive
★
NFL Network Insider
Tells All About His Dogs
By Kunwar Ishan Sharma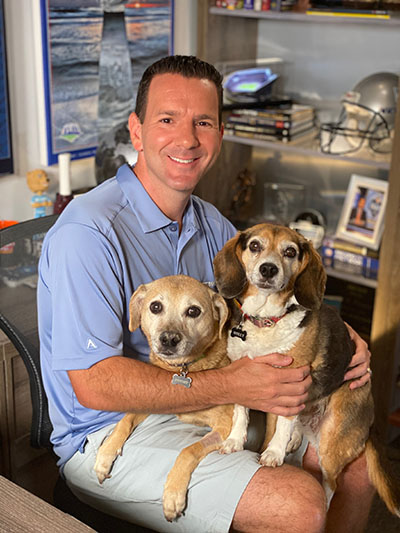 NFL Network insider Ian Rapoport may well be the leader in breaking NFL news, but at heart, the news he wants to break is how he loves his two beautiful rescue dogs, Molly and Biscuit. In the Rapoport house, all three of them spend their days investigating and taking action. For Ian, this means tracking down team-related information and reporting it to the public. For 12-year-old Molly, this involves carefully listening for someone to drop an ice cube on the floor and eating it once they do. For 14-year-old Biscuit, this includes patiently waiting for Ian's wife, Leah, to look away before stealing a bite from her food. Not only do these fur kids investigate and take action, they also share a lot of love.
In 2006, Leah's family told Ian about a dog who followed her brother home after he went out hunting. Ian says, "they called us and asked if we wanted a dog. We were contemplating it, so they suggested taking her for a weekend. She immediately became a part of our family." A year after rescuing Biscuit, Ian says, "We heard about a family of beagles that were going to be used for hunting rabbits. One of the dogs, Molly, was really small, so we didn't think that would be a great life for her." It was an easy decision for Ian, as he explains, "one dog is great, but two dogs are even better." 
Both dog have significantly different personalities. "Biscuit is incredibly social, and Molly is less so. Biscuit wants to be with the family, whether that's hanging by our feet while watching TV or going outside with us while we grill. Molly hangs out with us too, but she definitely gets tired of our shenanigans." He adds that "Biscuit is really well-behaved, while Molly is loud most of the time." That's why if Ian had to pick one of his dogs to do his job, "it would have to be Biscuit." He explains, "Molly's a little emotional, and I would imagine that if she got beat on news, she would lose her mind. Biscuit is much calmer, and that's perfect for TV because crazy stuff happens all the time."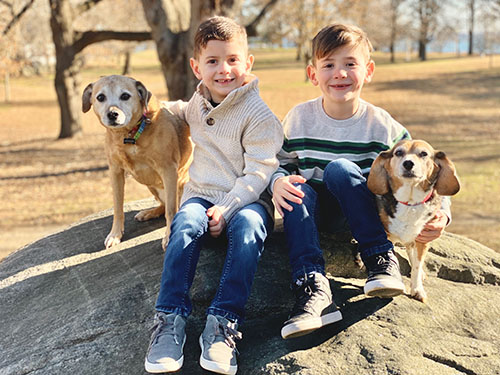 Despite their differences, Molly and Biscuit are incredibly close. "They play with each other a lot. When we used to board our dogs, which we don't do anymore, they would whine for each other if they were with different playgroups. They would just have to be together." Now, Ian loves seeing his children, boys still young, bond with the dogs. "I don't know if they're at the right age or because they've spent so much time at home due to COVID, but they've really taken to the dogs. They want to feed them every day, pet them, make sure they're okay, and hold them all the time. They're constantly giving them love, and it's been so fun to watch." To keep up with the Rapoport family and the latest NFL news, follow Ian on his social media accounts, @rapsheet.