Collie Croquet
Champion Skateboarder Minna Stess and Her Collie
By Kunwar Ishan Sharma
At the age of 14 years old, Minna Stess has taken the skateboarding world by storm. With her sights set on the 2021 Tokyo Olympics, her international recognition is at a steady increase. One might assume that a prodigy would remain at the center of attention in the Stess household. However, as Minna explains, there is only one "queen" in her house, and it's her 14-year-old senior collie, Tallulah.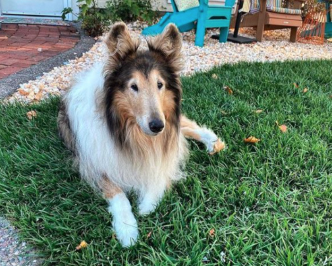 In 2007, after Minna was born the year before, Tallulah became a Stess family member. While Minna has vague memories of their earliest interactions, she loves looking at infant photos of her crawling with and on top of her new dog. As Minna grew older and began her skateboarding journey, the family's affinity for the sport influenced the name of their collie. Minna claims, "my mom thought our dog's nose looked like a 'bank' ramp, which we would skate on. There was this actress named Tallulah Bankhead, so that's how she made the connection and picked that name."
When we asked Minna if Tallulah skates, she explains, "Tallulah is more of a fan. Sometimes when I'm skating in our backyard park, she'll walk down the stairs and just lay in the middle of it." When it comes to other activities, Minna says, "Before the coronavirus hit, we loved going to the beach. Now, she spends a lot of time sleeping or playing in our front yard." Minna couldn't help but laugh as she adds, "One of her favorite things to do at home is walk between our legs so we can scratch her butt. We call it 'collie croquet.'"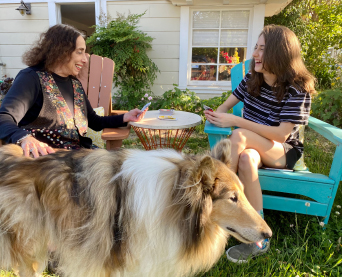 With school, training, and the pressure of competing, Minna's thankful to have Tallulah by her side. "She's been there my entire life. She gives me reassurance that everything is normal and chill. She's super loving and always makes me laugh." These hilarious moments include Tallulah jumping into a moss-covered lake under the assumption that she was jumping on grass. When she came out of the lake slightly green and soaked, the family erupted in laughter. 
While Minna and Tallulah have immense amounts of fun, it all depends on Tallulah's mood. As Minna claims, "Tallulah's the queen of the house. She ignores us all the time and does whatever she wants. She's social with people, but only when she wants to be." However, it's this attitude that makes their intimate moments even more special. Minna explains, "For the first time the other day, Tallulah actually slept in my bed with me. In 14 years, that was a first for us, and it was so adorable." To keep up with Minna's journey to the Olympics and see pictures of Tallulah, follow them on
Instagram: @minnastess and @tallulahthecollie.