Steeplechase and Snuggles
Olympic Athlete Colleen Quigley and Her Dog Pie
By Kunwar Ishan Sharma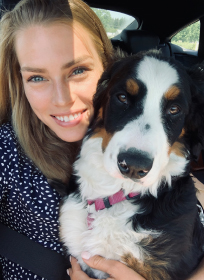 Imagine this. You're a nationally awarded athlete who is currently training for the 2021 Tokyo Olympics. You've put on your workout clothes and start preparing for an intense day of training. Then, as you begin stretching, a furry little friend scurries into the room. She starts licking your face, jumping on top of you, and bumping her butt into your body. You try to remain focused, but eventually burst into laughter and give your cuddly companion a big hug. Welcome to a day in the life of Olympic steeplechase runner Colleen Quigley and her three-year-old Bernese mountain dog, Pie.
While Pie has become a fixture in Colleen's training days, this dynamic is a new normal for both of them. Colleen explains that "Pie and my boyfriend, Kevin, would normally be in California while I'm either racing or training at a high altitude camp. I think I only spent 119 nights at home last year, so I'm away from Pie a lot. However, COVID has turned 2020 into a year of spending more time together as a family."
What does spending time together mean for them? Firstly, Colleen now has an energetic and adorable exercise partner. "We could be going on a run or hike, and there are times where branches have fallen down in front of us. Before I can do anything, Pie will just hurdle it clean. She also loves water, and she's an awesome swimmer, surprisingly." Given that hurdles and water jumps are components of Colleen's steeplechase events, the only thing keeping Pie from competing is finding a jersey in her size.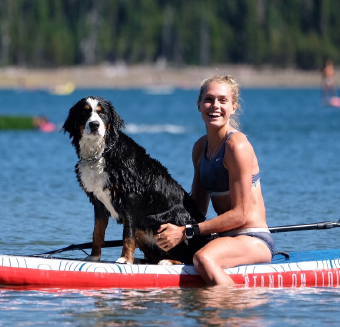 With the adverse circumstances of 2020 and the pressure of the upcoming Olympics, Colleen has many reasons to feel stressed out, too. Fortunately, Pie has helped to counter this stress with a fresh perspective. Colleen explains, "Pie doesn't care that coronavirus ruined 2020, she's just happy to have us around. It makes you realize that the things you stress out about might not be as important as you think. She's shown us that life is great and simple, and she's helped us keep that positive mentality. Of course, I've got goals that I've pushed myself to achieve, and I want to win a medal, but with Pie, nothing else matters." If you would like to destress with hilarious and heartwarming pictures of this loving family, you can follow Pie and Colleen on Instagram: @myfavoritepie and @steeple_squigs.