TikTok Star Emma Norton
And Her Gem Of A Dog, Ruby
By Rhea Dhanbhoora
One has 5 million TikTok followers, and the other is a dog who purrs like a cat. Meet Emma and Ruby, the unstoppable duo taking social media by storm this year.
At just 11, Emma Norton's Halloween costume included a self-created makeup skull look. So, it's no surprise the TikTok star now showcases special-effects makeup on her platform. She also dances, acts, sings, and is developing her own YouTube channel — all with her Golden Retriever, Ruby, by her side.
Funnily enough, she started with soccer, not social media. Her dad coached her when she was little, and she was even part of a competitive team. Though she committed herself to the performing arts after a disheartening experience with another coach, she still watches hockey and soccer, particularly the women's national soccer team. "I respect their social activism and admire how well they use their platform to make a statement for human rights," she says.
Involved in activism herself, Emma promotes organizations like Charity Water and Brought to Reality. The Trevor Project is another cause close to her heart, and she hopes the new administration will reverse recent damage to wildlife and the environment. And, she may have been too young to vote in 2020, but "found ways to promote voting (and the policies of the Biden/Harris ticket)."
Emma tells PET LIFESTYLES about her childhood with pets. "I'm told my older sister asked for a dog — instead, she got me!" she says. Her first furry friend, Rosebud (Rosie), arrived when she was just three. Almost immediately, Emma started asking for a new puppy. Then, "In 2015, Ruby arrived with a giant red bow on her collar!" Their meeting at the Denver airport was unforgettable, as was the time Rosie and Ruby spent together (a little over a year) until Rosie passed.
Amid the holidays, she's nostalgic since "Receiving Ruby as a holiday gift was such a memorable experience." And when the holidays approach, she always thinks of adding to the family. "In the next 1-2 years, it'll be time to take action and get a playmate for Ruby," she says. Ruby's current playmates include Winston, a large male Golden retriever who loves to wrestle with Ruby, and a funny singing lab named Finn, who "comes over for frequent visits and tries to steal Ruby's bones and dog toys!"
Of course, like many of us, she's been able to be with Ruby consistently during lockdown. This sad circumstance has had one good outcome — more pet adoptions. "I smile every time I learn about how pet owners are adopting and fostering pets at a higher rate," she says. As for her and Ruby, "Spending more time with Ruby has become one of the most positive aspects of my life. Whenever she sees my suitcase, she runs to the door in hopes of going with me. She goes bonkers when I come home – which makes me very happy."
Ruby may be a good dog but she was quite a naughty puppy. What did she get up to? We hear her crimes included sneaking underneath the back porch so Emma had to crawl on her stomach to rescue her, and chewing holes through drywall. But, all is forgiven as this pup is the ultimate dog-kitty. She is indeed one of a kind, as Emma says, "she purrs like a cat when she's happy or enjoying her scratches. The sound is a cross between snoring and a pig grunting!"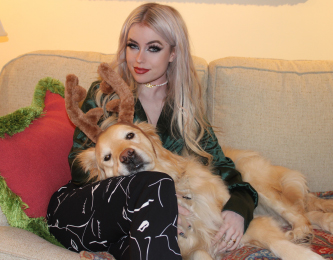 Part of their routine includes roughhousing and walking on a trail to a view of the Rocky Mountains. Emma and Ruby also just shot some pictures exclusively for PET LIFESTYLES, which Emma says was a blast. Ruby is recuperating from an ACL surgery, and we hope she's doing okay!
As for future plans? Emma wants to continue her activism. It is her goal - and the start of her life's work - to help install robust guidelines to prevent animal cruelty and product testing, and stop puppy mills. She wants us to understand that where our beloved pets are concerned, she is truly an activist on every level. She confides, "I am a big believer in the role of dogs in enhancing the lives of senior citizens and people with disabilities."
Meanwhile, Emma and her family will be volunteering [safely] to help animals - and people who genuinely care for them, past or present. Emma encourages everyone who cares for the future of our communities to do the same. Her message: Help those who cannot help themselves, two-legged or four-legged. "Delivering a meal or finding the smallest way to volunteer could change a person's - or a pet's - day or even their life," she adds a final note to encourage us all to think beyond ourselves and our immediate animal families. Follow Emma on TikTok @emmanortss.