A Musher's Love
Dogsledding on Lake Mirror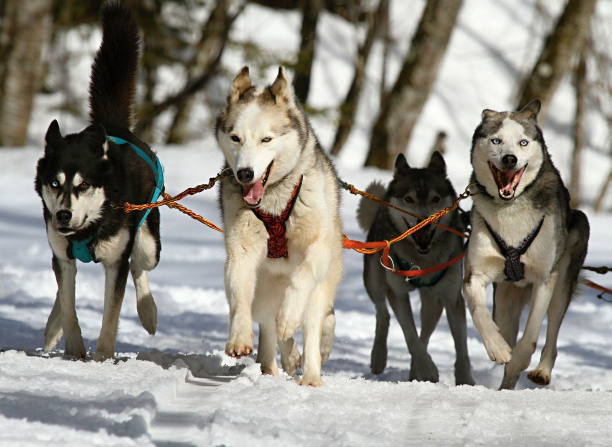 By Melanie Carden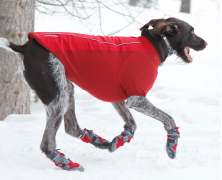 Heading out for an adventure and have a hunch that the weather could turn for the worse? Reach for Ruffwear's most technical soft shell layer – the Cloud Chaser. Keeps water out and lets Fido feel free!
John Houghton's voice cracks—so wrought with pain over the loss of his dog, Allison. All dogs are special but Allison—one of John's 21 Alaskan Huskies—was an extraordinary point dog, and one of the key members of John's Adirondack Mountains dog sledding team. In a conversation of exuberant rapid-fire stories, there comes a stillness when chatting about Allison. Sled dogs are incredibly enthusiastic—always ready to go-go-go with vim and vigor. Allison was, according to John, in a league of her own—even among the legends of the sport. She battled cancer with that same sled dog stamina, but passed away in her sleep. Hearing John—so devastated—mourn the loss of this special girl—was a raw and powerful glimpse into the bond between musher and dog.
When they are itty-bitty, "pup-pup-pup!" is the call that gets John's dogs running to his side. As they develop their own personalities and John gets to know them, they're given names. Allison was named after John's trusted veterinarian. After an exceptionally laborious labor, Allison came into the world by way of C-section and the skilled hands of John's long-term vet and her devoted team. So appreciative of their care and dedication, John named all the pups in that litter after members of the extended veterinary team.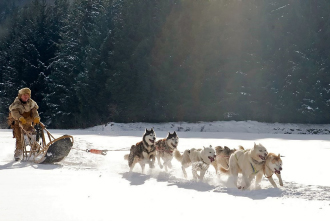 Allison was one of John's twenty-or-so Huskies. He knows each one inside and out. He knows that if the temperature is 20-below zero, they're fine—but at 30-degrees above zero, they might get too hot and need to really stay hydrated. Houghton's team's bloodline reaches back to the Reddington Line. That might not mean much to you and me, but in the dogsledding world, well—it's a big deal. The Reddington Line is tied to the very founders of the Alaskan Iditarod. John Houghton knows the specific dietary nutrition needs of his dogs—and how the percentages of protein and fat need to change seasonally. He may go through 20 pounds of food a day in the summer—but come winter, that volume doubles.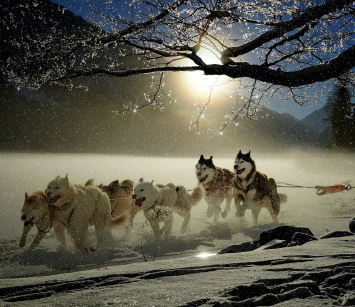 In short, John's dogs are exceptional examples of the breed's love of winter and the sport of dog sledding. They are bound together—this team of musher and dogs—not by a sporty harness—but by John's limitless love for them.
I've seen this love just once before—when my husband and I went on a dogsledding tour in Montana. A dog-guardian all my life, I was certain I know what "a love of dogs" looks like—until then. When I saw the level of dedication and respect between the musher and his team, I was floored. The dogs were so loud with enthusiasm, it echoed through the forest, and they were leaping with a joy that—even as a writer—I have a tough time describing. Our guide, the musher, got them harnessed and ready—a tough job as the dogs jumped with anticipation and licked his face.
My husband and I took turns in the basket—the small sleigh you ride in—while the other mushed. Speeding across the snow—watching the dogs run in tandem with such exuberance—was one of the most memorable winter adventures I've ever experienced.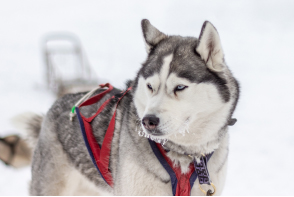 But you don't have to go all the way to Montana or Alaska for such a thrill. John is the owner of Thunder Mountain Dog Sled Tours, and operates rides on Lake Mirror (Lake Placid, NY). Though pandemic circumstances change from week-to-week, John is open and excited for the winter season. He's in touch with the mayor, who's been very supportive, and all covid-precautions are in place. If you're looking for a great outdoor activity this winter, John and his team of sled dogs could be the adventure you need. Rides are $20 per person and, yes, you can pet the dogs!
If you can't make it to the Placid Lake region, you can still have some wintertime fun with your dog. The chances are though, that if your dog does not come from royal Alaskan Husky bloodlines , it will need additional warmth for those long afternoons of snowman-making and sledding in the park. Ruffwear (Performance Dog Gear | Ruffwear) makes exceptional outdoor wear for city and country dogs who enjoy snow days