Monthly Love And Fun
For Your Kitties!
By Monie Schulling
Let's face it; we have become closer than ever to our kitties during the pandemic! They give us love, kneading and cuddles when we need it and they become essential to our wellbeing. Spending more time with your kitties this year has cemented the bond you share. They entertained us with their antics especially when playing with us; they photobombed our Zoom calls and became our co-worker! The least we can do for these supportive fur buddies is to keep engaging them with new toys.
I don't know about you, but now every time I enter the kitchen my kitties think, "Oh Boy! Treat Time!" I've got some happy, well fed kitties now with all this at home time and now with a monthly fix of new high-quality treats and toys, I've discovered the perfect way to keep them active and healthy.
Many of you have adopted new kitties or fostered this year. Playing with toys, teaching cats to hunt, chase and capture toys or training with treats is the perfect way to bond with them, train them and have fun! Cats are very intelligent and they love the stimulation of the hunt with their wand toys.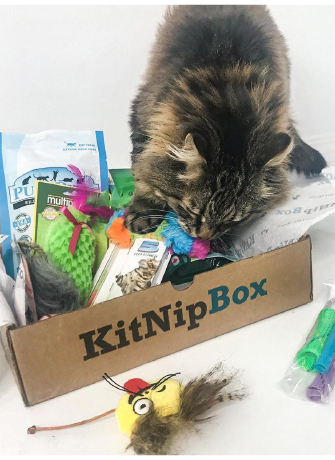 SHARE THE LOVE
It's time we give our kitties some love back with a monthly or bi-monthly delivery of their favorite toys and treats! Cat Subscription boxes are the purrfect answer. Cats lose interest in their toys, catnip smell fades over time but fresh new toys stimulate their senses! Subscription boxes are carefully curated, toys are unique and all food or treats are high-quality. All the boxes we reviewed were a really good value and you don't have to shop multiple sites for the right toy; these are cat-tested! We found five boxes that we and the kitties love and when they arrived, it didn't take long for the kitties to smell their catnip arrival and bust open the box!
The gift every Cat or Cat Lover desires! You can purchase one box or a subscription for a fantastic themed surprise!
PICK OF THE LITTER

KitNipBox

KitNipBox works with over 100 animal welfare organizations to donate a portion of sales each month. Giving back to the needs of small and large rescue organizations is meaningful to me as a rescue supporter and foster. The boxes contain the best high-quality cat toys, all-natural treats, and other fun, healthy cat products. They do a cute theme for each box. My cats loved the unique toys. This was the box that my cats couldn't stay away from and wanted to steal the toys before I had a chance to unwrap them! Pros: Catnip is very strong. Cons: Toys are not all made in the US but very good quality and well designed; cats loved them! COST: The monthly box is $19.99 for 5 items, or for multi-cat households you get 7 items for $29.99 with free shipping. INFO: kitnipbox.com
VetPetBox

VetPetBox emphasizes health, wellness, and education. Every item in a VetPetBox has been hand-selected and evaluated by their veterinarians for quality and safety. You'll get toys, treats, accessories and the same healthcare items (shampoos, supplements, etc.) that you'd find on the shelf at your vet's office! There is a monthly wellness topic selected by vets. July was the Danger of Lilies for cats. The box was fantastic. Great mix of products. My favorite item was the litter box deodorizer. Like Poo-pourri but for cats! My cats clawed the catnip toys out of the box right away and they devoured the treats and food! Pros: A little more expensive but the value was outstanding; the box was full of generous items. The educational piece was excellent. Cons: Higher monthly cost but worth it. COST: Single cat boxes start at $35 for a monthly subscription with free shipping. They offer a multi-cat and a dog option too. INFO: vetpetbox.com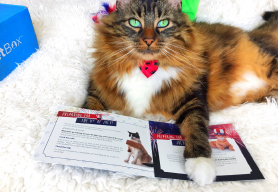 Cat Claws Club

Catclaws monthly Cat Claws Club has custom cardboard scratchers and cat toys made in the USA that are approved by their professional staff of cat testers. The box we received had a great scratcher, a cute bunny hat costume, and a lot of toys. Every box is unique and themed. Right after I opened the box and put the catnip on the scratcher, the fur kids were all laying on it and scratching. Keeps them away from my furniture! They loved the handknit toys and all toys were in a bag being infused with catnip! This box had a more expensive scratcher and smaller toys but my cats loved everything. Pros: They also sell hundreds of cat items on their web site along with the subscription box, so if your kitty loves an item, you can reorder. Cons: It's not free shipping but even with the nominal shipping cost, it's still a great value and the bi-monthly shipment is perfect! COST: Each box is $24.95 plus shipping. INFO: catclaws.com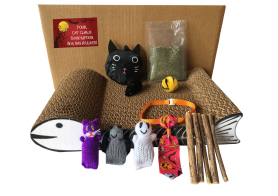 Meowbox

Meowbox with their One Box Can program donates a can of cat food a cat shelter or rescue organization for every box you buy. I love giving back being a cat foster myself. Rescues and shelters always need more food! You can even track where the donation goes! Each box has a theme, and contains high quality toys and organic or grain free treats or food. My cats loved the new canned food, and best of all I got a coupon to order more online. Pros: Toys and food made in the USA or Canada, everything great quality. Cons: Good value but I would pay more for a larger multi-cat box. COST: $22.95 per month (or bi-monthly option) includes free shipping. INFO: meowbox.com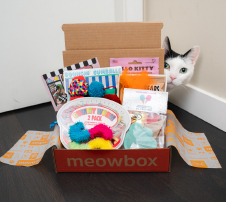 Pet Treater

Pet Treater caters to both Cats and Dogs with USA made treats and can help with special diet needs too. Contains treats, accessories and fun toys with different themes monthly. For every Pet Treater shipment sent out, a toy, bag of treats, blanket etc. is donated to a shelter in need. My cats knew this box was for them as soon as it arrived! The treats are healthy and it's a comfort knowing they are wholesome and made in the USA. Pros: Delivery of fresh toys and treats direct to my cat monthly at a very affordable price. Cons: Toys are high-quality, but not all toys are made in the USA. COST: Subscriptions start at $15 per month for 3-4 items or a Multi-Cat box with 5-8 items for $25 with free shipping. INFO: pettreater.com