★
ON-Line Exclusive
★
Purrfection
Purrfect Packs Knows What A Cat Wants
By Lori Zelenko
We love our feline friends, that goes without saying. And as devoted pawrents, we want to give them the best - the best treats, the best toys, the best care - so they can live longer, healthier lives. Purrfect Packs understands this and so they have committed to provide our beloved cats with a monthly subscription box filled with 4-5 natural treats and toys and catnip too. All healthy choices, the treats offer a high level of vitamins and nutrients and the toys are safe yet exciting. The combination is designed to keep every part of your cat's body running smoothly.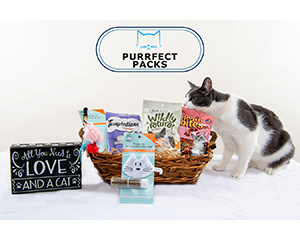 Keeping Fur Babies Purring
Each Purrfect Pack is researched and created to give all cats the products they need throughout the year: all-natural treats, top-quality toys, and the necessary health products to keep our adored fur babies purring. With guaranteed lower prices than retail, each monthly subscription box is personalized based on your cat's needs. No need to scroll through endless websites or browse store shelves. Spend the time with your kitty instead. Sit back, relax, and enjoy being together.
With new treats and toys each month, your cat will find endless delight in their Purrfect Pack delivery. Don't forget cat-loving friends and family, share! Send them a subscription as a gift so their feline best friend can enjoy their own box filled with a combination of all the goodies a cat wants - treats, toys, and catnip.
Cat Contentment Guaranteed
To sign up for your monthly delivery, go to www.purrfectpacks.com - 10% discount for first time subscribers.
If your kitten isn't 100% happy with their Purrfect Pack, they will work to make it right. No frustrated cats allowed! Feel free to email Purrfect Packs with any and all questions:
customercare@purrfectpacks.com