Elisabeth Rohm
Powered By Love
By Lori Zelenko | Photography by Jennifer Graylock-Graylock.com
Certainly, we all got to know Elisabeth Rohm as her character Assistant District Attorney Serena Southerlyn in Law & Order, a straight shooter, independent and determined, like the actress herself who prides herself on being a New York City girl and all that implies. She may be blonde and beautiful, but she's got style and stamina, after all she was a champion equestrian for many years.
Since then her steadfastness and transformative talent have carried her through two films directed by David O. Russell, co-starring Jennifer Lawrence, American Hustle and Joy, not to mention her role as Fox News host Martha MacCallum in the Roger Ailes biopic Fair and Balanced, and now her directorial debut with the new Lifetime movie Girl in the Basement which is, she says "a call to action about abuse on a very significant level." Next up, she is looking forward to directing her second film, Switched at Birth which, she says, "chronicles the journey of infertility, which is a personal story to me."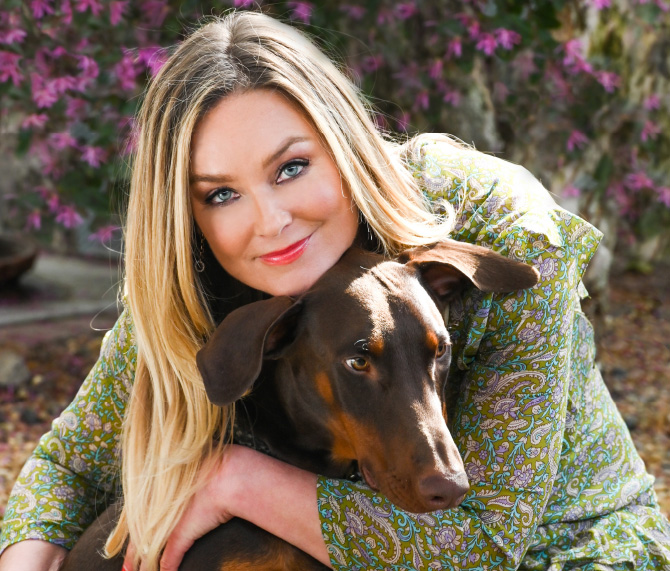 AN INDEPENDENT WOMAN
Always one to be progressive and independent, to have a voice and value freedom and be an original, Elisabeth Rohm grew up in New York City, the daughter of a Southern girl (from Memphis, Tennessee) and a German immigrant father. She sees herself as a hybrid, "a pleasure seeking and old fashioned southerner who enjoys a good drink, a foreigner who always feels like an outsider looking in and a straightforward New Yorker thriving on cultural stimulation, art, energy commerce and the combustion of people and experiences."
It was the move to Westchester County in her youth however that gave her the chance to fall in love with nature, horses, and dogs. And that love of dogs is still with her as she welcomes Benji, a young red-and-rust-colored Doberman Pinscher into the life she shares
with 12 year old daughter Easton. She confides, "he's currently 10 months old, but he already takes up half of my bed!  Surprisingly, he was the runt of the litter and he couldn't get a word in with his mother. I think my daughter empathized with him.  We knew he was meant to be ours immediately."
FOR THE LOVE OF DOGS
Dogs, big ones in particular, have always been Elisabeth Rohm's trusted companions – "a golden retriever, a husky, and now my Doberman.  I can't imagine my life without having a dog in it. It's too sad of a thought." There's no sadness where Benji is concerned, though, she says "he is such a lover and cuddler. We got him at a very young age, so he is quite attached to me.  We do everything together – go on beautiful hikes around Los Angeles, walk three miles to the beach, and even run errands together.  He's also a service dog, so he's a real travel pal."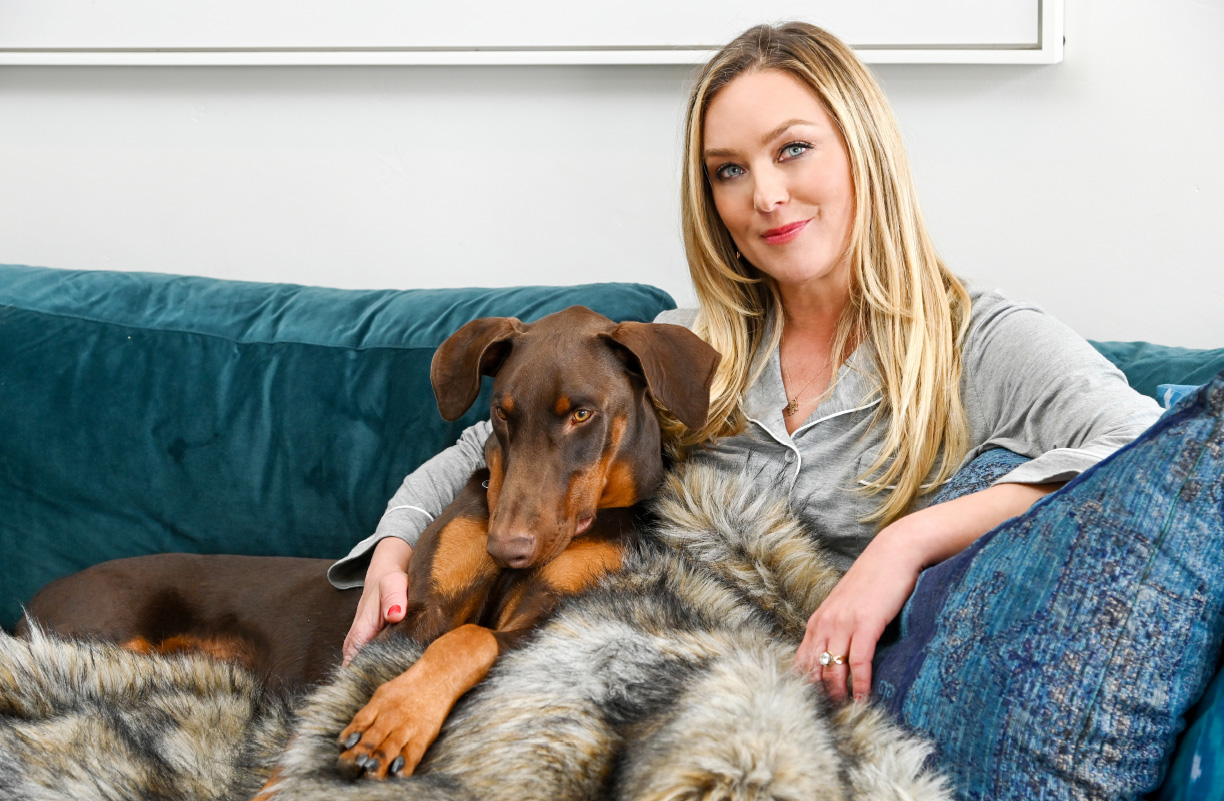 But even Benji needs a little education, he is currently in training with the Royal Dog Academy located just outside of LA in Northridge, and known for working absolute wonders with dogs. Once Benji's schooling is done, this rambunctious pup will be able to go to work with Elisabeth, wherever that may be. He has not been on set yet but that day is coming soon. One the whole family will look forward to.
Education is vital to this actress and mom, as she is known to say, "You never stop learning. If you have a teacher, you never stop being a student." It is she feels, important to teach the younger generation what it means to be a strong person, to not be afraid to use your voice and most importantly, to grasp the value of self-respect and respecting others. She'd like us to understand that all creatures, "especially animals who don't have a voice of their own, need our compassion and protection."
COURAGE IS HER MANTRA
Strength is integral to her persona. Not only has she played women of substance but as a director now she explains, "I feel like it's important to discuss things that we're afraid to talk about." And to that end, she has chosen tough subjects to bring to the TV screen. Yet darkness does not prevail.
Influenced by Eastern philosophy, her parents were meditators and yogis who embraced transcendental meditation. Her mother whom she joyfully recalls as a "hippie," especially instilled in her a determination to fight against injustice. So maybe it's not a coincidence that character we all know and loved her for, Serena Southerlyn, was something of an idealist, as she describes her, "the eager beaver who had hope in the justice system and the one who gets disappointed just like the audience."
Steadfast no matter what life throws at her, from the rewards of acting which is genuinely her life to the tough times of striving to excel in an industry she calls an "obstacle course," she sees each challenge as a chance to grow and looks forward to a time when things get easy again. What do the ups and downs of life teach her? Contemplatively she says, "we must hold onto the knowledge that steered us through. It's vital to continue moving forward with our expanded perspective."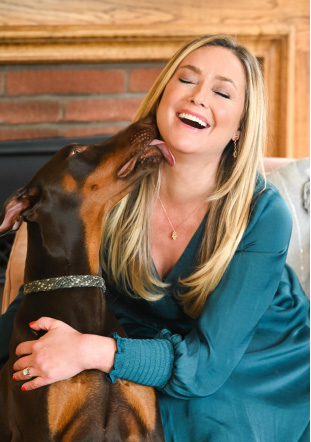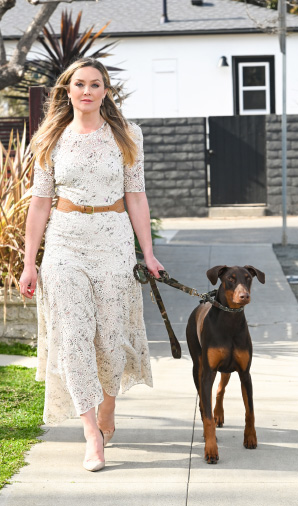 LOVE, PEACE AND HAPPINESS
When she looks for inspiration and guidance, she turns to Nelson Mandela, Gandhi, and the Dalia Lama. For her they are true representations of the peaceful warrior, a reflection of the values she's held since childhood. Contemplating her stance as a gutsy realist and yes, not only a loving guardian to a big dog but to a growing child, she observes, "I just think that assuming the responsibility of another's life and providing for them takes courage because you don't know what life is going to throw at you.  But it's also a privilege and an honor to take care of another living being because they count on you for everything."
Love powers Elisabeth Rohm's life. Love for her dog Benji, her daughter Easton and her career as an actress and now a director. She sees love essentially through the words of German poet and philosopher, Rainer Maria Rilke, as if it were stored up for us like an inheritance. Understanding that, as this lyrical poet reveals, with faith, love will give us strength and be a blessing carrying us as we travel through life, surrounding and supporting us always. Blessed with Benji and Easton, Elisabeth Rohm takes responsibility for the life they lead together. Creating her own karma, she continually moves forward, exploring and anticipating only good things to come letting light and generosity lead the way.