A DOG'S LIFE AT HOME
While Cameron has cohabitated with different kinds of animals in the past, he currently lives with Tucker, a dog rescued at around eight weeks old who he describes as "24 pounds of scruff."
Tucker is, we hear, indeed unique—he's the only dog Cameron's met who doesn't like walks! As Cameron explains it, "he's fine with me going for a walk, but when I get out that leash, he regards me with utter disdain. He gives me a look like, 'You go pee on a few bushes and come back and tell me how it went.'"
When he was adopted, Cameron says they lived in a high-rise apartment. "Housebreaking a dog under such circumstances requires a keen sense of anticipation. You have to know he needs to go before he does. Very often, if I left it a little too late, I would wind up with a soaked T-shirt and a dog with a smugly amused expression on his face," he tells us of the early years.
DOING IT FOR THE DOGS
"A dog's destiny is determined by humans. We decide when and what they will eat, where they will live, whether or not they are allowed to sleep on the couch (although my dog Tucker thinks this last factor is still open for negotiation). Dogs cannot fend for themselves in the wild – can you picture a pack of dachshunds taking down an elk?" Cameron says. He believes we owe them our support. He takes the obligation seriously, doing anything he can to support animal rescue.
From the Life is Better Rescue in Denver, where he is a board member, to his preferred national organization, Best Friends Animal Society, he devotes time and effort to making sure animals are treated better. He also brings an important issue to light, telling PET LIFESTYLES that we need to focus more on dog homelessness. It's something "we can actually fix." And by fix, he does actually mean 'fix'—spaying and neutering.
"All the money we spend maintaining a huge operation to remove dogs from the street, to rehabilitate them, and adopt them out—these efforts could be saved if everyone made sure their pets won't reproduce. I'm not talking about AKC breeders who are keeping breeding bloodlines alive, but I am speaking of people who just want to have a pet that they can love. Your dog will live healthier and longer with spaying and neutering. It is the humane thing to do," he emphasizes.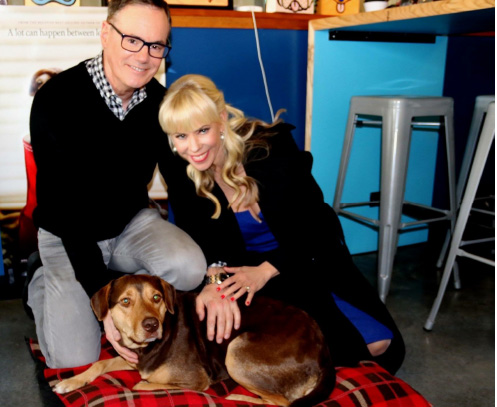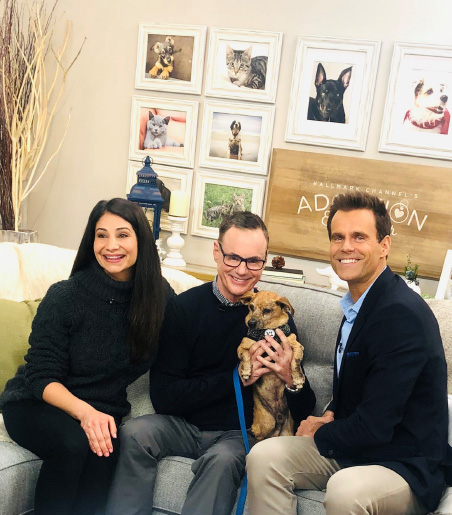 ISOLATION ISSUES
While sheltering in-place with pets has been one of the small highs of the COVID-19 pandemic for pets and people across the country, Cameron believes dogs across the country are in for a rude awakening when people begin commuting again. "For more than a year, Tucker has regarded us as his house servants. He is so accustomed to this new normal that I can't empty the trash without him freaking out, concerned that I will so enjoy tossing a bag into a dumpster that I'll never return home. We should probably set up a 1-800 Crisis Support line for dogs to call when their owners finally go back to normal," he tells PET LIFESTYLES., half joking as this "back to normal" routine is sure to cause heartbreak with our four-legged best friends.
Since Tucker is less willing to share his home or parents with other animals, Cameron doesn't foresee bringing any additional pets into his home soon. "I suppose if we had a squirrel in the living room, he'd be more than okay with that, but other dogs are only allowed to visit as long as they don't expect to spend the night."
He does see himself adopting in the future, although he's leaning towards a senior dog rather than a puppy, not only because they have a slightly tougher time getting adopted out of shelters and rescues, but more because "with an older dog, you know what you're getting. I might pick one who likes to go for walks, as an example."
LOOKING FORWARD
Cameron has a lot lined up for this year…and for some time after. Since his focus now is helping children to fall in love with books and dogs, it's no surprise he's enthused about his chapter book series (Lily to the Rescue) for children just beginning to advance beyond picture books
"I also have what we call the 'Puppy Tales,' which is a series of younger reader novels (although adults like them as well)." Each of the eight Puppy Tales currently published, gives readers the perspective of "a unique dog with a unique life," he adds.
For readers who want more of the popular 2017 novel, A Dog's Way Home, the sequel, A Dog's Courage, will be available in bookstores this May. Fans of the film adaptation of A Dog's Way home may recognize the dog on the cover—Shelby—the star of the film, and also one of the dogs with her own Puppy Tales Book, called Shelby's Story. If you're a dog lover, there's a lot coming from Cameron in the future that you're going to want to watch out for!