By Samuel Hinke
Dogs do a lot for us. They provide companionship, unrivaled affection, endless entertainment. They sense when we're sad, sick, or trapped in a well. We have seen them run marathons, guide the disabled, and pull people from burning buildings. They've even learned how to skateboard. Pretty soon they'll be getting their PhDs.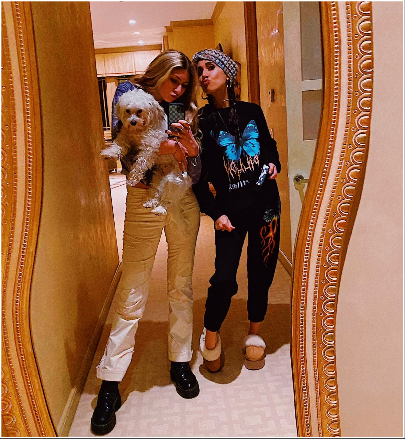 As far as humans go, we have celebrities. Celebrities that like to fill their titles with excessive backslashes, for example; singer/songwriter/producer/etc. Well, singer/songwriter/producer/artist/etc. Jenna Andrews has earned every one of hers. Jenna has had no small impact on the entertainment world, from her initial work with Island Def Jam in 2008 to her vocal producing BTS hit song "Dynamite" last year (which earned her a Grammy nomination). All that time in the limelight comes with its share of complications; namely stress and anxiety. It is not always easy to deal with these feelings and they can be overwhelming at times.
Fortunately for us all there is a place where these two worlds meet: I am talking about therapy dogs, proud pups that have been certified to act as warm, loving companions to aid people in a healing and therapeutic manner. The celebrities are offered a friend that provides them with emotional support to help deal with their problems, and we get to see our favorite stars playing with adorable canines. It's a win-win.
Who wouldn't feel at least a little better with a soft, furry puppy snuggling up next to them when they are feeling blue? Animals have a tremendous capacity for affection, and by connecting them with people in need, a remarkable transformation can be seen in both. All it takes is a warm smile to make anyone feel better, and a good belly rub to make a dog wriggle with joy. Jenna saw the need for just such animals in her industry, and today she has two adorable pups who provide just such a service.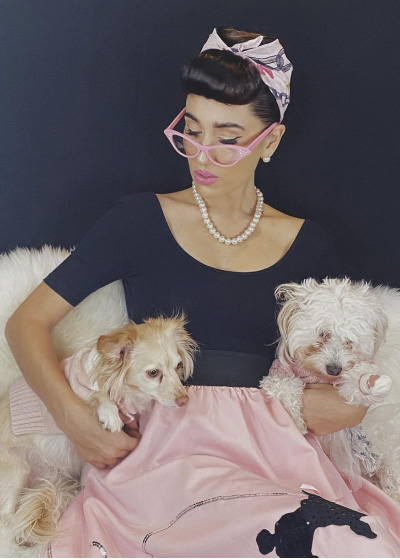 Singer/SongwriterJenna Andrews can hardly curb her enthusiasm for her therapy dogs, Ms. Larry David and Ms.George Costanza.
It must have been hard for Jenna to curb her own enthusiasm when she adopted Ms. Larry David from a rescue in L.A. Her sister pup was adopted by a different family, but the two owners agreed to stay in touch down the road. Wouldn't you know it, just four years down the road Ms. Larry David's sister had a litter of puppies, and Jenna was asked if she'd like one of the puppies. Thus, Ms. George Costanza was welcomed with open arms.
As for the names, Ms. Andrews is completely star-struck by Larry David calling him "absolutely hilarious" and feeling lucky to have met him. When a second family member was added it seemed only logical to keep with the same theme.
Ms. Larry David and Ms. George Costanza have cozied up to stars like Miley and Noah Cyrus, lil Xan, Benee, Cyndi Lauper, Diplo, Lil Nas X, and a bevy of others. Given the chance, I'd switch places with these dogs. 
If anything you have read so far has piqued your interest you should check out The Green Room, a web series hosted by Jenna. The show delves into the more serious side of the music industry. Issues such as mental health and anxiety are explored and discussed in depth with various artists and celebrities. In an upcoming episode Jenna and singer Salem Ilese will discuss the positive influence emotional support dogs can and have had on their lives. I got a sneak peak of this episode, and you do not want to miss it. In fact, it is premiering April 1, so head on over to Jenna Andrews Instagram and find out how an adorable pup could make your life even better than you thought.