By Lori Zelenko with contributions from Melissa Billie Clark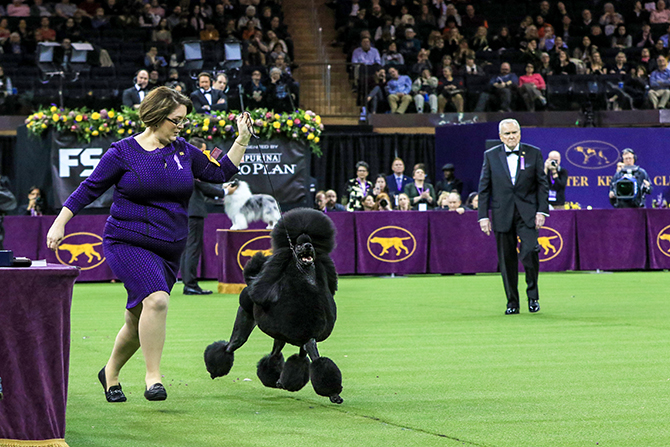 Ahead of the 145th annual Westminster Kennel Club Dog Show, Presented by Purina Pro Plan, Pet Lifestyles sat down with Gail Miller Bisher, Fox Sports' Dog Show Analyst, known as the voice and face of Westminster. This suspenseful show - which keeps millions of dog lovers all over the world on the edge of their seats - starts Friday, June 11th through Sunday, June 13th at the extraordinary Lyndhurst Estate, 67 acres of spectacular countryside in Tarrytown, NY. Sadly due to Covid restrictions, we're limited to watching on TV. So tune in to watch Best in Show which will be awarded on the evening of Sunday, June 13 during a live three-hour broadcast on FOX. As many as 3000 dogs, including 200+ breeds, will all be competing at Westminster. Of course, if you don't want to miss one moment of this championship, you can catch all the action over all three days live-streamed on westminsterkennelclub.org or on the FOX network.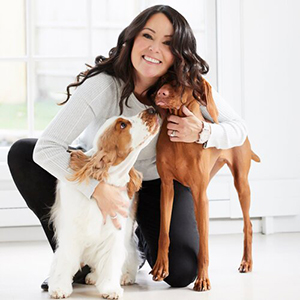 THE FACE AND VOICE OF WESTMINSTER
Gail Miller Bisher is a second-generation dog fancier with lifelong experience in dog sports, she's an award-winning handler and guardian of beloved four-legged best friends. A top dog herself winning categories from best of breed to best in show. Westminster comes but once a year so what does Bisher do when it's she's not on Fox-TV analyzing the champions as they parade around the ring? She juggles being a hands-on trainer to her own dogs, her Vizsla (Bella) and her English Cocker (Simon), with being a mother to her 9-year old daughter who is equally passionate about dogs.
What's her favorite part of this important competition, the equivalent of the Oscars for dogs? "One of the parts of the show I love the most is really just celebrating dogs and thinking about the history," she says. "In 1877, at the very first Westminster Kennel Club Dog Show, people were doing the exact same thing we're going to be doing in a few days, which is celebrating our love of dogs."
THE COMPETITION
So who's the money on to win Westminster? Who are the almost famous contenders? Bisher's not picking favorites, "my role and wish is for all animals to find a loving and stable home," she emphasizes. The attention Westminster brings to all competing breeds - including the four newly AKC recognized breeds competing this year - is something she sees as valuable education for potential dog owners.
The four new breeds competing at Westminster in 2021 include:
The Barbet - The archetypal water dog of France is a joyful, bright, and loyal companion. A rustic breed with roots as far back at the 16th century, this medium-sized dog locates, flushes, and retrieves birds. Look for the Barbet in the Sporting Group.
The Biewer Terrier - A whimsical toy breed, light-hearted, intelligent, and amusing. An elegant, long-haired dog with a fun-loving, childlike nature. A devoted, loyal, and obedient companion.
The Belgian Laekenois - Joining the Herding Group, this is an affectionate, alert, and intelligent dog bred to herd and guard flocks and fields.
The Dogo Argentino - Developed in Argentina's Cordoba province in the 1920s, this powerful dog is bred to find, chase, and catch dangerous game such as wild boar, pumas, and other destructive predators.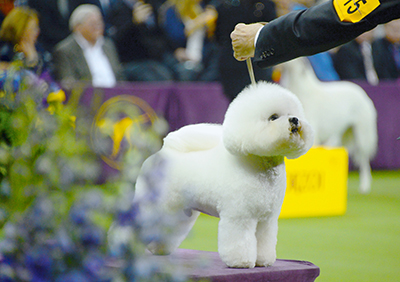 WINNER'S CIRCLE

After all, at the end of the day, Westminster is, Bisher explains "a public education event" where everyone can observe dogs and judge for themselves if the four-legged furry friend in question is a fit for their home. However if bringing home a champion puppy is not in the ballpark, let Westminster inspire you to rescue. In fact, Bisher herself has long been active in the rescue community.
Not that Bisher's sharing who's likely to be in the winner's circle, Westminster, she informs us, "is not a beauty contest. Rather, dogs are judged on written standards based on function." Functional or fashionable, there are, we hear, a few dogs to watch. Keep an eye out for the #1-ranked Great Pyrenees from Indianapolis, a three-year old called Buster. And locally, from Connecticut, we have Keagan, a Chesapeake Bay Retriever who will compete to win Best in Breed before hopefully moving on to show in the Sporting Group. From Gulfport, Florida comes Miss Bliss, a Cavalier King Charles Spaniel; this petite princess is already a grand champion. We're panting to pick the winner!