FROM RACETRACK TO RETIREMENT
A Second Life Out of the Limelight for Thoroughbred Horses
By Michael La Chance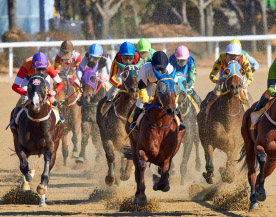 The life of a racehorse can be glamorous—filled with accolades and affection. And with proper care and dedication, life's not so bad for them once they're past their prime either!
From Secretariat to Seabiscuit, we're no stranger to the dramatic story of racehorses beating the odds to win beyond our wildest expectations.
The life of a racehorse can be glamorous. The accolades and affection never stops when they're in the winner's circle. But what happens when the races are over and the horse is ready for retirement?
Retired racehorses aren't just put out to pasture and left to fend for themselves, they need loving, consistent, and hands-on aftercare once they're past their prime. Thankfully, there are several organizations to help.
Before we jump in, what exactly do we mean when we say a "racehorse"? While we're going to discuss primarily Thoroughbreds here, Kristen Kovatch Bentley, Program Manager with The Retired Racehorse Project (therrp.org), says the term can refer to any breed of horse that competes on the racetrack: "In North America, that is most commonly the Thoroughbred."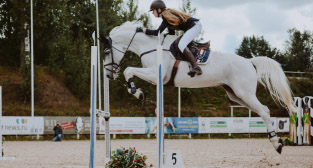 Retired Thoroughbreds can have a rich and rewarding life thanks to what's known as aftercare programs. They can be rehabilitated and retrained, transformed into horses suitable for equestrian sports or teaching children.
Dot Morgan, Executive Director, New Vocations Racehorse Adoption Program (newvocations.org), tells PET LIFESTYLES much the same. She adds, "The major racing breeds are Thoroughbreds - they carry the jockeys in races such as the Kentucky Derby - kentuckyderby.com), and Standardbreds - they pull a cart at a trot or pace, as in during Little Brown Jug - littlebrownjug.com. Arabians and Quarter horses race at a few places, but not with the same frequency or tremendous national exposure as thoroughbreds."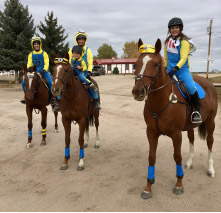 SPOTLIGHT ON THE THOROUGHBRED
While some Thoroughbreds are raised for riding sports like dressage or jumping as we just saw in the Tokyo Olympics, most are bred for racing. Jonathan Horowitz, President of CANTER USA, (canterusa.org) explains, "The origin of the breed, starting in the 17th century in England, with three founding sires, was for racing purposes."
Although Thoroughbreds originated as racing horses, they are also raised for riding sports like dressage or jumping, Olympic sports with a huge global following.
Since they're bred specifically to be athletes, they are versatile enough to have successful second careers in several fields after they retire. "They have stamina, speed, and heart—all sought-after qualities in sport horses. Racehorses also receive training applicable to a riding career," Kovatch Bentley adds. Racehorses start their careers relatively young. "I thought a 5-year-old horse was an old horse the same way sports fans think a 35-year-old quarterback is 'old.' However, now that I'm involved with retired racehorses, I know there are so many possibilities. The end of a racing career does not have to be the end of a rewarding life for a horse; it can become the beginning of a second or even, third chapter for them," Horowitz adds.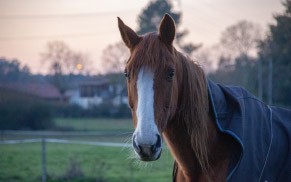 IN THEIR PRIME
We know the horses start racing young—but at what age are they in their prime? "Depending on the individual, Thoroughbreds generally race from age two to four or five, but some may start later, and many race longer. While it's unusual, you can still find horses successfully racing at ages seven, eight, or nine, and sometimes even a little older," Kovatch Bentley says. "I would say a racehorse actually reaches its top ability between four and six years old," Horowitz tells PET LIFESTYLES. Morgan adds that potential racehorses can begin early lessons as soon as 18 months. This varies according to the breed, she explains, adding, "Many Standardbreds race beyond age 10, up to mandatory retirement at 15." Horowitz adds, "The best Arabian racehorse in the United States, Paddys Day, is a 10-year-old. I've known him since broadcasting his debut in Colorado when he was three!"
LIFE IN THE FAST LANE
Dot Morgan, who has been associated with racing for over five decades, and married into a five-generation harness racing family, tells PET LIFESTYLES, "Far and away the vast majority of racehorses are treated exceptionally well. Of course, there are exceptions, and those get the press. However a solid trainer and owner will treat a racing Thoroughbred like a hothouse orchid; their every need catered to: blankets when it's cold, fans when it's hot, massages and chiropractic treatments to keep them feeling good. Ample human and horse contact, constant grooming, very, very clean stalls, appropriate exercise whether hand walking and grazing or relaxed riding, along with speed work; racehorses in their prime can certainly have a great life."
A Thoroughbred is typically treated like a hothouse orchid, their every need a constant focus. Ample horse and human contact plus time to graze at leisure helps sustain a long and healthy life for them.
For most racehorses, aside from the danger the track itself presents, the challenge is after retirement, when they can be neglected. When they are no longer moneymakers or star attractions, the owners may not have the resources or the experience to maintain them. So what happens? Morgan says, owners can "dump the horse on a dealer that will take it off their hands. Then the dealer is going to sell it at what I call a 'junk auction,' and that's where the slaughter buyers could pick them up."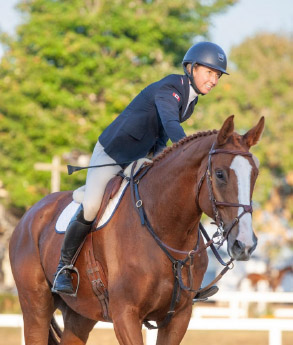 WHAT ABOUT POST-RETIREMENT?
As with any animal, there's the unfortunate possibility that they may not be cared for past their prime. Some, especially those that have been retired several years, can be found in kill-pens, neglected, and abandoned, or even at junk auctions, a particularly seedy sort of horse transaction. Of course, as Kovatch Bentley says, "Most racetracks have strictly enforced rules regarding connections sending horses to these sales (junk auctions). Efforts are being made to curb this practice. Increased tracing efforts including microchipping (now required for all Jockey Club-registered Thoroughbreds born after 2017). Individual tracks have their own reporting systems to trace where horses are going when they exit the track."
These rules, coupled with organizations that care, help a majority of retired racehorses. "The upper-level horses go to breeding farms as stallion and broodmares. Many mid-level mares become broodmares, as well, just maybe not commercially, but for people that breed to race their own offspring rather than to sell them at public auction as yearlings," Morgan tells us. Some Thoroughbreds, Kovatch Bentley, tells PET LIFESTYLES, "enter the breeding industry and go on to produce the next generation of Thoroughbreds. A handful can stay on the racetrack, working as pony horses, these are horses used to accompany racehorses to the track or starting gate or to be ridden by trainers to supervise their horses in training. Some are fully retired to pasture life by their connections." As Horowitz says, "The possibilities are endless for retired racehorses." Thanks to organizations like those that spoke to us at PET LIFESTYLES, there's a growing market for the off-the-track Thoroughbreds. They can go on to eventing, jumping, dressage, polo, barrel racing, ranch work, and much, much more. You'll also see them as therapy horses or working jobs such as police mounts.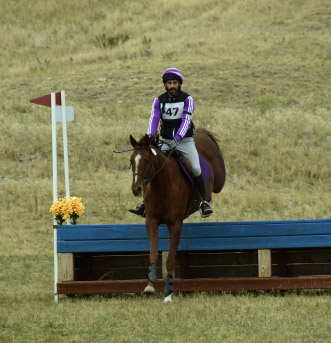 NOT ALL THOROUGHBRED HORSES RACE!
Not all horses that are bred to race eventually make it to the races—some simply can't cut it. This can be because they physically matured too slowly, never showed any racing aptitude, or suffered early injuries. It can seem grim to think of racehorses that never made it to the races—but the outcome is not all bad. "Much like horses who did race, unraced horses go on to the same second career options; some equestrians specifically seek out unraced horses to restart as sport horses," Kovatch Bentley says. She adds that while injuries could limit second careers, some have great futures, giving us a recent example of a horse called Business Ben. He was "plagued by an early tendon injury that prevented him from ever racing," she says, "but that did not stop him from recently competing at the highest level of the sport of eventing."
Injuries can sideline a Thoroughbred early and deter a racing career. But a horse can have a second or even a third chapter with options outside the racetrack, everything from the elite sports to mounts for young riders or family pleasure.
Morgan adds that the athletic qualities are also prized in "different equestrian competitions such as hunters, jumpers, dressage, polo, barrel racing, foxhunting, competitive trail, endurance riding, mounted patrol and more, as well as for general family pleasure mounts." And, as Horowitz says, it's a great thing when racing connections realize that for some horses, the best options are outside of the racetrack. "Two of the six Thoroughbreds currently on our farm—Super G Sporthorses in Parker, Colorado—never raced. One has been a successful eventer and lesson horse, and the other is a three-year-old that we're just starting to work with and think has tremendous potential," he explains.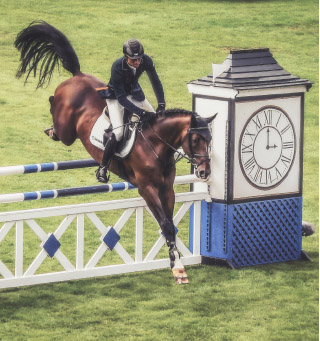 WHEN ALL'S SAID AND DONE
"It's common to think of adopting a horse as "rescuing" it — but that's not necessarily the case when it comes to Thoroughbred aftercare. These horses were bred with a purpose in mind. When their racing days are over, most connections work hard to ensure that their horse is in good hands and will have good care as well as a worthy purpose for the rest of its life," Kovatch Bentley tells PET LIFESTYLES. She adds that while some horses do come from dire rescue situations, thankfully, it isn't drastic for most. Things like aftercare and adoption are simply "the next chapter in their life story," as she puts it. And with greater awareness for these options for the next chapter in a former racehorse's life, hopefully there will be fewer and fewer Thoroughbreds in dire straits when they retire.
So, what does she think readers of PET LIFESTYLES should take away from the current state of racehorses, rescue, and adoption? "When you purchase or adopt a racehorse, you are taking on an athletic, versatile animal whose training foundation and natural ability lends itself well to just about any equestrian sport," she says. She adds that it's important to remember that the transition and retraining process from racing to a new equestrian sport takes time and skill but is well worth the effort. Aptly closing the interview, she shares a vital call to action, reminding us all that "with an ex-racehorse, the best question to ask is not 'what can they do?' but 'what can't they do?'"
President of CANTER USA, Jonathan Horowitz a former horse racing announcer discovered riding not that long ago. Dedicated to helping retired racehorses find new outlets for their athleticism, he rides Sorority Girl, whom he announced when she raced under the name Grand Moony.
DIFFERENT WAYS TO HELP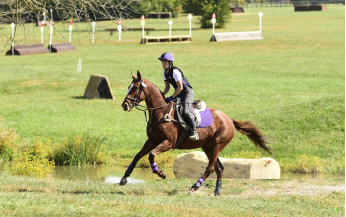 Not everyone can afford to keep a horse—as Morgan says, "it can easily cost $20-25/day," adding up to hundreds or thousands a month and the vet bills are not insignificant; for many people these costs are not a feasible financial option. However, if you'd like to help sponsor a retired Thoroughbred without the financial burden of actually owning one, there are adoption programs across the country open to donations, they are always in need of funds. You can help make a difference with a quick tap on your smart phone. As she explains, "organizations also appreciate people following them on social media and sharing posts about adoptable horses. The more exposure these retired horses get, the quicker they are adopted. It's great to see new ones fill those stalls and keep the cycle going."
"Consider a donation to a Thoroughbred aftercare program—the Thoroughbred Aftercare Alliance accredits aftercare programs all over North America and is a great place to start," Kovatch Bentley suggests, explaining that volunteering goes beyond simply cash donations. Other services can help too, like office time, property maintenance, or even tech support. For volunteers at the Retired Racehorse Project's annual event [the Thoroughbred Makeover], volunteers don't even need prior experience with horses! "There is strong movement behind retired racehorses, and it's been wonderful to see it grow over the past decade since I first became involved with off-track Thoroughbreds," Horowitz adds.
Ashley Horowitz rides rehabilitated racehorse Columbia Rivr Rose proving there is life after the racetrack for a Thoroughbred thanks to "makeover" programs like CANTER USA.
GET INVOLVED
There's (thankfully!) a good number of racehorse adoption programs across the country. Commonly called "aftercare programs," they help horses get rehabilitated, treat injuries, and find adoption avenues. "Among aftercare organizations, some specialize in starting the retraining process, they place horses that have begun training in a second career after racing, while others place horses relatively fresh from the track," Kovatch Bentley tells PET LIFESTYLES. Here's what a few organizations are doing:
The Retired Racehorse Program: "The Retired Racehorse Project takes a market-based approach to aftercare, seeking to educate and inspire equestrians to select a Thoroughbred ex-racehorse as their next competition or recreational partner," Kovatch Bentley says. The organization achieves this goal through an award-winning quarterly publication called Off-Track Thoroughbred Magazine, various educational resources, and training demonstrations produced at horse shows and events around the country. She adds, "We also produce the annual Thoroughbred Makeover and National Symposium, the largest, most lucrative competition for recently-retired racehorses, and a national gathering place for individuals and organizations who work in Thoroughbred aftercare. We're expecting about 900 horses to compete in this year's Makeover event!" You can donate your time, subscribe to their magazine, purchase Thoroughbred/RRP logo wear, or make a direct donation. All contributions are appreciated. Find out more: therrp.org
New Vocations Racehorse Adoption Program: The largest equine charity of its kind in the country, New Vocations was established 29 years ago in 1992, since they've placed over 7,500 retired racehorses in carefully screened and monitored homes. Today with locations in Ohio, Pennsylvania, Kentucky, New York, and Louisiana, New Vocations provides "a safety net for retiring Standardbreds and Thoroughbreds through rehabilitation, retraining, and adoption." With a focus on adoption rather than retirement, New Vocations emphasizes, "nearly 70% of the horses that come in must be rehabilitated from track injuries prior to vocational training and placement." The horses need additional care before adoption, and frequently, extensive rehabilitation efforts, New Vocations gives them the time they need to heal. Get in touch to help. Find out more: newvocations.org
CANTER USA: For Horowitz, working with retired racehorses came about through announcing horse races. "I became interested in learning to ride and started taking lessons from an eventing trainer on retired racehorses in 2015 when I was 30. Now, I compete with a horse that I used to announce at the races. It's incredibly meaningful to make a difference with the animals in the sport I love," he says. CANTER USA has helped re-home over 25,000 retired racehorses since it was founded in 1998. It does so in two ways with 15 affiliates across the country. "One is by connecting racing connections with people interested in buying retired racehorses through a listing service on our website and on social media. The second, is adopting horses directly into our program; we rehab and retrain them ourselves before adopting them out," Horowitz adds. Get in touch to help. Find out more: canterusa.org