Raw Diet for Felines
Keeping your Cat Healthy and Fit!
By Monie Schulling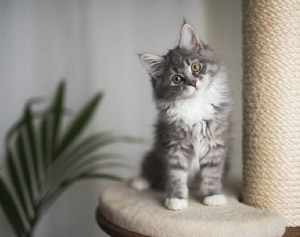 Your favorite feline's diet is critical to your kitty's health and longevity! Dr. Eric Dougherty DVM, Medical Director, The Cat Practice, www.thecatpractice.com states: "Cats are obligate carnivores which means they need an entirely meat-centric diet and very minimal carbohydrates. A wet food diet that consists of high-quality meat-based protein and is also grain-free is a great place to start for a healthy cat. I also advocate for wet food diets since dry food can contribute to a variety of health problems long term and be a contributing factor in illnesses such as diabetes, urinary issues, constipation, obesity, chronic dehydration, and so on. Dry food has a significant amount of carbohydrates as well, so it is better to use it as a treat or as a meal on occasion. Even if cats love dry food, feeding them a diet closest to what they would be eating in nature is more important for their wellbeing."
My cat has been eating the same food for years and seems pawsome!
Your cat has not had a choice. Pet food is often targeted to what owners think sounds and looks good and contains food coloring, fillers, chicken meal and many other ingredients that can cause health issues, and you feed what is within your budget and convenient to buy and feed. If you could improve your kitty's health, energy, longevity and wellbeing; would you? Illness is very expensive as cats age; feeding a raw diet now will help eliminate costly health issues in the future. We as guardians need to ensure our cat has the best food we can provide. Your cats will thrive on a raw food diet!
Other benefits of a raw diet are: healthier coats, less hair balls, weight loss if overweight, increased energy, good dental health, urinary health; no crystals, less poo in the litter box and less smell. All of these benefits will save on trips to the vets, medication and increase their life span.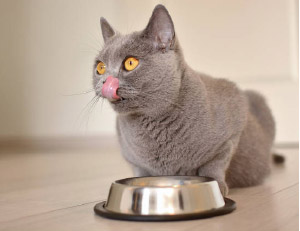 My Purrfect feline doesn't hunt!
Even domesticated cats will hunt and kill rodents, rabbits, amphibians and birds when given the opportunity! That said, please keep your kitties inside so they don't encounter the dangers domestic cats experience outside. Cats ingest very little water in the wild - they instead get moisture from their raw diet. A mouse is 65% water and cats will eat every part of a mouse. A cat's natural diet doesn't include any carbs, although cats will eat plants to induce vomiting to rid themselves of hair balls.
Is a Raw Diet Safe for my Cat?
A raw diet which is uncooked, is what cats eat in the wild. Your kitty catches birds, mice, lizards, and eats the meat, organs, and bones. Raw food has a high moisture content. Raw food is the most nutritious diet for your favored feline, and has many health benefits. Raw diets are safe for all healthy adult cats that have a strong immune and digestive system and no health issues. Check with your vet if your kitty is on a special vet recommended diet and discuss any changes. Raw diets are not recommended for kittens under 4 months.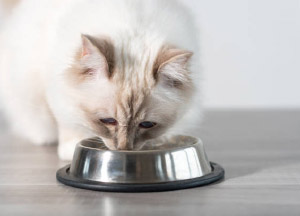 Gradual transition to any new Diet.
When transitioning to any new cat food, you want to do it gradually so their digestive system adapts. Some cats will adapt sooner, but start by giving them 25% of the new food with 75% their current diet, moving to 50% of each week 2, 75% new food week 3 and move to 100% of the new food on week 4. Once you start your favorite feline on a raw diet; whether you prepare it at home for them or buy raw diets, your cat will benefit by having a more beautiful coat, energy and long term they will experience less illness. You will need to be patient and move them over gradually as they get used to new textures, tastes and smells. Ideally, if you adopt a new kitten, being a great pet guardian would be to start them on a healthy diet at 4 months or over.
Recommended Prepared Raw Food
One of the reasons we feed our felines the food they are eating is cost, and convenience. You can make a raw diet for your cat; and there are Facebook groups and web sites that will give you instructions. If you love to prepare food, that might be for you, but most of us need the convenience of buying high quality prepared food.
Answers™ Pet Food is a nutrient-dense line of fermented raw wholefoods specifically formulated by a nutritional scientist to find the most species-appropriate diet for pets of all ages. Their Complete and Balanced Diet for Cats of all life stages is a complete and balanced raw wholefood diet, with naturally occurring essential vitamins and minerals. Scientifically formulated to provide our feline friends, a fermented raw diet naturally high in protein, taurine, healthy fats, and moisture from raw pastured meat, organs, finely ground bone, and organic eggs. Answers Pet Food provides the biological requirements that cats need, that directly ensure energy, vitality and well-being. Answers™ Pet Food is veterinarian used and recommended. Available at Pet Food Stores and Vets – check locations on their web site. answerspetfood.com
Fegnion™ Feline Rare Nutrition is a family owned and operated raw cat food company. Fegnion's passion, mission, and beginning can be traced back to one of the most beautiful boroughs of New York City-Queens. The line is complete Raw, Feline Prey Appropriate Nutrition your carnivore craves and was born to eat. Their recipes are evidence-based and formulated by a team of clinical pharmacists and veterinarians who share a common goal of delivering the ultimate in feline raw nutrition. Fegnion recipes are meticulously handcrafted in micro-batches by their developers in their Brooklyn facility. The goal at Fegnion is to give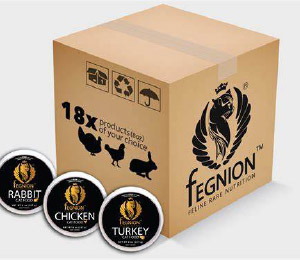 cats what they really want and were created to eat, not what's appealing and convenient to their human parents. What is appealing and nutritious to you is not necessarily good for your cat. What they leave out is as important as what they include in the recipes. They believe that every cat should enjoy all the benefits of being fed true raw, Bio-Appropriate nutrition such as Fegnion. Info: fegnion.com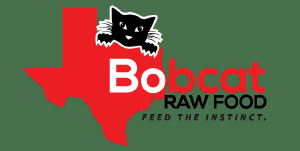 Bobcat Raw Food is a natural raw cat food made in Houston, Texas. No grains, hormones or steroids. At Bobcat Raw Food, the top priority is using the highest quality ingredients. Bobcat Raw Food was founded on our passion for cats' health and vitality. Mother Nature intended for cats to eat a diet rich in protein. All of our raw cat food contains only high-quality meats and organs, with added essential vitamins and minerals, and has no grains, starches or added fillers. Bobcat Raw Food is handmade in small batches with only human-grade ingredients, and absolutely no byproducts, ever! Bobcat Raw Food comes in single 3-ounce portions. This takes the guesswork out of the feeding process so that you know exactly how much you are feeding your cat. Delivers locally in Houston, Ships frozen nationally. Info: bobcatrawfood.com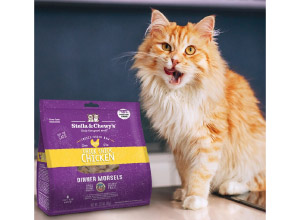 Darwin's Natural Pet Products offers a line of premium raw cat foods, hand crafted using 100% cage-free poultry and free of grains and fillers. Top-quality ingredients, consciously sourced from farms they trust, recipes formulated under the guidance of veterinary nutritionists to fit your pet's ancestral diet, and minimally processed meals to preserve the bioavailability of vital nutrients. Darwin's has a convenient auto-ship program, introductory offers for new customers and free menu consultations. They also feature a prescription kidney support formulation raw food for cats with certain medical issues. Info: darwinspet.com
Stella & Chewy's manufactures raw freeze-dried and raw frozen meals. Its products include frozen raw, freeze-dried patties, meal mixers, raw coated kibble, raw blend kibble, and treats for dogs; and frozen raw morsels and freeze-dried morsels for cats. Stella & Chewy is convenient to buy as they sell products through a network of retailers.