It's the season for winter getaways, and according to research, nearly one-third of dog owners take their pets with them if they are going away for two or more nights. In fact, GoPetFriendly.com puts that number even higher at 51 percent, and three-quarters of those respondents will travel by car.
So, whether you're headed to sunny beaches or a mountain holiday, it is possible to ensure the safest trip possible with your pet. We met up with Dr. Jessica Downing of Valley Cottage Animal Hospital for some solid advice on the subject.
ON THE ROAD AGAIN
Primarily, dogs and cats should never be allowed to roam freely in a moving vehicle. We fasten ourselves and children with seatbelts. So, too, we should secure our pets the same way. Pets can be placed inside a carrier and secured with a seatbelt to avoid getting tossed around in case of an accident. Pets can also be restrained with a pet-friendly harness. The restraint must be the proper size secured appropriately when your dog is in your car. Even if your dog falls asleep during the ride, stopping short can send your furry friend hurdling forward, causing injury. Another tip is to keep your pet restrained in the backseat, as airbag systems can be deadly to a dog during a crash if they are in the front seat.
Knowing your dog or cat is safely secured will also reduce your desire to turn around and check on them, thus taking your eyes and attention off the road.
THE FRIENDLY SKIES
If air travel is in your future, consider a pet-friendly airline. According to the Federal Aviation Administration, each airline can decide its policies and procedures. For example, some do not allow pets to travel in the cabin. Call the airline ahead of time to ask for their specific policies and requirements. Keep in mind that service animals are not pets. They are working animals that assist people with disabilities. Therefore, they do not need any health certificates to travel and do not need to be confined in a container or crate.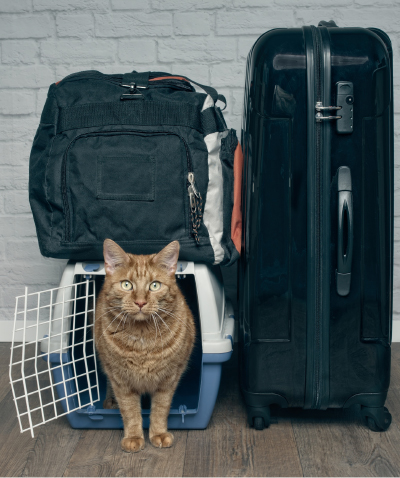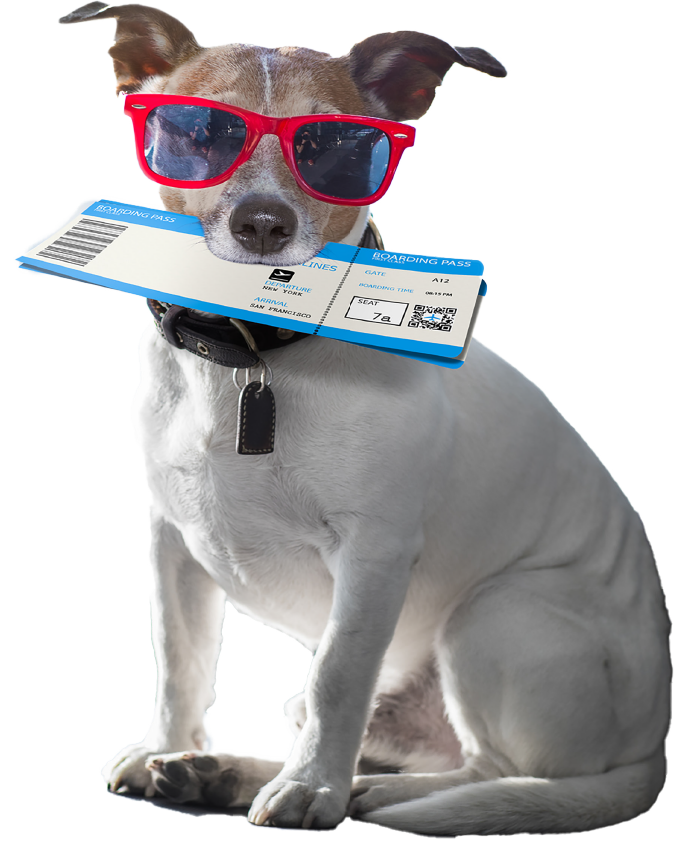 Try to avoid placing your pet underneath the plane with the luggage and instead find out if they can be in the cabin with you. Poor ventilation, extreme temperatures, and loud engine noise can have devastating, sometimes deadly consequences for pets placed in the cargo area. Remember that pet containers must be small enough to fit underneath the seat without blocking anyone and must remain properly stowed the entire time the plane is moving. Keep in mind that each airline will have a list of types of pets that can enter the cabin and a limit on the number on each flight; they may also have requirements that your pet be harmless, odorless. There may be an additional charge for the pet to fly with you even if they are safely stowed underneath your seat.
ANXIOUS-FREE TRAVEL
If you know that your pet becomes anxious while traveling, consult your veterinarian about anti-anxiety medication to make the experience less stressful for both you and your pet. Always bring your pet's regular food with you to avoid digestive upset. It is also a clever idea to carry an extra supply of your pet's medication and a copy of your pet's medical records. Lastly, for all interstate and international travel, whether by land or air, a health certificate provided by your veterinarian is required. This certificate serves as your pet's vaccination record and states that your pet is free of all contagious diseases.
WHAT IF…
You decide that your best furry friend can't go with you. Consider leaving them at home with a pet sitter or in a local boarding facility. Young, active pets may benefit from staying at a kennel that offers playtime with other pets that are boarding. Anxious pets may be most content if left at home with a pet sitter, where their daily routine can be closely adhered to. Elderly pets or those with serious medical needs may be safest if they board at their veterinarian's clinic/hospital. Ask your veterinarian for dependable pet sitters or kennels in your area.
Wherever you choose to board your pet, make sure that they are fully up-to-date on their vaccinations. Respiratory infections, such as infectious tracheobronchitis (kennel cough) and canine influenza, have been widespread among the canine population. Upper respiratory viruses, such as herpesvirus and calicivirus, have also been particularly virulent amongst felines. To provide maximum protection against these respiratory diseases, have your pets vaccinated by your veterinarian 1-2 months before boarding. This will allow your pet's immune system to mount an adequate protective response against these diseases. Vaccines administered immediately before your pet's stay at a kennel provide little protection.
Lastly, always provide your pet sitter or kennel staff with a permission letter should they need to seek medical care for your pet while you are away. Likewise, alert your veterinarian of your wishes for your pet's medical care should they need to provide medical assistance/advice in your absence.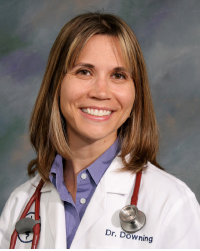 Dr. Downing has been a general practitioner and emergency veterinarian at the Valley Cottage Animal Hospital since 2005. As a co-owner of the hospital, Dr. Downing oversees the emergency side of the practice. Dr. Downing grew up in upstate New York and completed her veterinary education at the New York State Veterinary College at Cornell University.