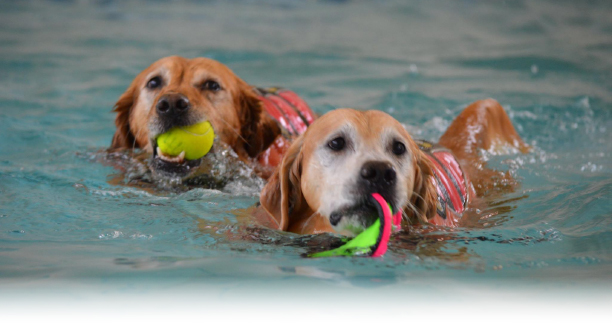 A JOURNEY TO MARTY'S PLACE
A Sanctuary For Senior Dogs
By Rod McCann
Situated in Upper Freehold, New Jersey is a special, unique place devoted to caring for canines in their golden years. Opened in 2015 and nestled on 25-acres of land that was once a tree farm, Marty's Place is a haven that could best be described as a retirement home for dogs. Founded by Doreen Jakubcak and her family, it is so much more than just a shelter. It is a "forever home for senior dogs."
The story of Marty's Place started with a single dog in need, Marty. A tender soul that, like so many older dogs, spent his later years in transient flux, being passed from shelters to foster homes and doggy daycares. By the time Marty had found his way to Doreen and her family, he was frail and traumatized while suffering from degenerative neuropathy. Nevertheless, Doreen and her family gave Marty the love, stability, and dignity that had been absent from his life up until that point, with long, lazy days spent in the sun by the lake. Unfortunately, Marty passed on; however, an idea was born that would give rise and hope to so many aging dogs after that.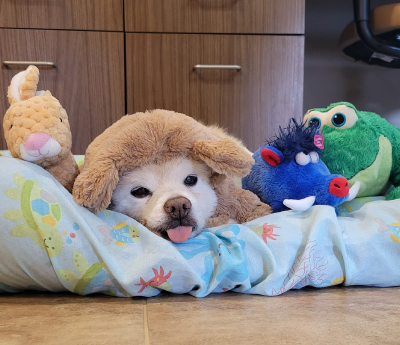 A HOME FOR LIFE
Doreen recognized an obvious need to find someone and somewhere to care for elderly dogs who, like Marty, had been living on the fringe.
Unlike the caged and hallowed walls of a shelter, Marty's Place is where the dogs can feel safe and where they have a home for life. They have their rooms where they retire and sleep. The dogs also have access to communal living spaces, where they can lounge around with their two- or four-legged friends, a swimming pool to exercise or practice their dog paddling, as well as grooming and bathing areas for all their pampering needs. Not to mention the 25 acres of walking trails and wooded land that surrounds the sanctuary. 
So why do dogs find their way to Marty's Place? Well, according to Doreen, the owners of dogs can relinquish ownership for several reasons: the owner passing away or suffering from an illness, an owner transitioning into a long-term care facility, financial hardship, relocation, or dogs can develop health issues that an owner can longer provide the care that they need.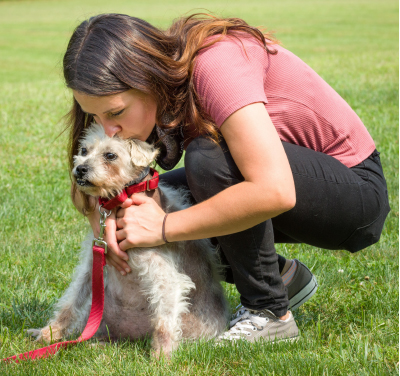 PASSIONATE VOLUNTEERS
Upon entering the sanctuary, one can't help but be beckoned by the sense of community among its residents, its staff, and its volunteers. While Doreen and her family funded the sanctuary's development, they rely on donations to sustain the day-to-day operations. In addition, they rely heavily on volunteers to support with care for the dogs. According to Doreen, Marty's Place consists of five dedicated staff who care for the residents. "Our staff is supported by a passionate group of volunteers that is 100-plus strong," who subscribe to the core values of treating each resident with the respect, compassion, and dignity they deserve.
Doreen states that the minimum requirement is that all dogs must be at least seven years of age at the time of their enrollment. Other than that, the sanctuary accepts dogs of all shapes and sizes. And while the shelter does provide permanent housing, it also provides another service of placing dogs in permanent foster homes. There is a delicate balance of providing care for the number of dogs and their ability to support whatever their needs may be. Therefore, some dogs are placed into forever foster homes. Because of this, the number of dogs living at the sanctuary can fluctuate. Presently, the number is in the low 20s. However, the sanctuary can house up to 40 dogs."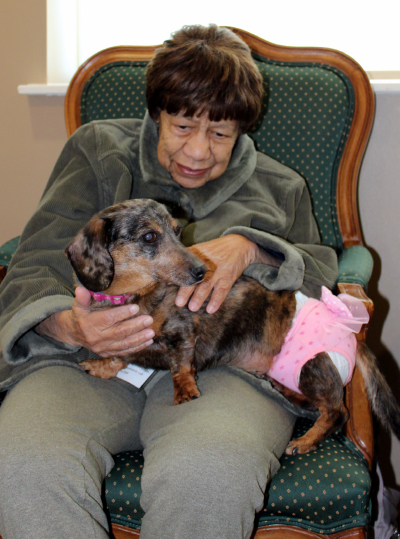 There are far too many dogs with their own needs to mention in this story. Doreen spoke of two beautiful dogs, Sophie, 12, and Lucy, 9, a mother-daughter bonded pair that came to Marty's Place because their elderly owner could no longer care for them. "Sophie arrived with advanced glaucoma. Our veterinarian determined she had lost sight in that eye, was experiencing considerable pain, and the eye needed to be removed. She has made a full recovery and is now enjoying her walks with Lucy and her many human friends," Doreen told us.
Marty's Place's promise and commitment to any dog is that "they have a home at the sanctuary for life unless they can be placed in an adoptive house that wants them and is willing to take on the responsibility of caring for a dog in its golden years.
NURTURING RELATIONSHIPS
The Seniors for Seniors program is a unique initiative that had been on hiatus due to the pandemic. It has resumed and involves senior groups visiting the sanctuary and spending time with the residents. The residents enjoy socialization and attention. Some are willing to sit on top of a guest, while others may choose to watch from afar. Cultivating relationships between adult communities with the dogs from Marty's Place has proven mutually beneficial. Doreen shared a lovely letter from the relative of an elderly participant. It read, "I just got off the phone with my mother, and it was the happiest I have heard her in six months. She described the dogs and the beautiful facility and told me how joyful the dogs were. She has been withdrawn, and today she blossomed and connected with the experience. Thank you."
Doreen, her family, the staff, and volunteers have managed to create a living environment for its residents like no other. Marty's Place is all about increasing the quality of life with unconditional love while letting their dogs know that they will never be left alone.
For more information on Marty's Place, visit martysplace.org